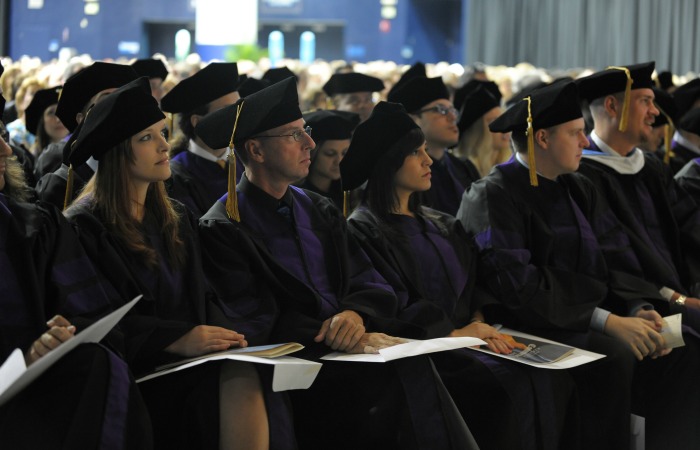 Nicole Fundora's days are jam-packed, and that's the way she likes it. She works full-time as a paralegal at Broad and Cassel. She is a single mom to two daughters. And she's a law student in FIU's evening law program.
She expects to graduate in 2018, and one thing that's helping her reach that goal: the Law Evening Scholarship started by alumni of the program.
"The alumni and this amazing scholarship embody the overall spirit of the FIU College of Law: an exceptional group of men and women rallying together to support the students and give them every opportunity to succeed," Fundora says. "It's definitely something that I truly appreciate and it will be part of my success story."
Three years ago, Robert Scavone Jr., who earned his JD from FIU in 2012, started the FIU Law Evening Scholarship Fund by pulling together alumni who each pledged to donate $500 per year for five years with the goal of awarding merit-based scholarships.


Scavone, now an associate at Hunton and Williams, spent more than ten years in the commercial construction industry before jumping into FIU's evening law program. He says many evening law programs don't offer merit-based scholarships, and the same was true at FIU.
He set out to change that.
"We wanted to target folks like us who went to law school as a second career and worked through law school." Scavone says.
To date 28 donors have contributed $70,000, and this year more than $6,000 will be distributed.
Evening program alumnae Fritznie Jarbath JD '11 and Melisa Peña '05, JD '11, founders of Jarbath Peña Law Group, donate because they understand students' struggle.
When Jarbath began law school, she needed to continue working to support her family, especially because her father had recently passed away.
"It was a tough time, but having the evening program was a big help," Jarbath says. "It just makes that decision [to donate] easier. Being able to know the school is going to be less expensive, that helps. If in any way I can help by doing that, then I'm happy to do it."
Added Peña, "We know what it is to work 40 hours and go to school and pray you don't fall out. It's very humbling. We wished something like this [scholarship] was around [for us]. I genuinely believe this could make the difference in someone's life."
Considering that law students often end up taking out loans to pay for their classes and that many people graduate in debt, Scavone says the scholarship "gives them a little bit of breathing room and that was important to us. If we can help offset that [debt], that's fantastic. "
Scavone says gratitude led him to start the fund. "I'm very loyal to FIU, and forever grateful for the law school because they changed the trajectory of my career. I wouldn't be where I am today if it weren't for them."
"It's important to understand where you are and the people that have helped you," Fundora says. "Someone was willing to help me, and it made the difference to me. I feel truly blessed to be a part of it [the scholarship] and can't wait to be on the other end a few years from now to pay it forward."
Tags: College of Law × philanthropy
This post "Law alumni give back through scholarship" was originally published on FIU News.