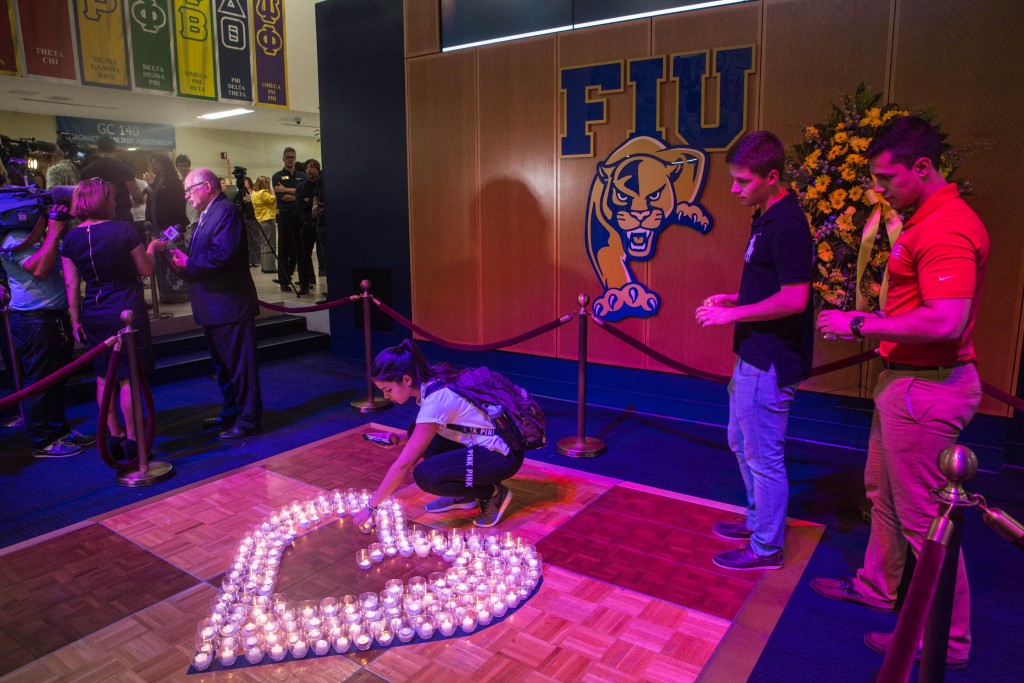 Orlando's heartbreak is FIU's heartbreak.
That was the message Monday afternoon as students, employees and others came together to remember the lives lost and comfort one another in the midst of tragedy. As many as 50 people were killed by what appears to be a lone shooter in a crowded Orlando nightclub, and at least as many suffered injuries in what authorities describe as the worst such attack in recent history.
President Mark B. Rosenberg presided over a campus memorial service attended by hundreds and meant to show solidarity. "At times like this, we have to find the strength within ourselves and within our community to rededicate ourselves to the norms that enhance and fortify our civility," he said.
While investigators continue to search for answers to determine whether the massacre was a hate crime—it took place at a gay hot spot—or an act of terrorism—the gunman pledged his allegiance to ISIS in a 911 call 20 minutes into the rampage—people of all backgrounds have denounced the violence.
"This time should serve to remind us of how precious every moment we have on this earth is, and we must not let our spirits be broken," said Gisela Vega, associate director of LGBTQA Initiatives within the Division of Student Affairs. "June is pride month for the LGBT community. I ask that you not let this be taken away by allowing ourselves to be paralyzed by Sunday's events. Instead, I ask that we pull together in love and pride, and show continued support for our LGBTQA family by offering them time, resources and, above all, love, support and compassion."
History education major Christian Gutierrez, a senior, described himself as a "devout Catholic" and was visibly moved at the memorial service. "This is a meeting for all people across the faith," he said, "and this is something very beautiful that I want to take part in. It helps to see each other as human beings regardless of our differences, whatever they may be."
Michelle Diaz, the sister of an FIU student and herself a student at Ringling College of Art & Design in Sarasota, took solace in gathering with others.
"As a member of the LGBT community, I feel like I should take part," she said. "I was very afraid when it happened. Knowing there was a vigil, I feel like I needed to show up to stand against that. I know a lot of the community is scared now, and they're in hiding. And that's fine. That's a natural response. I wanted to stand up against it. I want to be here and respect the members who died."
Many of the confirmed dead are young people in their 20s. Scenes of frantic family members looking for their loved ones gripped the nation Sunday as law enforcement and first responders sought to identify both those who had died and those who had been transported to a nearby hospital.
On Monday, the Division of Student Affairs arranged to have a local blood bank bring a mobile unit to MMC to collect donations in the wake of what became an enormous medical emergency in Orlando. While the immediate need for blood has been met, new donations help replenish stores throughout the state. The call for donors drew a great outpouring of interest—within two hours 66 people had lined up to give (an average day on campus draws fewer than 10), and a second "Big Red Bus" was called in—and served as a visible sign that people wanted to take some form of positive action in response to the tragedy.
As she waited her turn to donate, senior biology major Olivia Wills shared her outrage over the shooting. "I'm really angered about the massacre," she said. "First of all because LGBT people are heavily discriminated against in society and second of all because common-sense gun regulation has not been passed by Congress. I don't understand why there have to continuously be so many innocent lives lost. Words are not enough. We need action to create change."
Rosenberg called upon the FIU family to "make the world a better place" in the aftermath of unspeakable horror. "As Panthers, we have a shared set of values at our FIU," he said. "For me, and I hope for you, Orlando reinforces the sense of urgency to make the world a better place. That begins with you and the soul-searching that accompanies a tragedy such as this."
FIU Counseling and Psychological Services offers grief counseling for students at the Student Health Center, room 270, at MMC, and the Wolf University Center, room 320, at BBC. Walk-ins are welcome, and same-day appointments can be scheduled by calling 305-348-2277 (MMC) or 305-919-5305 (BBC). A 24-hour hotline for students is also available at 305-348-3000. The Office of Employee Assistance offers grief counseling for faculty and staff. Walk-ins are welcome at the Green Library, room 473, at MMC, and AC1, room 203, at BBC, and appointments can be scheduled at either campus by calling 305-348-2469 or emailing oea@fiu.edu. Those who need help outside of business hours can call the crisis hotline operated by Switchboard of Miami at 305-358-4357.
If you're new here, you may want to subscribe to our newsletter. Thanks for visiting!
Tags: Counseling & Psychological Services × Employee Assistance × LGBTQA Initiatives × Mark B. Rosenberg × Student Affairs
This post "FIU stands with Orlando" was originally published on FIU News.