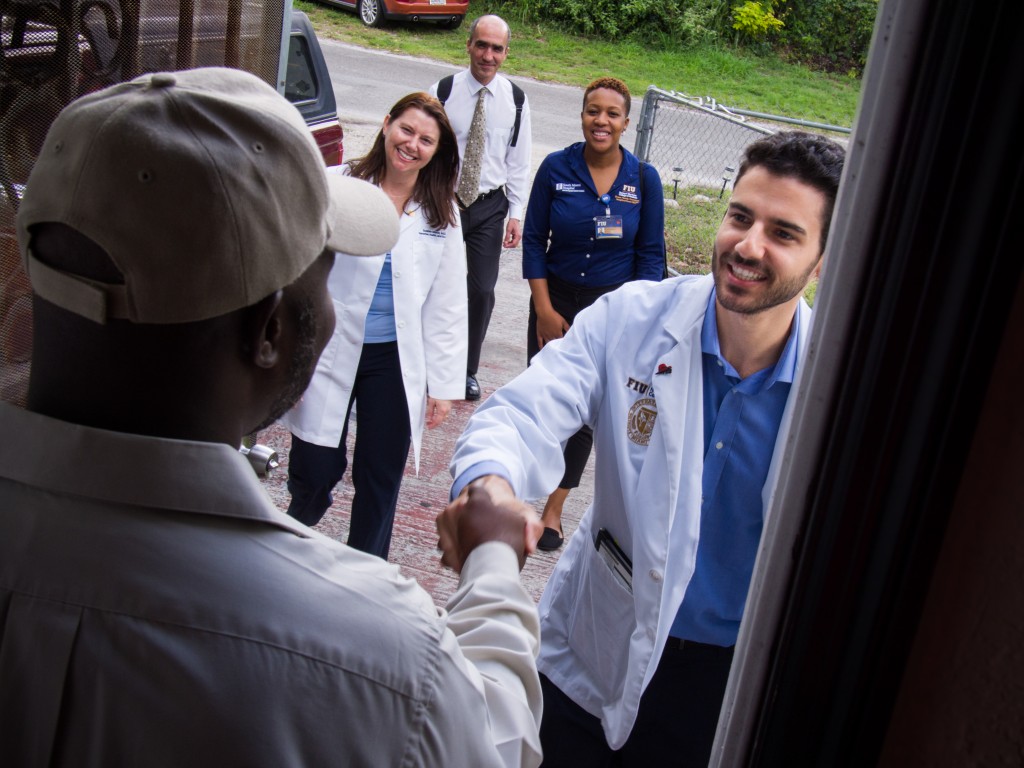 The Association for Medical Education in Europe (AMEE) has recognized the FIU Herbert Wertheim College of Medicine's unique approach to medical education, which focuses on social accountability and the social determinants of health, by selecting it as one of its ASPIRE-to-Excellence Award in Social Responsibility recipients.
"Social responsibility is at the heart of our mission and everything that we do from the classroom to our community," said Dr. John A. Rock, founding dean and senior vice president for health affairs. "This wonderful honor acknowledges our belief that training socially accountable, community-based physicians can help transform the health of communities."
AMEE is the leading international association for medical education with 90 members on five continents. Its ASPIRE Award of Excellence in Social Accountability is guided by the World Health Organization's definition for Social Accountability: "… the obligation to direct their education, research and service activities towards addressing the priority health concerns of the community, region, and/or nation they have the mandate to serve."
"We are incredibly honored to be recognized internationally and to be considered medical academic leaders in social accountability as we continue producing the physicians of tomorrow and making our communities healthier," said Associate Dean for Engagement Dr. Pedro J. Greer Jr.
Greer is founding chair of the Department of Humanities, Health, and Society which runs the unique Green Family Foundation NeighborhoodHELP™ program, which is committed to improving health outcomes in South Florida underserved communities. He will represent the College of Medicine at the AMEE 2016 International Conference in Medical Education in Barcelona, Spain where the awards will be handed out on August 29.
The AMEE award is the latest endorsement of the College's innovative curriculum. In November, the Herbert Wertheim College of Medicine was one of only 20 medical schools selected nationwide to join the American Medical Association's Accelerating Change in Medical Education Consortium – which is studying how to reshape how future physicians are trained in order to improve health outcomes.
If you're new here, you may want to subscribe to our newsletter. Thanks for visiting!
Tags: Herbert Wertheim College of Medicine × John Rock × NeighborhoodHELP × Pedro "Joe" Greer
This post "College of Medicine earns international honor for social responsibility" was originally published on FIU News.