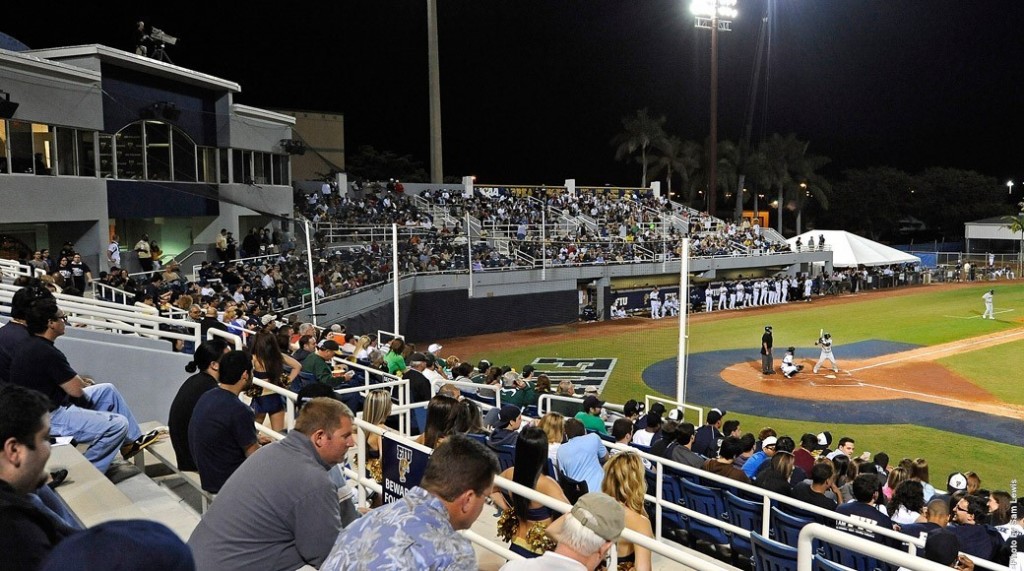 MIAMI (June 22, 2016) – In the 44-year history of the baseball program, FIU has produced more than 100 Major League Baseball draft picks, 51 All-Americans and seven conference Players of the Year. The Panthers have claimed eight conference titles and have appeared in the NCAA Tournament 16 times.
In an effort to continue competing at the highest level and propel the baseball team to greater heights, FIU Athletics seeks to improve the FIU Baseball Stadium with a multi-million dollar renovation project. With funds still being raised, the FIU Stadium project will help improve recruiting, enhance the well-being of the student-athletes and improve the overall fan experience.
"We want our programs to continue to grow," FIU Executive Director of Sports and Entertainment Pete Garcia said. "In order to do that, we need to enhance the facilities and give our student-athletes the tools they need to be their very best. Baseball has a rich tradition here at FIU and we need to make an investment in its future."
Improvements to the FIU Baseball Stadium will include a state-of-the-art locker room and lounge area, indoor batting cage and bullpen area, private suites and an open-air canopy to provide shade for stadium patrons.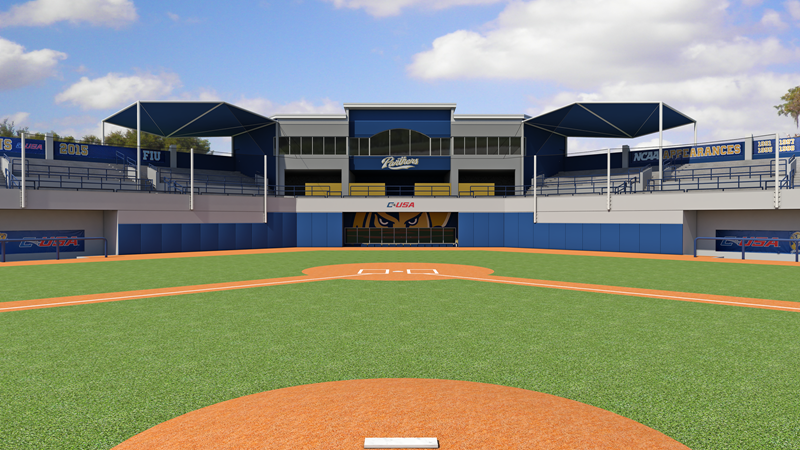 The stadium, in its current form was completed in 2007. Originally set in three phases beginning back in 1996, the FIU Baseball Stadium seats 2,000 with unmatched sight lines, a video board, concession stands and stadium lighting that provide a fan-friendly atmosphere.
For more information, please contact Mercy Dorta, senior associate athletic director of development (mdorta@fiu.edu) or Bobby Staub, deputy athletic director (rostaub@fiu.edu).
About FIU Athletics: FIU Athletics is home to more than 400 student-athletes in 18 different sports. Athletic events are played in seven different venues on FIU's campuses (Modesto A. Maidique and Biscayne Bay), including FIU Arena and Ocean Bank Field at FIU Stadium.
About FIU: Florida International University is recognized as a Carnegie engaged university. It is a public research university with colleges and schools that offer more than 180 bachelor's, master's and doctoral programs in fields such as engineering, international relations, architecture, law and medicine. As one of South Florida's anchor institutions, FIU contributes $8.9 billion each year to the local economy. FIU is Worlds Ahead in finding solutions to the most challenging problems of our time. FIU emphasizes research as a major component of its mission. FIU has awarded over 200,000 degrees and enrolls more than 54,000 students in two campuses and three centers including FIU Downtown on Brickell, FIU@I-75, and the Miami Beach Urban Studios. FIU also supports artistic and cultural engagement through its three museums: the Patricia & Phillip Frost Art Museum, the Wolfsonian-FIU, and the Jewish Museum of Florida-FIU. FIU is a member of Conference USA and has over 400 student-athletes participating in 18 sports. For more information about FIU, visit http://www.fiu.edu/.
This post "FIU Athletics Launches Baseball Stadium Project" was originally published on FIU News.