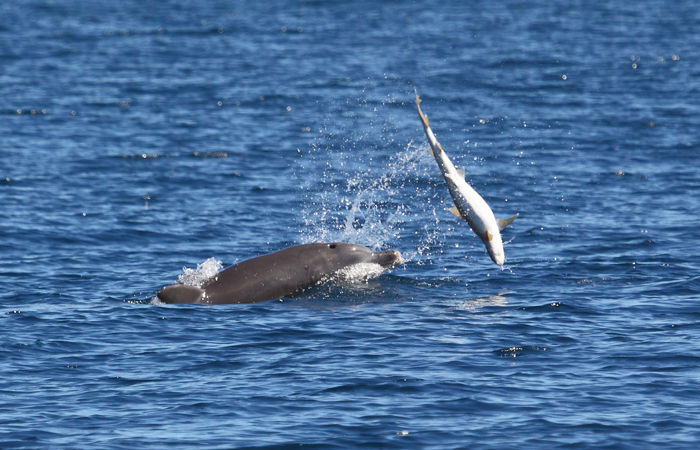 Sharks and dolphins have shared the ocean for ages, but only recently, scientists have begun to understand the true nature of the relationship between these two masters of the sea. It's dangerous for dolphins, but sometimes the tables are turned.
Airing during Shark Week 2016, Sharks vs. Dolphins: Face Off uncovers the mysteries of the relationship. The show, which features FIU marine scientist Mike Heithaus and his team, will premiere at 10 p.m., Wednesday, June 29, on Discovery.
Heithaus and his team bring new research that may solve why sharks attack dolphins far more than we ever knew. Well-known internationally through his research on the ecological role of large sharks, Heithaus is the dean of the College of Arts, Sciences & Education at FIU. He currently conducts research using cutting-edge technology, including cameras worn by animals, to unravel the lives of hard-to-study marine creatures from whales and dolphins to sharks, seals and turtles. His lab's work in Shark Bay, Australia, is the most detailed study of the ecological role of sharks in the world and has been used as the underpinning for affecting positive policy changes in shark conservation initiated by several prominent Non-Governmental Organizations. He is one of the lead researchers for Global FinPrint, an international effort to survey reef shark and ray populations all across the world. He has appeared in numerous documentaries and on Shark Week.
For a list of FIU shark experts, click here.
If you're new here, you may want to subscribe to our newsletter. Thanks for visiting!
Tags: Biological Sciences × College of Arts Sciences & Education × Marine Sciences × Mike Heithaus × School of Environment Arts and Society (SEAS) × sharks
This post "Heithaus on Shark Week: sharks and dolphins, it's complicated " was originally published on FIU News.