Art and science come together at FIU with the third installment of the Patricia and Phillip Frost Museum of Science Curious Vault Collaboration series.
The concept of the Curious Vault project is to pair a scientist and an artist to create a display using at least one item from the Frost Science permanent collection.
Titled Neural Networks, the exhibit showcases the collaboration of two FIU faculty — neuroscientist Angie Laird and multimedia artist Felice Grodin, in partnership with design research studio BYO-Lab. The project explores the pathways of the human brain via cognitive neuroimaging which looks at mapping the brain dynamically, while it is "working."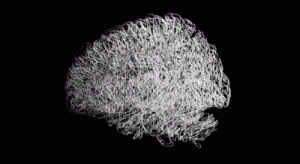 For this project, Laird took 300 individual brain scans to generate the image of an average brain. Grodin's challenge was to bring it to life using art. She called on BYO-Lab, which specializes in 3-D fabrication using digital technology, to convert the two-dimensional MRI images from Laird's lab to three-dimensional cuts of Plexiglas.
Using the studio's design, 27 sheets were laser-cut at FIU's School of Architecture and then arranged to create a 3-D view of the brain on a table-top display.
"The project itself is an experiment," said Kevin Arrow, Art and Collection Manager at Frost Science. "We put all these ingredients together — an artist, a scientist and in this case a designer — and hope for the best."
Inspired by documents from the archive of scientist, explorer and occultist J. Manson Valentine, Neural Networks took 17 months to complete. Valentine was an honorary curator at the museum up until the mid-1990s. The archival documents used for this project include hand-made drawings of a brain and other medical sketches, aged expedition maps including a cave diagram of an exploration he took to the Yucatan in the 1960s, and other items.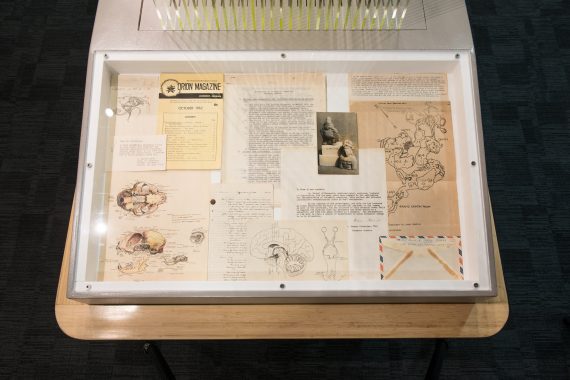 "His freehand map of the cave shows pathways, quadrants, nodes, entries and exits," Grodin said. "It looks like an equivalence of the brain itself."
Grodin, adjunct professor of architecture at FIU's College of Communication Architecture + The Arts, merges the physical and mental landscapes in her work. Her pieces typically feature a fusion of her architectural background and the unique cities in which she has lived. Laird, a cognitive neuroscientist and medical physicist in FIU's College of Arts, Sciences & Education, is an authority in the field of neuroimaging or brain mapping. Her work focuses on mining and exploring big data in neuroimaging to better understand human brain function. Their collaboration provides a new perspective to the intersection of art and science.
"Similar to artists, scientists must be creative in how they approach the problem-solving process, how they respond to challenges that inevitably arise during their work," Laird said. "There's a remarkable degree of similarity in how we approach our respective work, even though the outcomes are quite different."
Neural Networks is on display through August 12 at the Patricia and Phillip Frost Art Museum in FIU's Modesto A. Maidique Campus. See more images here.
If you're new here, you may want to subscribe to our newsletter. Thanks for visiting!
Tags: Architecture × College of Architecture + the Arts × College of Arts Sciences & Education × Patricia and Phillip Frost Art Museum × Physics × School of Integrated Science and Humanity (SISH)
This post "Architect, physicist create art from brain images" was originally published on FIU News.