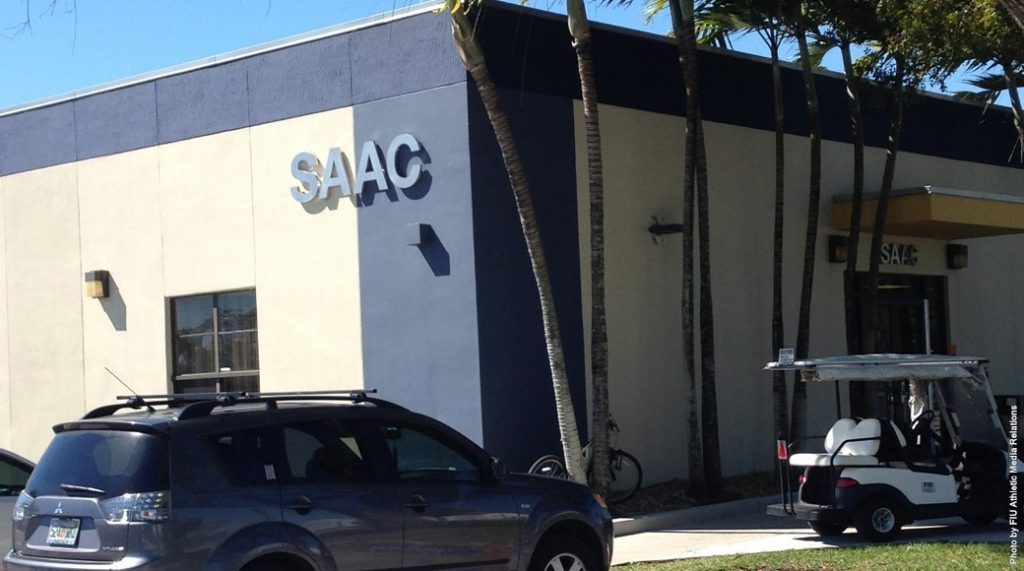 MIAMI (July 5, 2016) – Academics continue to be an important focal point in the FIU Athletic Department. Over the past few years, FIU student-athletes have made tremendous academic strides and the 2015-16 academic year was no exception. The Panthers notched their highest overall grade-point average (3.1) on record, while increasing its Federal Graduation Rate (FGR) 19 percentage points.
"The word 'student' in 'student-athlete' will always be the most important thing to us," FIU Executive Director of Sports and Entertainment Pete Garcia said. "The work that our student-athletes have done in the classroom is outstanding. Their dedication, along with the commitment of our coaches, faculty and Student-Athlete Academic Center (SAAC) towards high academic standards, is the reason we see such impressive results."
This past academic year, the FIU Athletic Department registered its highest Fall GPA on record only to follow that up with the highest spring GPA on record. During the Spring of 2016, 273 student-athletes registered GPAs of 3.0-or-better and 143 Panthers were named to the FIU Dean's List. In all, FIU student-athletes combined to earn a 3.0-or-better 515 times, Dean's List 270 times, a 3.75-or-better 154 times and a 4.0-or-better 60 times during the 2015-16 academic year (Fall 2015 and Spring 2016).
During the last five terms (Fall 2014, Spring 2015, Summer 2015, Fall 2015, Spring 2016), FIU has had a total of 1,165 student-athletes earn a GPA of 3.0-or-better, while 681 were named to the Dean's List. There were 362 student-athletes who earned a GPA of 3.75-or-better and 195 earned a 4.0.
This upcoming Fall, the NCAA will release its annual reports for Graduation Success Rate (GSR), Federal Graduation Rate for student-athletes and Federal Graduation Rate for all students with FIU showing an increase in all three.
FIU saw a five percent increase in its NCAA GSR from a year ago. In fact, FIU's Graduation Success Rate (76 percent) has increased a total of 10 percent over the past two years. The four-class average FGR for FIU student-athlete's increased six percent from the previous report, led by the men's basketball and football teams. Men's basketball made a tremendous jump, improving by 17 percentage points, while football made a jump of eight. The FGR for all students that entered FIU in 2009-10 was 57 percent compared to 70 percent for FIU student-athletes in the same timeframe.
"We expect to keep producing this upward trend and continue to set a high academic standard in the Athletic Department," Garcia said.
About FIU Athletics: FIU Athletics is home to more than 400 student-athletes in 18 different sports. Athletic events are played in seven different venues on FIU's campuses (Modesto A. Maidique and Biscayne Bay), including FIU Arena and Ocean Bank Field at FIU Stadium.
About FIU: Florida International University is recognized as a Carnegie engaged university. It is a public research university with colleges and schools that offers more than 180 bachelor's, master's and doctoral programs in fields such as engineering, international relations, architecture, law and medicine. As one of South Florida's anchor institutions, FIU contributes $9.8 billion each year to the local economy. FIU is Worlds Ahead in finding solutions to the most challenging problems of our time. FIU emphasizes research as a major component of its mission. FIU has awarded over 200,000 degrees and enrolls more than 54,000 students in two campuses and three centers including FIU Downtown on Brickell, FIU@I-75, and the Miami Beach Urban Studios. FIU also supports artistic and cultural engagement through its three museums: the Patricia & Phillip Frost Art Museum, the Wolfsonian-FIU, and the Jewish Museum of Florida-FIU. FIU is a member of Conference USA and has over 400 student-athletes participating in 18 sports. For more information about FIU, visit http://www.fiu.edu/.
This post "FIU Athletics has Best Academic Year on Record" was originally published on FIU News.