Today The Chronicle of Higher Education named FIU as a "Great Colleges to Work For" in its ninth annual report on The Academic Workplace.
One of the largest and most respected workplace-recognition programs in the country, "Great Colleges to Work For" recognizes colleges and universities that earn top ratings from their employees on workforce practices and policies. This year's results were based on a survey of 281 colleges and universities from across the nation.
FIU is one of only 68 four-year institutions that achieved the "Great College to Work For" recognition – and one of only 25 four-year institutions to make the Honor Roll, which recognizes stand-out institutions for creating exceptional work environments. FIU is among seven Florida institutions on the list and among four that made the Honor Roll.
"This recognition celebrates our role as an institution that prioritizes the needs of our entire community," said FIU President Mark B. Rosenberg. "It's especially important because it comes from our dedicated faculty and staff who are the heart of our institution and who work hard every day to change students' lives and to do meaningful work that has impact."
FIU received honors in seven categories, including: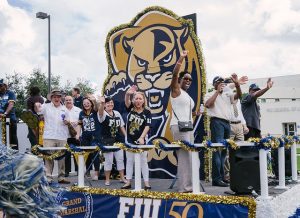 ◾Collaborative Governance: Faculty members are appropriately involved in decisions related to academic programs.
◾Professional/Career-Development Programs: Employees are given the opportunity to develop skills and understand requirements to advance in their careers.
◾Compensation and Benefits: Pay is fair, and benefits meet the needs of employees.
◾Facilities, Workspaces, and Security: Facilities adequately meet needs, the appearance of the campus is pleasing, and the institution takes steps to provide a secure environment.
◾Work/Life Balance: Policies give employees the flexibility to manage their personal lives.
◾Respect and Appreciation: Employees are regularly recognized for their contributions.
◾Diversity: The institution makes a concerted effort to create a welcoming and fair environment for all its employees.
"Nine years in, The Chronicle's Great Colleges to Work For program is well known as a mark of a college or university that puts thought and effort into serving the needs of its faculty and staff," said Liz McMillen, editor of The Chronicle. "The colleges and universities that make the list are highly rated by their employees for creating great working environments, an important achievement that helps them recruit top academic and administrative talent."
Survey results are based on a two-part assessment process: an institutional audit that captured demographics and workplace policies, and a survey administered to faculty, administrators, and professional support staff. The primary factor in deciding whether an institution received recognition was the employee feedback.
This is the second workplace recognition FIU has received, this year. In March, FIU made Forbes "America's Best Employers" list and was named the second best employer in Florida.
For more information and to view the results of the survey, please visit The Chronicle's website.
If you're new here, you may want to subscribe to our newsletter. Thanks for visiting!
Tags: Great Colleges to Work For × The Chronicle of Higher Education
This post "FIU among 'Great Colleges to Work For' according to The Chronicle of Higher Education" was originally published on FIU News.