In the same week that the House Appropriations committee signaled a potential increase to Pell grant awards, President Mark B. Rosenberg was in the capital to advocate for coastal research, STEM education, accelerated bridge construction — and to enjoy his annual lunch with summer interns.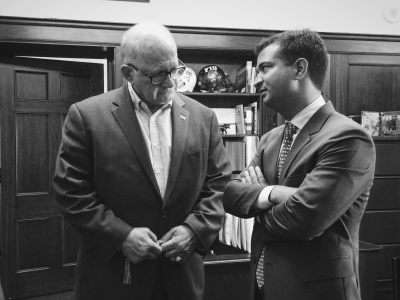 In the midst of the last Congressional workweek before summer recess, FIU President Mark B. Rosenberg touched down in D.C. for an action-packed week, working to advance FIU's federal priorities.
Congressional Action and Support
The House Appropriations committee advanced its markup of the education spending bill last Wednesday, which, in line with the Senate, includes an increase in the maximum Pell grant to $5,935. However, unlike the Senate, the House does not call for a return of the second summer Pell grant, which have assisted more than 9,000 FIU students with more than $10 million in federal support. During the last academic year, more than 19,000 FIU students received Pell grants, and more than 50 percent received the maximum grant.
Rosenberg met with Congresswoman Frederica Wilson and later Congressman Carlos Curbelo, among others, to seek leadership on two critical grants the university is pursuing: The HSI (Hispanic-Serving Institution)-STEM Program application that FIU submitted to the U.S. Dept. of Education and a grant proposal filed by FIU for a collaboration with NOAA (National Oceanic and Atmospheric Administration). Nine members of Congress signed on to support both grants.
"FIU is excellently suited to work with the Department of Education to address the calculus challenge as it is the nation's only majority-minority Carnegie R1 university, the top tier of research universities in the nation," said members of Congress in support of the FIU STEM Transformation grant. "During the spring of 2016, 259 Learning Assistants (LAs) supported 161 sections of courses in 10 STEM disciplines, impacting more than 10,000 students. FIU is committed to serving as a laboratory for the future of STEM as it develops a culture of evidence-based instructional practices."
The HSI-STEM initiative would seek to increase the number of underrepresented minorities obtaining STEM degrees by focusing on improving calculus passage rates. Meanwhile, the NOAA grant proposes FIU partners with Florida Atlantic University and the University of New Mexico — three universities serving sizable minority populations—to open a Cooperative Science Center aimed at augmenting recruitment and the preparation of underrepresented students, while focusing on issues like sea level rise, storm surge modeling and coastal resilience.
D.C. Summer Internship Lunch
Blocks away from the Hill, FIU student interns, alumni and leadership united at FIU in D.C. for a lunch with President Rosenberg, where he gave his remarks, and they shared their experiences and suggestions to best serve future students in the capital.
"As a political scientist, I believe that…we're in the process of losing the civility that has traditionally characterized the political environment," Rosenberg said. "So, if we're going to recover, it will probably be you who will play a very important role in that. Contemplate: What are your values? What really matters? How can you make a difference in a world right now in a political situation where there is a lot of personal struggle and a lot of personal difficulty in coming to grips with our identity as a people?"
During the lunch, President Rosenberg urged students to speak with their department chairs about their concerns, and encouraged them to see support as a cyclical process by which they, as the interns before them, will soon become successful alumni, able to support the next generation of interns via the Make A Difference Fund DC. To date, the fund has raised more than $60,000 in support of the cause.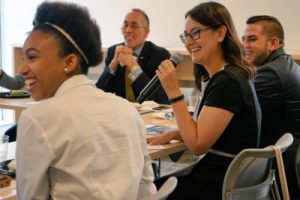 "There are countless leaders who are talented in their abilities to speak and inspire students; however, few have tangible proof of their commitment to them," said FIU student Daniela Cedial, White House intern. "This office in D.C., along with the countless projects in Miami, are genuine proof of your commitment to our personal success."
Media & Communications Panel
In addition to the chance to speak to the president about their concerns, FIU D.C. interns were able to polish their professional prowess earlier that week with a Q&A-style career panel, "Media & Communications: An Inside Look," which featured alumna Mercedes Schlapp '94, FOX News contributor and columnist for The Washington Times; Arelis Hernandez, political reporter at the Washington Post; and Lauren Kane, senior director of communications for the American Beverage Association.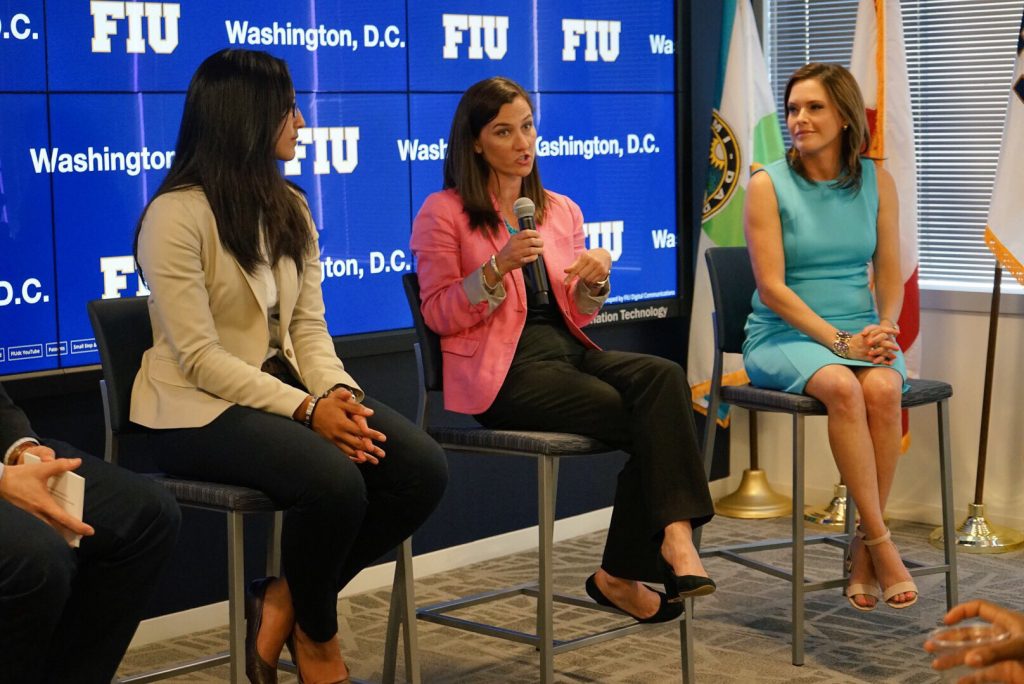 "Always ask yourself: 'What can I add that someone hasn't already said?'" said Schlapp. "You don't always want to be cookie-cutter."
The panelists took questions from audience members that covered best practices in the field; what a day in the life of a media professional entails; and how to best transition into a communications profession when already established in a different field. The resounding advice from experts: Do not burn bridges; find your niche and develop a network; build a portfolio; be honest and aggressive, but not obnoxious; and display a dedicated work ethic.
Professionals on The Prowl: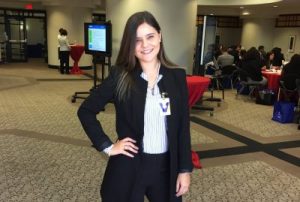 FIU in D.C. extends their congratulations to alumna Tiffany Roman Biffa on her new appointment as International Postal Affairs Specialist Trainee at the United States Postal Service! Prior to this, Roman Biffa served as student body vice president for the Student Government Association at FIU from 2014-2015.
Interested in learning more about jobs and internships in D.C. or interning in the city and want to connect with our D.C. Panther network? Contact FIU in D.C.'s Career Success Manager Ethan Starkey at ethan.starkey@fiu.edu.
Panthers Spotted:
◾Alian Collazo — Student Government Association President, visiting for meetings at the American Israeli Political Action Committee (AIPAC)
◾Krish Jayachandran —Graduate Program Director/Co-Director of Agroecology at the FIU College of Arts and Sciences, visiting the U.S. Dept. of Agriculture
◾Ana Reyes — El Tamarindo Owner, celebrating 35 years of serving Hispanic food in the D.C. metro area with this family-owned restaurant
To learn more about FIU in D.C., visit washingtondc.fiu.edu; call (202) 558-3481; or follow on Twitter, Facebook and Instagram.
If you're new here, you may want to subscribe to our newsletter. Thanks for visiting!
Tags: FIU Governmental Relations × FIU in DC × FIUdc
This post "FIU in D.C.: Possible Pell grant increase, Rosenberg advocates for research grants" was originally published on FIU News.