Sleek black and white garments, sunburst orange-colored coats, and bags inspired by sculptures. You're strolling through a display of designer fashion, and it feels like maybe you're in Paris or New York. You're actually at Modesto A. Maidique Campus.
At the opening reception on Oct. 16, the Patricia and Phillip Frost Art Museum inaugurated its first fashion couture exhibition featuring garments by internationally-renowned designer Narciso Rodriguez. At the forefront of the fashion world, Narciso's designs have been worn by luminaries like Michelle Obama, Claire Danes, and Sarah Jessica Parker—just to name a few. The exhibit also marks the first time the Cuban-American designer displays his work in a museum.
Narciso Rodriguez: An Exercise in Minimalism features more than 35 looks by Narciso—the majority of which were worn on the runway. The looks were carefully selected to represent major themes and motifs throughout his whole body of work.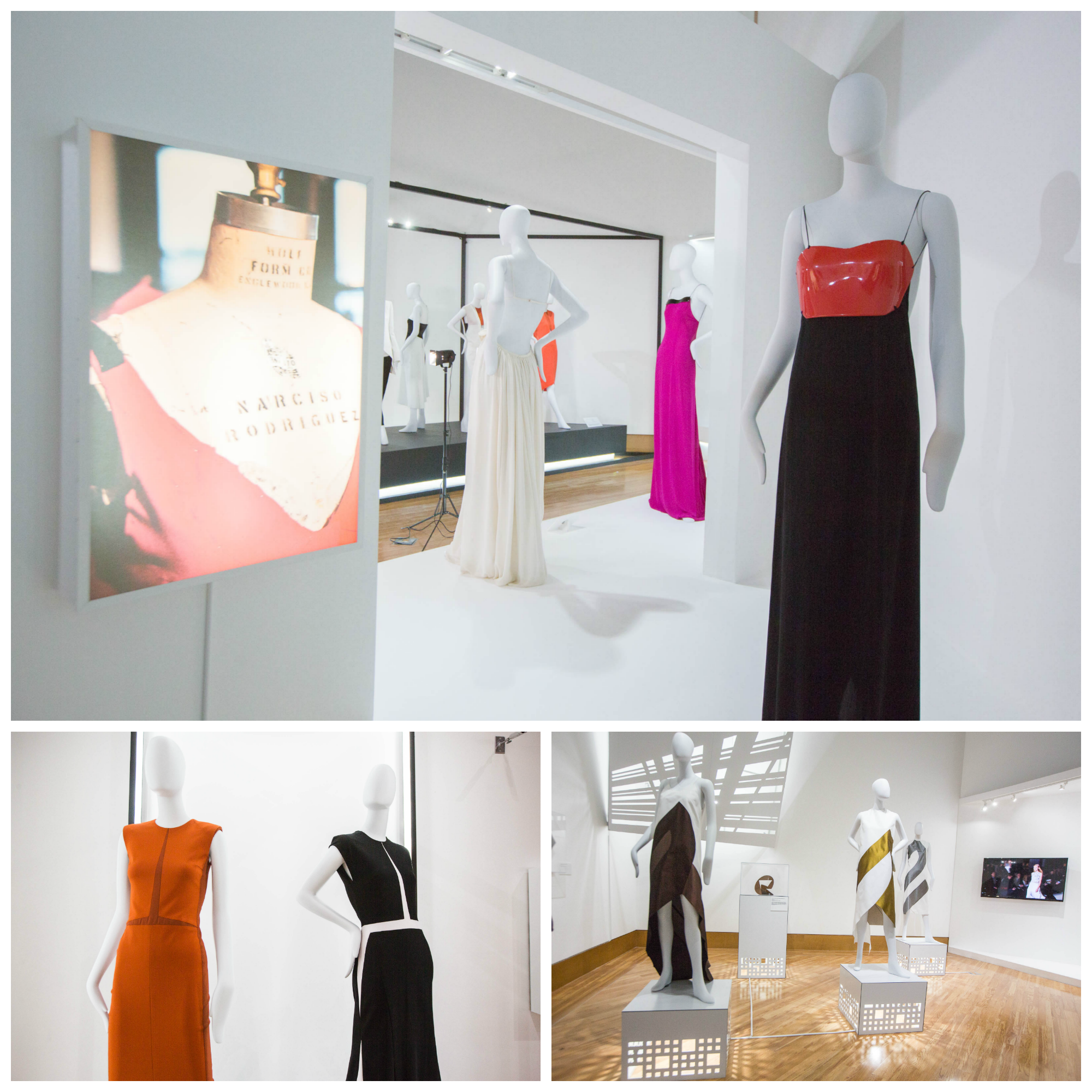 Timeless style
"More than any other American designer working today, Narciso Rodriguez is able to take the concept of minimalism and expand it, manipulate it and humanize it…his 'minimalism' is a celebration of the female form," says Alex Gonzalez, creative director of ELLE magazine and co-curator of the exhibit.
Klaudio Rodrigez, curator of the museum and co-curator of this exhibit, says that creating the perfect installation to showcase Narciso's designs was essential.
"These looks are very clean, minimalist, elegant—not flashy or over the top," Klaudio says. "I didn't want to have an exhibition that took away from that. Everything is very angular, linear, minimal, taking cues from the looks themselves. I wanted the space to be meditative, serene. The overall feel is to have this clean aesthetic, a welcoming environment that is not overwhelming the eyes."
The garments are organized into 10 different groups based on reoccurring motifs. One group highlights intricate, hand-stitched beadwork. Another focuses on breastplates, featuring garments with eye-catching chest pieces. And other groups highlight geometric shapes and earth-toned color palettes.
Near each grouping are works of art that either inspired Narciso's creative process or, as Klaudio says, create a dialogue with the themes of the designs. For example, several bags, which were initially inspired by artist Lygia Clark's work are displayed next to Clark's aluminum Bicho-Caranguejo (1966) sculpture.
The mind of an artist
One of the major goals of the exhibit is to get people to understand how a couture fashion designer thinks and the creative process behind the designs—and to equate that with the process of artists that work with a wide variety of media.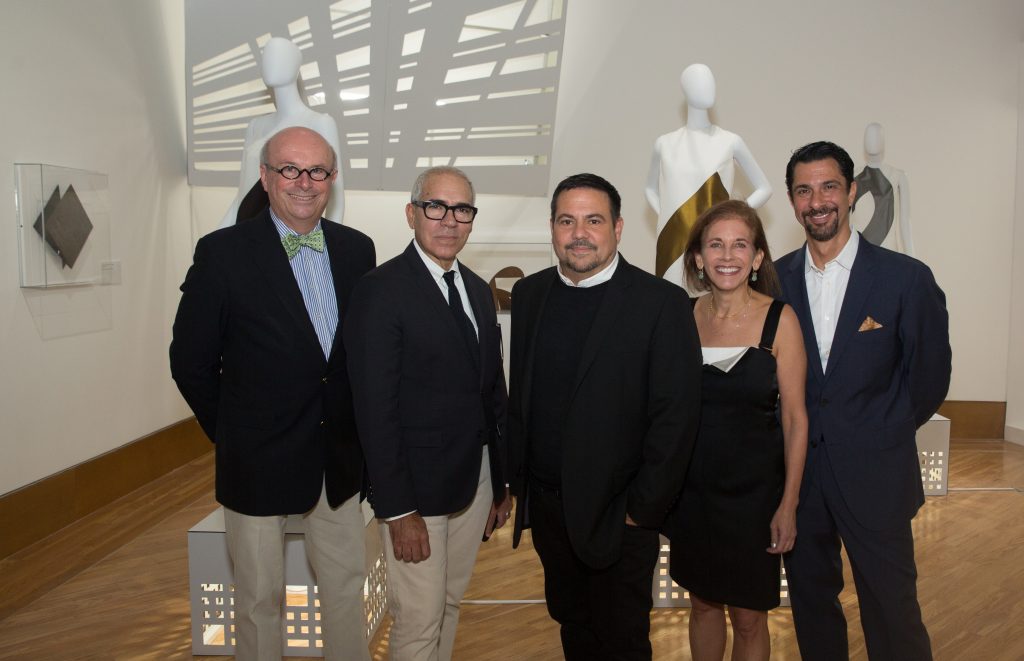 Jordana Pomeroy, director of the museum, says Narciso is the perfect designer for the job.
"His garments themselves are like sculpture, they are like little works of art," she says. "And our visitors will come away with a new sense of what fashion is about. In terms of our scholarly credibility, it's important that we are the first to feature him [Narciso] in a museum exhibition and to treat his garments as works of art. He's not a quick-change artist. He goes back and uses ideas and concepts that he's used for years and that's what any good artist does."
Gonzalez says that is precisely one reason Narciso stands out in the fashion world.
"Fashion is fickle," he says. "It's about the season, and with Narciso that's never the case. A great Narciso dress is forever."
Case in point: at least one garment 10 years old stands right next to another made this year—and they seem to be part of the same collection.
Opening the world of art
"We are very excited to have this exhibition," Pomeroy says. "It's our way of expanding our definition of art and what we wish to bring to the FIU community."
She explains that museums around the globe, like the Louvre, have hosted fashion couture exhibits and fashion, architecture, and furniture are increasingly considered part of art history.
Pomeroy and Klaudio also wanted an exhibition that would reach students and help them realize they can experience art and fashion on campus.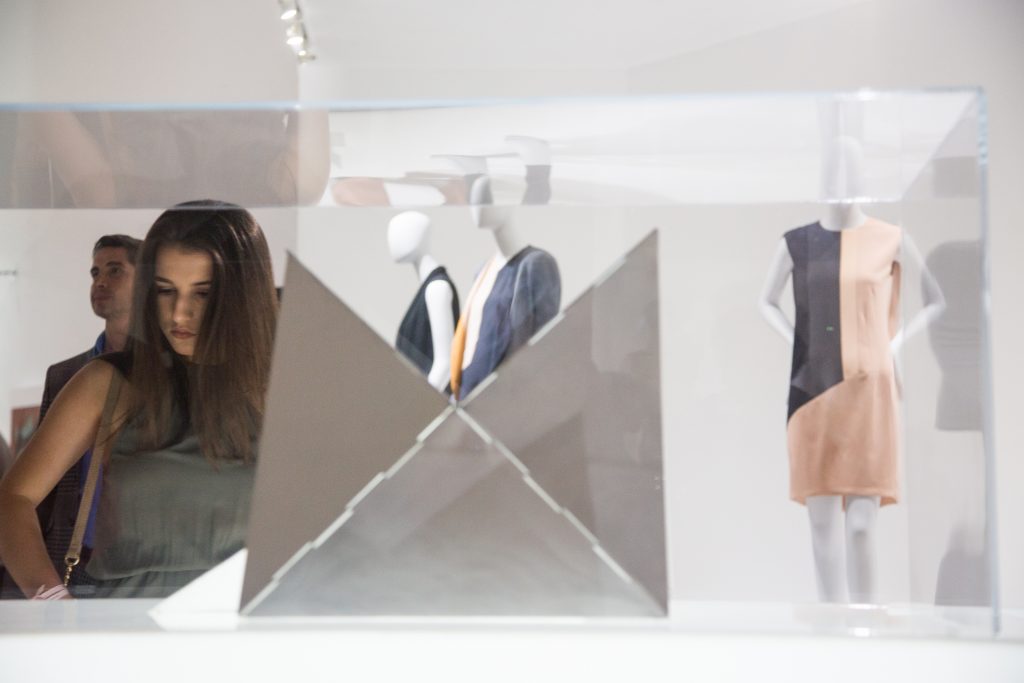 Senior biology major Stephanie Cortina says the fashion exhibit is a real treat for her. She's proud to say her mom has sown every dress she's worn from prom to homecoming dress. So, when Cortina found out about the exhibit, she knew she wanted to experience it.
The perfect opportunity to bond and spend quality time together, Cortina brought her mom and sister along.
"We are incredibly impressed," she says. Cortina was awed by the garments' quality and how seamless their lines are.
The exhibit has also motivated her to tread new territory and visit the museum for the first time. "This is really what drew me in. It's nice to see something like this represented as art. I'm a biology major, so this is nowhere near close to my everyday life, but I appreciate art and I appreciate people who do it."
For many of us, the couture fashion scene seems far and unreachable. But it has become very accessible to the FIU community, sending a clear message that art—and success—are attainable, too.
Gonzalez says the story of hard work and success of Cuban-Americans like Narciso is especially relevant at FIU.
"It's important for students to see this. It's revelatory and celebratory. We owe to the generations that are coming to act as examples," says Gonzalez, a fellow Cuban-American who has also reached incredible success. "It's an important thing to say we're here, we're accomplishing, we're proud of our contributions and to share that. It's sort of the American success story. And you have to pass that along."
Philanthropist Patricia Frost, one of the museum's namesakes, says: "It's important for the students to see what an artist and designer can do with dedication to study, to following through with a dream, spending 20 years to get a mission out there, because students should be thinking the same way. You have got a career, you've got to work hard, but look what you can produce."
This post "Narciso Rodriguez exhibit expands definition of art" was originally published on FIU News.