As we approach the Thanksgiving holiday, giving thanks seems to be on everyone's mind. And, at FIU, that is no different.
On November 16th at Modesto A. Maidique Campus and November 17th at Biscayne Bay Campus, FIU students participated in #FIUthanks, an event that sought to engage and educate the university community on the importance of philanthropy. In addition, the event also provided students with an opportunity to show their appreciation to FIU donors for their generosity.
To say thanks, students had the option of writing a message on a large thank-you card, participating in a video message, or posting a picture of something at FIU they are thankful for using the hashtag #FIUthanks. By about the midway point of the event, the card was so filled with colorful messages that students had to find creative ways to squeeze their thank-you notes into the few remaining open spaces. The completed card and video will be presented to donors as a symbol of gratitude from the FIU community.
No matter how they chose to participate however, students were excited for the chance to show their appreciation.
"Thanks to our donors we have this prestigious university and the programs offered, which give many of us who are first-generation students the opportunity [to attend FIU]," said Ana Castro, a junior biomedical engineering major.
As part of the festivities, the students were visited by FIU President Dr. Mark B. Rosenberg, Provost Dr. Kenneth G. Furton, CEO of The FIU Foundation Howard R. Lipman, Roary, and the FIU Golden Dazzlers. President Rosenberg took some additional time to chat with students about their studies and progress, as well as to join in on several #FIUthanks photos.
In addition, staff from The FIU Foundation gave students information on the donation process and how scholarships that they receive are supplemented by or created with these charitable efforts. For many students, this might have been the first time that they were made aware of how they had been directly impacted by the philanthropic efforts of FIU donors.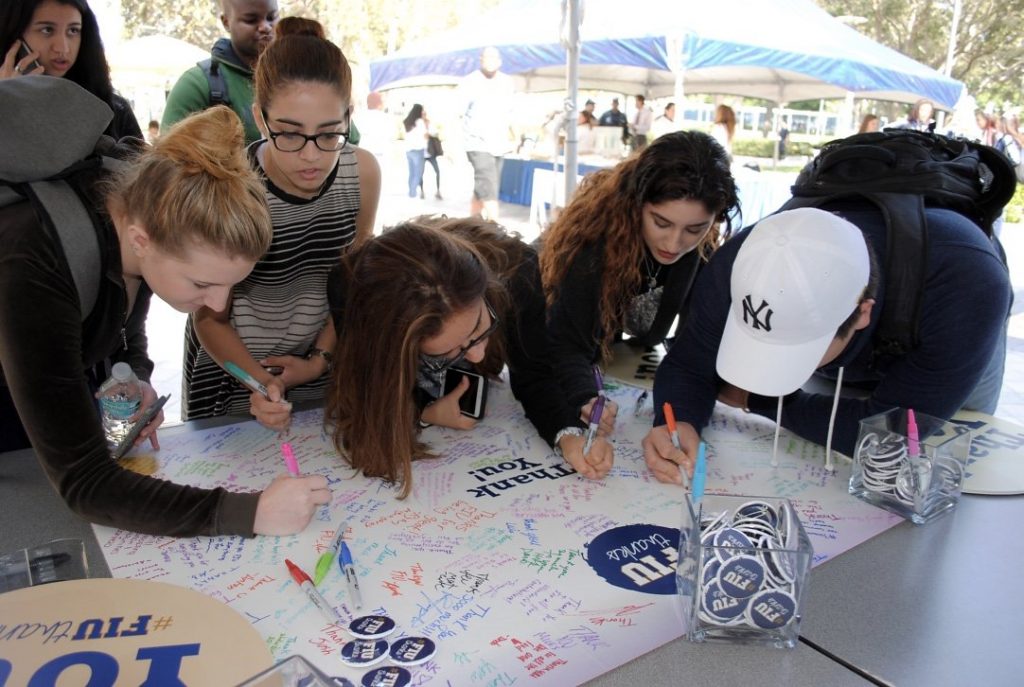 In fiscal year 2015-2016 alone, for example, 16,712 donors gifted $41 million overall and more than $4 million was awarded to FIU students from donor-funded scholarships. Students also discovered that money from donors isn't solely used for scholarships; it's also used to enhance the classroom experience through updated technology and support various aspects of student life on campus.
"[Donors] give us all the things that make us different as a university, so we appreciate them," said Nicole Fernandez, a sophomore psychology major who stopped by to sign the card.
In between posting on social media, conversing with the president, and learning about the impact of a donation to FIU, students munched on pizza and cookies. In addition, more than 2,000 special #FIUthanks t-shirts were given away to students who participated.
"We were excited to see such an incredible turnout for #FIUthanks," said Frances Alonso, director of donor relations and stewardship. "It's important for the FIU student community to understand the importance of philanthropy and how they are affected by the generosity of our donors. We are happy to be able to provide them with an event and a platform to thank our donors for all that they do."