TEDxFIU celebrated its fifth anniversary this year, christening the new Student Academic Success Center's lecture hall as its inaugural event.
The annual event—produced by the Division of External Relations and sponsored in part by the College of Arts, Sciences & Education—broke its previous attendance record, selling more than 600 tickets. And more than 1,500 people watched TEDxFIU's live broadcast on FIU's Facebook.
Attendees this year were introduced to speakers' unexpected discoveries—ranging from explorations of personal identity to scientific innovations and even a modern journey down the traditional path of arranged marriage.
The night kicked off with Evelyn Gaiser, executive director of FIU's School of Environment, Arts & Society discussing an unexpected discovery that her two passions—science and music—could come together to help her better understand data.
A member of the Global Lake Ecological Observatory Network, a worldwide coalition of aquatic scientists, Gaiser researches Florida's Lake Annie. She collects and interprets the lake's data year-round, including daily temperature changes—which formed the basis for her TEDx talk.
Also a classically trained musician, Gaiser set out to try to visualize all the temperature data she'd collected from Lake Annie, and she noticed that each of the data points could be assigned a musical note. From three years of her data, she composed "Lake Annie's Song," a serene piece that takes listeners on a journey through the high notes of summer and the low notes of winter. The piece was then arranged by Marcus Norris and performed by Yaniv Cohen, Aryam Gonzalez, and Tomas Lopez, all members of the School of Music, on the TEDxFIU stage.
"Music seems uniquely suited to expressing the nuances of nature," Gaiser said, noting a growing trend of scientists and musicians around the world coming together to explore the complexities of nature in this way.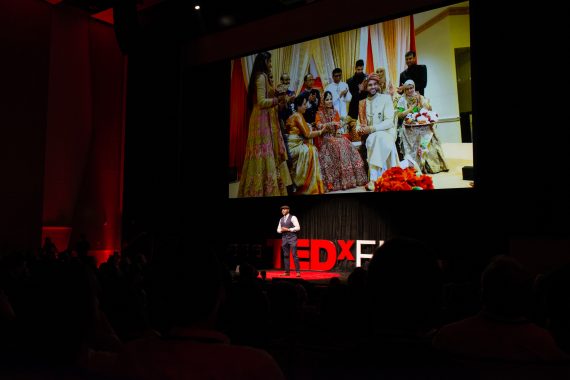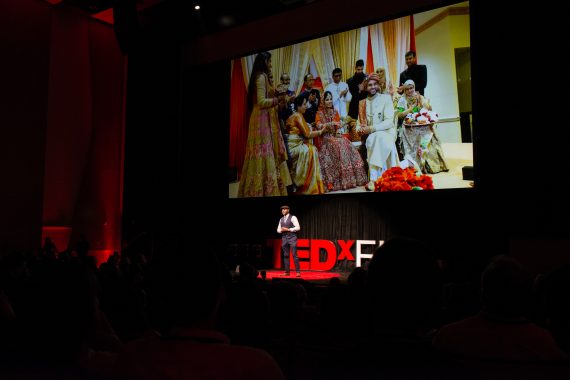 Later that evening, alumnus Omar Durrani '13, MBA '16 told his own love story: a modern business man trying to find romance in the traditional Indian arranged marriage system.
After meetings with women around the country, arranged by his tradition-favoring Indian mother and grandmother, ended in disappointment, Durrani had given up hope of finding "the one" through arranged marriage. But they convinced him to give it one more try with a pediatric neurologist who shared his love for children.
"I'm a millennial…an entrepreneur. But I'm also a curious guy," Durrani said. So he flew across the country to meet her, under supervision of both their families, and ended up proposing the next day.
Durrani admitted his unexpected discovery was that his mother and grandmother had been right all along: Arranged marriage can and does work in the modern world, and it helped him find the love of his life.
In a talk that brought members of the audience to tears, alumna Valeriana Chikoti-Bandua MA '14 advocated for the plight of the girl-child, a term used by the United Nations to describe young girls from underprivileged backgrounds who often fall prey to human trafficking, sexual violence, female genital mutilation, and other abuses.
Born an Angolan refugee in Zambia, Chikoti-Bandua revealed she herself lived as a girl-child, becoming a victim of sexual violence at the age of five. Though she did not feel comfortable revealing that side of herself growing up, at one point falling into deep depression, today she fights for the rights of girls and women everywhere with the United Nations.
"Today, I wear the crown of a survivor," said Chikoti-Bandua, who holds a master's of global governance from the Steven J. Green School of International & Public Affairs.
Chikoti-Bandua's unexpected discovery stemmed from the advice of her late father: "No matter where God takes you in this life, do not be afraid to tell your story, because when you do that you bring people alongside your journey, too."
The night ended with a performance by musician and producer Tony Succar '08, MA '10, an alumnus of the School of Music and a two-time performer at TEDxFIU. His band, which featured his mother Mimy and sister Claudia's vocals, played two salsa compositions with African jazz influences. The music highlighted the cajón, a box-shaped drum from Peru played by Succar.
Succar attributes much of his success to his performance at the first TEDxFIU, back in 2012.
"The TED talk that I did actually opened up so many doors for my career," he said.
Making it to the TEDxFIU stage is long road for speakers. After being selected, they spend weeks perfecting their talks with speech coach Charlene Eberly of University Advancement.
Eberly said she is proud of how much all the speakers have grown and what they've accomplished in the last five years.
"They make it look easy, but it takes guts and stamina to make it to the stage. We spend weeks working with each speaker to find the most compelling and honest way to tell the story," Eberly said. "Behind every inspiring talk, there are dozens of revisions and rehearsals, and sometimes a few tears. It can be a cathartic process, but the results make it all worthwhile."
Videos of each talk will be posted to the official TED YouTube page in January and shared on FIU News. For more information, visit tedx.fiu.edu.
This post "Fifth annual TEDxFIU breaks attendance record" was originally published on FIU News.