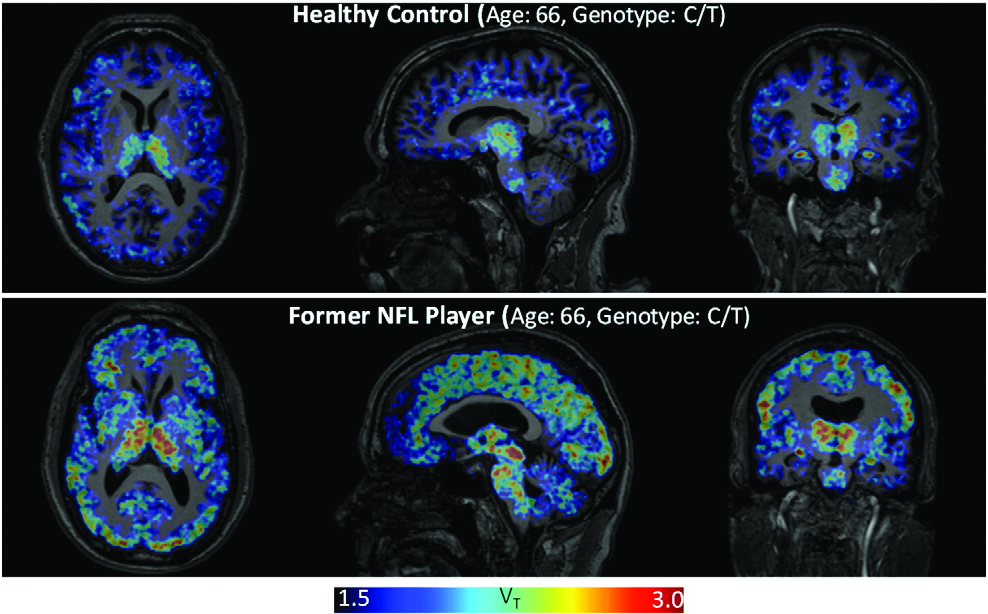 A team of researchers has gathered evidence that neuroinflammation, a swelling of the brain that plays a critical role in neurodegenerative diseases such as Parkinson's and Alzheimer's disease, is present at a much younger age than previously thought in athletes who experience repetitive mild traumatic brain injury.
The presence of chronic neuroinflammation in the brain ultimately leads to degeneration of brain matter.
For Tomás Guilarte, a co-author of the study and dean of FIU's Robert Stempel College of Public Health & Social Work and professor of cognitive neuroscience and imaging and environmental and occupational health, the message is clear, and the science is confirming what has been suspected for some time.
The study, which compared brain images of active and recently retired NFL football players ranging in age from 23 to 39 to a control group of non-athletes of similar ages, found that neuroinflammation existed in the young NFL players' brains without these athletes having yet experienced any of its neuropsychological effects or brain volume loss. Knowing that this process starts at a much younger age for those who have experienced repeated head trauma — think football players, boxers and, in some cases, soccer players — there is renewed urgency to the work of researchers such as Guilarte to focus their efforts on earlier detection, better understanding of the mechanisms behind these diseases, and possible therapies.
Results of the study, "Imaging of Glial Cell Activation and White Matter Integrity in Brains of Active and Recently Retired National Football League Players," were published in the Nov. 28, 2016, issue of JAMA Neurology.
A chain reaction like no other
Scientists already know that when the brain experiences repeated, forceful blows — not only concussions but sub-concussions that clinically do not rise to the level of a concussion — it triggers a chain reaction that ends with lasting injury to the brain.
"The brain wasn't meant to be rattled," says Guilarte, "so every time it experiences this type of impact it produces stress and neurons get injured."
In response to this assault, certain cells in the brain produce increased amounts of a protein called TSPO, short for Translocator Protein 18 kDa. Too much TSPO in the brain is a symptom of neuroinflammation. In a normal brain, for example, TSPO is almost undetectable via imaging. That's not the case in a brain that has been subjected to repetitive injuries, because TSPO levels rise at the sites of injury and neuroinflammation.
Once present, neuroinflammation persists. Two years ago, Guilarte and this same group of colleagues published a study that found neuroinflammation in the brains of football players who had been retired for many years (see image above). Chronic neuroinflammation leads to the increase of a protein called tau, which eventually leads to Chronic Traumatic Encephalopathy, or CTE, a progressive disease of the brain that has been found to afflict many former football players.
Guilarte finds these latest results so significant that he feels it is important to initiate research with high school- and college-aged football players to determine whether TSPO (and by extension neuroinflammation) is present in their brains.
The Future of Brain Injury Research
For Guilarte and his colleagues in the field, this study and others prompt questions that can only be answered through additional research.
Genetics and neuroinflammation: "We just don't know what role, if any, genetics plays in how fast neuroinflammation progresses and actually leads to CTE," says Guilarte. He also wonders how the speed of progression affects the aggregation of the protein tau, which ultimately leads to CTE.
Earlier detection of neuroinflammation: Presently, detecting neuroinflammation involves expensive neuroimaging tests. "If we could have a blood-based test to detect the presence of neuroinflammation right after a concussive or sub-concussive event, that would be ideal — an inexpensive blood test that could be a reflection of what just happened in the brain."
The impact of TSPO once it is detected in the brain: This is the "million-dollar question," according to Guilarte. "If we knew how to intervene properly and early enough then there is a possibility for therapy to be effective."
Guilarte and his research team have been working on TSPO for more than 20 years. The early research involved the validation of TSPO as a biomarker of brain injury and neuroinflammation.
"Dr. Guilarte's work is important, because identifying biomarkers of inflammation such as TSPO will help us measure the physiological impact of environmental stressors on the brain and may inform future strategies for detection and early intervention," says Jonathan Hollander, program director in the Genes, Environment and Health Branch of the Division of Extramural Research and Training of the National Institute of Environmental Health Sciences (NIEHS). Guilarte's work on TSPO has been funded by the NIEHS for the past 18 years, and he is a member of its advisory council.
For the past four years Guilarte's research team has been looking at the function of the TSPO protein that signals the presence of neuroinflammation.
"We know that TSPO increases when there is brain injury and inflammation, and we can image it. That has been validated and it is currently being used in many clinical research centers," Guilarte says. "What is less clear is what this protein is doing. What is its function in the brain? There is evidence that chemicals that bind to this protein could have therapeutic potential, but the scientific community can't move forward until we understand TSPO's function. That is what we are doing right now in my lab."
Until the day we know more about mitigating sports-related head injuries, Guilarte, the scientist and former youth soccer coach, says his message to parents is a simple one: Prevention is key.
This post "Study of young NFL players shows brain damage from sustained head trauma occurs earlier than previously thought" was originally published on FIU News.