Four Florida universities are joining forces in the fight to stop Zika.
The Centers for Disease Control and Prevention has awarded $10 million to a new center that brings together scientists from FIU, University of Florida, University of Miami, and University of South Florida. With Florida often being an entry point into the United States for mosquito-borne illnesses including Zika, the collaborative research center is focusing on stopping the spread of these diseases.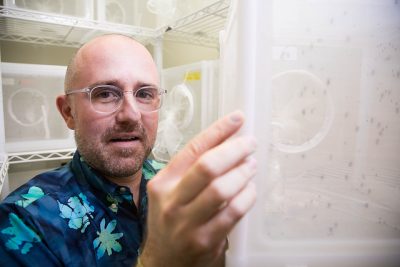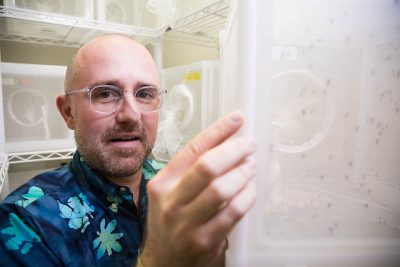 The first locally spread cases of Zika were reported in a one-square mile area in Miami's Wynwood neighborhood during the summer of 2016. Shortly afterward, the CDC issued a travel advisory urging pregnant women to stay away from the area because the virus can cause birth defects. Throughout the summer, Zika continued to spread but has since slowed with the passing of the 2016 mosquito season. While the last Zika zone was lifted in December, scientists working with the new center are quick to point out that vector-borne diseases — those transmitted by mosquitoes, ticks, sandflies, and other arthropods — are always a threat, especially in South Florida's warm and humid climate.
Biologist Matthew DeGennaro, a researcher in the FIU Biomolecular Sciences Institute, is leading the FIU research team within the newly formed Southeast Regional Center of Excellence in Vector-Borne Disease. UF researcher Rhoel Dinglasan, who calls Florida the gateway for vector-borne diseases in the United States, is heading up the initiative.
DeGennaro's research team studies how Aedes aegypti, the principle vector of dengue, chikungunya, and Zika, find their human and plant hosts. They are developing new bait that could lure female mosquitoes to lay eggs in a trap that then kills all the eggs, helping to reduce mosquito populations. The researchers are also interested in studying the behavior of mosquitoes in nature to predict and prevent Zika outbreaks. DeGennaro and FIU biologist Fernando Noriega are also developing a workshop to train future mosquito biologists and mosquito control specialists.
"I think the CDC is really making something unique happen here in Florida," DeGennaro said. "The academic world is trying to respond to this crisis, and by working together along with mosquito control and others, we can find effective solutions that stop these cycles of disease."
The CDC grant is part of nearly $184 million in funding to support efforts to protect Americans from Zika virus infection and associated adverse health outcomes. Florida provides a unique environment to examine vector-borne diseases in real time. Miami-Dade is often an entry point for such diseases, adding to the urgency of the research and providing a real-world lab. According to the researchers, solutions that work in the densely populated urban environment of South Florida should work in other locations as well.
By leveraging the expertise of multiple universities, State University System Chancellor Marshall Criser II said Florida is poised to make the next major breakthroughs on Zika and other vector-borne diseases.
"This is an excellent example of how collaboration between higher-education institutions and businesses can lead to scientific advances that help us all live healthier, better lives," Criser said.
This post "Florida scientists take aim at Zika with launch of new center" was originally published on FIU News.