Students from eight local high schools are finding their voices on social issues and expressing their creativity through the Wolfsonian–FIU's Zines for Progress community outreach program.
Zine artists combine creative writing, journalism, photography, and art to produce small-circulation, self-published works, often dealing with controversial or niche topics that may not make it into mainstream media.
Zines came about during the punk scene in 1970s London when musicians had their friends help design art for their album covers and the information in the sleeves. From there, the trend of self-publishing grew.
"The idea was to give voice to marginalized, unconventional, and controversial points of view and experiences, and I would say in certain cases there was definitely a tone of anarchy and an attempt to subvert the dominant paradigm," said Zoe Welch, who oversees the Zines for Progress program at the Wolfsonian. While some of those sentiments are still present in zines today, the works can also be fun and are traded among artists.
To start the process, Welch visits visual and language arts classes at the eight participating schools to discuss the Wolfsonian and to help students brainstorm their zines. The students then take a field trip to the museum to view its collection of modern art and start working on their zines under the direction of Miami artist Deming Harriman.
"I think art education is extraordinarily important, because you have the emotion and the creativity and the ability to do something that is yours," Harriman said. "These kids are smart, and they are bombarded with all these issues that they care about and have opinions about, and the Zines project is an outlet to express that. They get to research topics that they're upset about and passionate about and educate themselves more."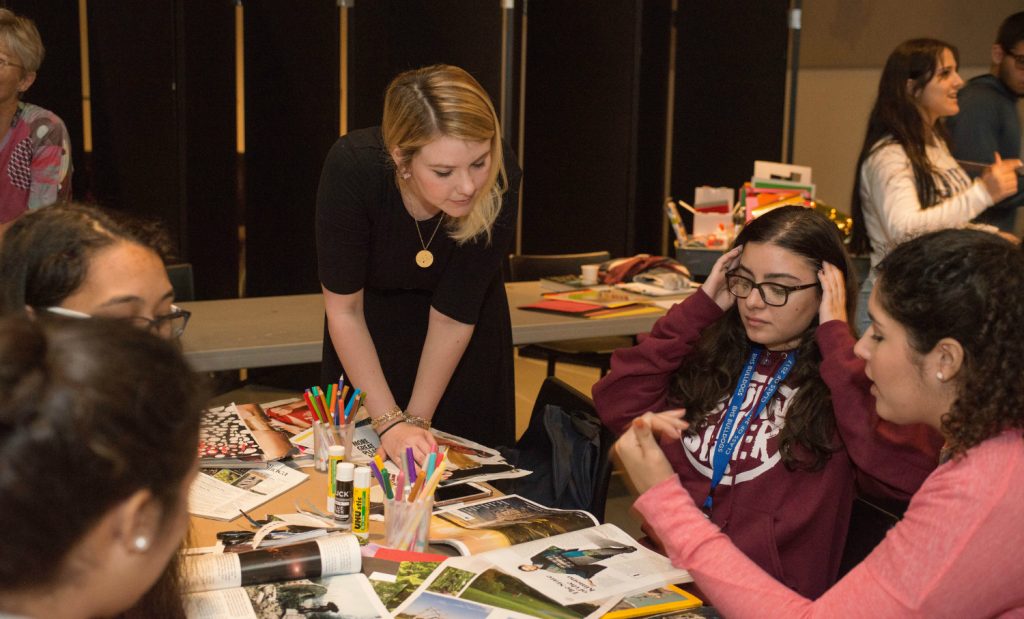 Heather Cook, the head of education at the Wolfsonian, said the project, which is in its second year and is funded by a gift from Wells Fargo, is "an important creative outlet to hundreds of kids in our community who are finding their voices on the challenges that face their generation."
The project encourages students to research social issues present in today's society and find ways to visualize through art the information they learn, helping them engage more deeply with the content.
"The creative process is a much more organic way to learn. In class, we talk about congruency between the idea, the image, and the message. It really helps promote critical thinking," said G. Holmes Braddock High School teacher Caridad McCormick, whose twelfth-grade creative writing class is participating in Zines for Progress this year.
Alicia Lores and Jin Milan, Braddock seniors in McCormick's class, are working on a zine that discusses ageism. They want to find ways to express the prejudice many people of older generations feel toward Millennials through their art.
"It comes from our own personal experiences," said Milan. "If you're young, you don't know anything about life, and you're not entitled to an opinion."
"We recognize that a lot of the time they're not intentionally patronizing their kids," added Lores. "For example, the 18-year-olds sit with kids at dinner because they 'can't talk about adult things.' It's not intentional. They just still see us as children. But it is a form of prejudice that needs to be acknowledged, because once you acknowledge it, you can begin to fix the problem."
The two are using photos of adults with their eyes crossed out to symbolize a sense of blindness to the younger generation's plight, and they want to include interviews with their parents and family, as well as comments from social media, in articles they intend to write on the subject. The two will also create a playlist of music to accompany their zine to set the tone for the reader.
"I am so impressed by the sophistication of kids today," said Welch. "I don't remember having such a strong handle on the world, and I don't remember being as interested in my own education when I was a teenager as these kids are."
Lores and Milan were grateful for the opportunity to work on their zine one-on-one with a professional artist while at the Wolfsonian.
"It's been very useful to work with Deming," said Milan. "We've gotten lot of ideas just from being here with her and having her look at our work."
At the close of the program, students will have the chance to showcase their work alongside that of professional zine artists at the Miami Zine Fair, which takes place during the O, Miami Poetry Festival in April. Their work will also be digitized and included in the Wolfsonian's zine collection.
Said McCormick, "There's so little students can do without worrying about the test or the score or the outcome, and this is just giving them space to be free and be themselves, while making it an academic experience at the same time. Believe it or not, we can still do both."
This post "High schoolers create 'zines for progress' with Wolfsonian–FIU" was originally published on FIU News.