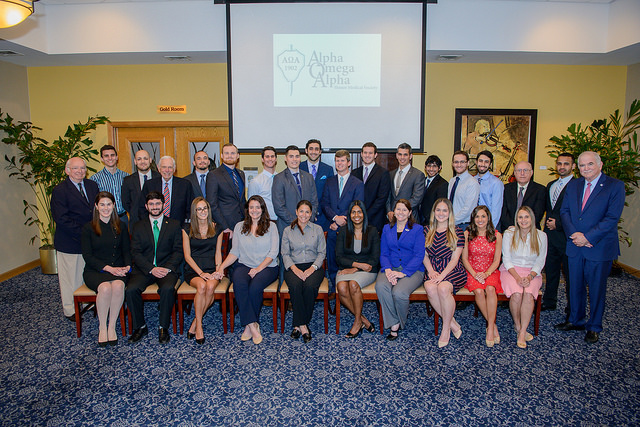 A group of Herbert Wertheim College of Medicine (HWCOM) students have joined a club so prestigious that members include more than 50 Nobel Prize winners.
The 18 students — along with two HWCOM graduates and three faculty members — were inducted into Alpha Omega Alpha (AOA), a national honor society for medical students and medical professionals. The induction ceremony took place Thursday, March 2, at the Faculty Club.
AOA membership recognizes scholarship, as well other values including honesty, ethics, dedication to serving others, and leadership. The society's motto is "Be Worthy to Serve the Suffering." AOA is to medicine what Phi Beta Kappa is to letters and the humanities, and what Sigma Xi is to science. Nearly 75 percent of deans of U.S. medical schools, including HWCOM Founding Dean Dr. John A. Rock, are members of AOA.
Here's a list of this year's inductees into the Florida Epsilon Chapter of AOA:
Class of 2017 : Zachary Aberman, Erica Bass, Nicole Brzozowski, Angel Chinea, Elena Dimiceli, Benjamin Levens, William Mahoney, Amal Masri, Nicole Massucci, Muhammad Noor, George Skopis, Logan Stark, Christopher Tournade
Class of 2018 : Christopher Kinter, Roy Lipworth, Jared Maas, Bruno Panzarini, Adeeb Rohani
Faculty : Gagani Athauda, M.D.,  Vivian Obeso, M.D., A. Frederick Schild, M.D.
Graduates : Hanadys Ale, M.D., Allergy & Immunology Fellow, Class of 2013; Mohammad Al-Mousily, M.D., Pediatrics Resident, Class of 2015
To view all the photos from the ceremony, click here.
This post "Medical students join prestigious honor society" was originally published on FIU News.