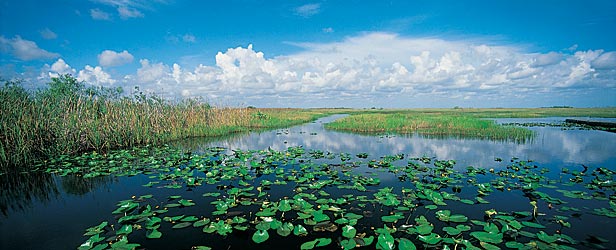 This winter a group of students from the Honors College, who were participating in a unique Everglades class, embarked on an adventure — not trekking through alligators and pythons in the River of Grass — but interacting with fourth-graders at Sweetwater Elementary School.
The Everglades: From Beginning to End, is a year-long, interdisciplinary Honors College course taught by Peter Machonis, a professor of modern languages in the Steven J. Green School of International & Public Affairs. It provides an in-depth study of the history, politics, literature, biology, art, botany, and issues surrounding Everglades National Park. Twice a month the class of 18 Honors College students meets all day on site. During the second semester, participants undertake a student-led project based on Everglades preservation.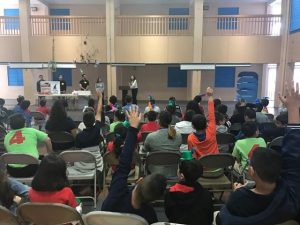 Honors College students Carolina Pulgarin, Lazaro Trujillo, Erica Riera, and Miranda Kerr led a presentation at Sweetwater Elementary aimed at getting the next generation committed to the conservation of the Everglades ecosystem.
"Learning what the Everglades once was, its struggles, and the influence we have on it has encouraged me to educate the next generation," said Pulgarin of her group's decision to present to the younger students.
One of the main issues for Everglades rangers in promoting conservation efforts is getting the local community to visit, so the Honors College group focused on fostering interest about the Everglades among the Sweetwater students.
"In order to help save the planet that humans are rapidly destroying, it is important that conservation habits start at a young age," Kerr said. In encouraging students to visit by "exposing them to the swampy ecosystem…and recreational activities available in the Everglades," the Honors College students hope to help save the Everglades.
The presentation's outcome was encouraging. Students were enthusiastic and excited to know more about the Everglades.
Riera said: "Seeing the students at Sweetwater Elementary so eager to learn about visiting the park themselves proved that it doesn't take an expert environmentalist to be excited about the Everglades."
This post "Introducing the Everglades to Sweetwater Elementary students" was originally published on FIU News.