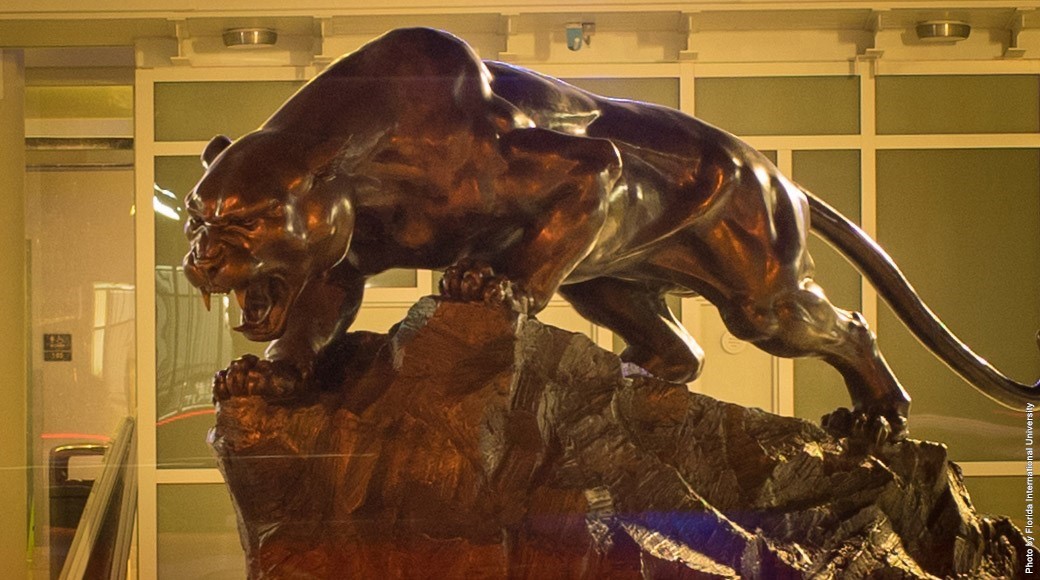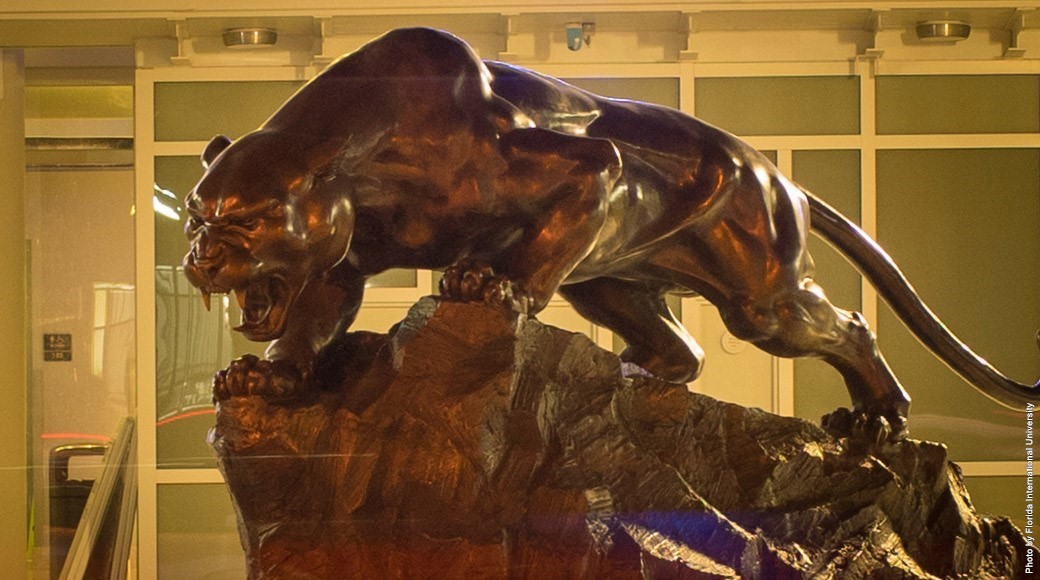 It was a record-setting week for FIU Athletics as the Panthers saw a diver earn the swimming and diving program its first First-Team All-America honor, the softball team set the school record for consecutive wins, the tennis team continued to dominate opponents, a discus thrower broke a 31-year-old record, baseball wrapped up a 3-2 week, and beach volleyball had a nearly perfect weekend.
Quensel's Podium Performance
Junior Rebecca Quesnel became FIU swimming and diving's first-ever First-Team All-American with a third-place finish in the platform program at the NCAA Swimming and Diving Championships in Indianapolis. Quesnel, who became the first Panther to reach an NCAA final after posting a score of 290.95 (fourth-best during the prelims), scored a 302.35 in the finals for a spot on the medal podium. Quesnel's third-place finish gave the Panthers 16 points and a 32nd-place overall finish in this year's championship. The 302.35 is the second-best score of the Burlington, Ontario, native's career. She posted a school-record 325.35 versus Florida Atlantic back on Feb. 2.
Quesnel, who was the program's first-ever diver to qualify for the NCAAs last season, returned to the pinnacle of collegiate swimming and diving in 2017 by posting a score of 525.05 (10 dives over both the prelims and the finals) to finish second in this year's Zone B Diving Platform Finals in Auburn, Alabama. She joined a record-number of Panthers at this year's NCAA Championships, as a total of six FIU student-athletes competed in six events during the four-day event.
Softball Streak Continues
Softball continued its impressive play with a three-game sweep of Conference USA foe North Texas this past weekend. The sweep extended FIU's current winning streak to a school-record 12-straight, as the Panthers improved to 26-6 (3-0 C-USA) this season. The Panthers pitching staff allowed just one earned run and nine hits during the series, while collecting 22 more strikeouts to become the first school in C-USA this season to record 200-or-more pitching strikeouts (206). Three Panthers hit .500 or more over the weekend series. Sophomore Jackie Schoff went 6-for-11 (.545) with three runs scored and two stolen bases versus the Mean Green. Stephanie Texeira, the reigning C-USA Player of the Week, hit 3-for-6 (.500) with four walks, three runs scored, and three RBI. Joining Schoff and Texeira was Araceli Peralta, who went 2-for-4 with three sacrifice hits and two runs scored.
Terrific Tennis
Women's tennis had a dominant week, shutting out all three of its opponents, while extending its current winning streak to 13 matches. The 13-match winning streak is the longest since the 2009 season (13-straight). Ranked No. 24 in the Oracle/ITA Women's Tennis National Rankings, the Panthers (15-1) have shut out 10 opponents this season, including five-straight. FIU is a perfect 10-0 at home and owns the best overall record in C-USA. The Panthers' only loss this season was to the No. 1-ranked Florida Gators back on Jan. 29.
FIU is led by sophomore Andrea Lazaro, who is ranked No. 28 in the Oracle/ITA Women's Tennis Individual Rankings. The native of Barcelona, Spain, is 11-1 in this spring and owns a career record of 41-13 (28-2 in dual matches). With 17 overall singles wins this season, Lazaro is joined by freshman Ulyana Grib (18-4) and sophomore Maryna Veksler (19-4) for the team lead in victories.
Other Highlights
Track & Field's Gabrielle Rains broke a 31-year-old Canadian record this past weekend at the Hurricane Invitational. Rains, a freshman from Sherwood Park, Alberta, set a new record in the discus with a throw of 53.10m, surpassing the previous Canadian under-20 record of 52.52m held by Michelle Brotherton on May 29, 1986. Rains finished second in the event and was one of 10 top-three finishes for FIU at the Invitational.
Beach volleyball, which entered the weekend ranked No. 15 in the DiG Magazine Collegiate Poll, went 4-1 at the Tiger Beach Challenge in Baton Rouge, Louisiana. The Panthers opened the tournament with a perfect 3-0 day on Saturday, dropping only one match as FIU defeated Spring Hill, 5-0, UAB, 5-0, and Houston Baptist, 4-1. The following day, FIU faced a pair of top 25 teams, dropping a hard-fought battle with No. 10 LSU, 3-2, and defeating No. 16 Tulane, 4-1.
Baseball registered a 3-2 record during the week, sweeping Stetson in a two-game, midweek series.
This post "A Record-Setting Week for the Panthers" was originally published on FIU Sports.