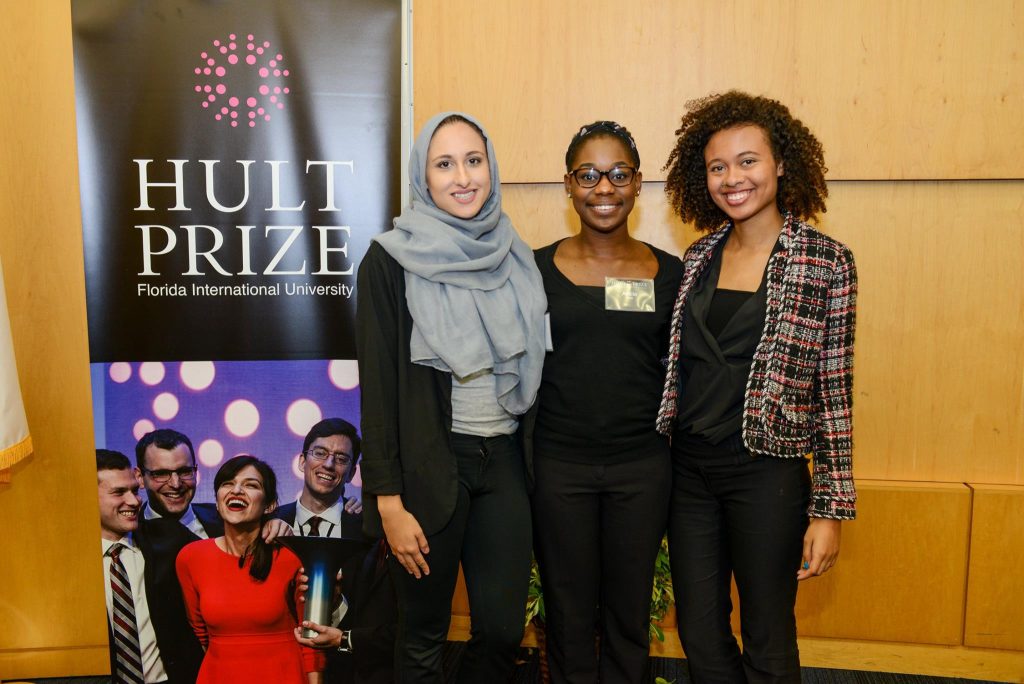 An all-female team working to restore dignity to millions of women refugees around the world was in Boston March 3-5 pitching its idea as part of the 2017 Hult Prize, the world's largest student competition.
While the four FIU students narrowly missed making the final round of the annual global competition that awards $1 million in seed funding to the winning team, the team left Boston with the conviction that its social venture, WeWomen, is a viable start-up.
"We're thrilled that we were able to compete in Boston and are grateful for all the support from the StartUP FIU team as well as our mentors, advisors and professors," said team member Dorothy Peck. StartUP FIU, the university's initiative to develop and foster innovation and entrepreneurship, sponsored the WeWomen team in Boston. "Being part of StartUP FIU has been awesome. None of us on our team are business majors, so the super intense learning has been extremely valuable."
"I am extremely proud of WeWomen for taking FIU further than ever before at Hult Prize," said President Mark B. Rosenberg, who followed the competition from Miami. "They are paving the way for students to create companies to help change the world."
Daniela Cadena oversees social entrepreneurship for StartUP FIU. She has been WeWomen's advisor since October 2016 and accompanied the team to the Boston regionals.
"It doesn't end here," says Cadena of the team's efforts. "It's not a linear path, but entrepreneurs never stop."
Why the focus on refugees? Each year, the Hult Foundation in collaboration with former president Bill Clinton poses a new challenge to contestants. The 2017 competition charged participating teams with developing a product or service that will "restore the rights and dignity of 10 million displaced migrants, including refugees" by 2022.
Empowering refugee women
WeWomen is focusing its efforts on the lack of feminine hygiene products in refugee camps. The team's solution is using leaves from banana trees to produce environmentally friendly menstrual pads.
"Menstruation is stigmatized in many cultures," said Peck. "The pads are also expensive and not seen as a necessity in households where men make all financial decisions."
According to the FIU team, women and girls can miss up to 50 days from work and school every year due to lack of access to hygiene products to help manage menstrual cycles. The issue is particularly acute in refugee camps where women have resorted to using soiled rags or garbage that can sometimes lead to toxic infections.
"And when periods are seen as a burden, women are seen as a burden," said Peck during WeWomen's business pitch to a panel of five judges and peer teams.
The team's business plan involves buying machines invented by an engineer in India to make the pads and obtaining banana leaves from northern Colombia, a region with displaced migrant women, and employing these women to prepare the leaves. WeWomen would manufacture the product in Colombia and sell its product in the United States, using proceeds from the sale to heavily subsidize the product in refugee camps in Africa and the Middle East.
Women looking out for women
The four students of WeWomen reflect the diversity that is FIU. Abeer Albarghouthi is a junior in biomedical engineering and a native of Palestine. Isra Ibrahim is a junior in biological sciences and originally from Sudan. Peck is a junior in international relations and from the United States, and Allicia Rolle, a senior in sociology with a certificate in women and gender studies, is from the Bahamas.
"It's exciting to see women from different countries and different majors coming together to develop a sustainable business to provide real help for refugees and other displaced migrant women," said Cadena.
The Road to Boston
The FIU team qualified for the regional competition in Boston by winning the local Hult@FIU competition last December. The local victory also secured WeWomen a spot in the second cohort of StartUP FIU's Empower Accelerator Program.
StartUP FIU co-founder and director Bob Hacker brought the Hult Prize to FIU as a way for students to engage in social entrepreneurship.
"It's exciting to see the evolution of our students from year to year," says Hacker, who has been teaching social entrepreneurship for more than 10 years. "This generation will change the world."
Undaunted by the Boston results, the team has already regrouped. Says Peck, "We will be applying for the online wildcard spot at Hult and will continue in the Accelerator until pitch day."
This post "Student team competes in regionals of $1 million Hult Prize" was originally published on FIU News.