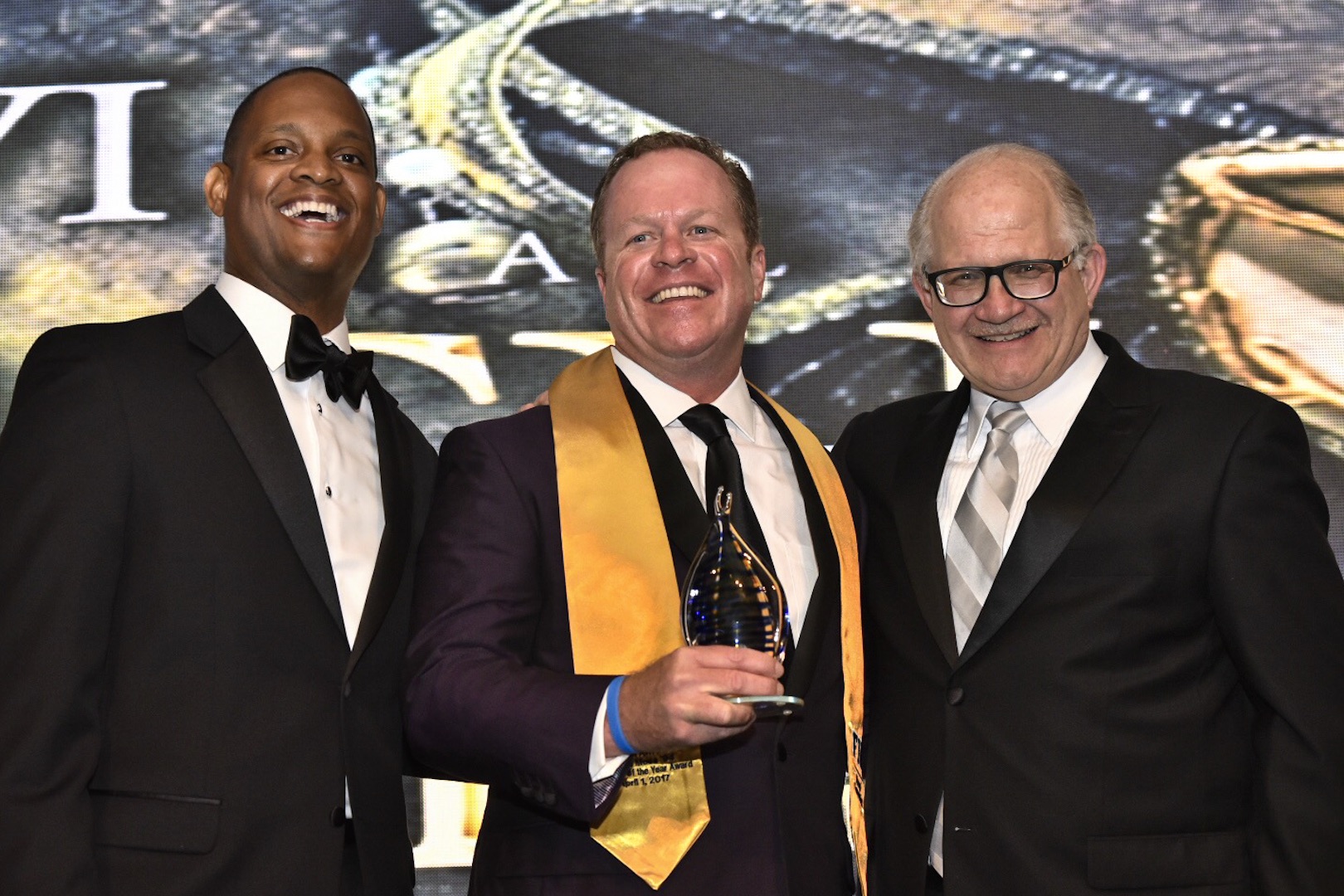 Alumnus Chad Moss '94 announced a donation of $10 million to FIU's College of Engineering & Computing at the 2017 Torch Awards Gala, marking the largest donation by an alumnus in FIU's history.
Hosted by the Alumni Association on April 1, the Torch Awards honored 17 alumni and one faculty member who make a difference in the community. About 680 guests attended this year's event, which raised money for first-generation scholarships and the future alumni center at Modesto A. Maidique Campus.
"Each one of you makes a difference for our FIU. You are torchbearers in more ways than one," President Mark B. Rosenberg said to the 18 awardees. "You lead by example. You shine the light on the path forward. Tonight, we celebrate you, because you are a part of our FIU family and all that you accomplish means so much to us. And also because right now, the world needs people like you to step up, to take responsibility, and to move the needle."
Moss' donation names the Moss School of Construction, Infrastructure & Sustainability and supports multiple scholarships for future Panthers, including the Freedom Warriors Scholarship for those who served in the armed forces; the Sasha Seco Women in Construction Scholarship, named for an alumna Moss hired at an FIU career fair 12 years ago; and the Kevin Love Fostering Success Scholarship, named for an alumnus who now works as a project manager at Moss & Associates' El Paso office.
"I encourage all FIU alumni and South Florida business leaders to solidify your relationship with FIU," Moss said. "If you want success in South Florida, you need FIU grads to make it happen."
In total, Moss & Associates, a construction management firm, has hired 55 FIU students.
"At Moss, we are grateful to those who have contributed to our success, and we appreciate the opportunity to give back," Moss said. "I want to challenge all of you in this room to give back, to give to the university that educated you, to the university that educates the talent that drives your success, and the university that fuels the economy and the community we all call home."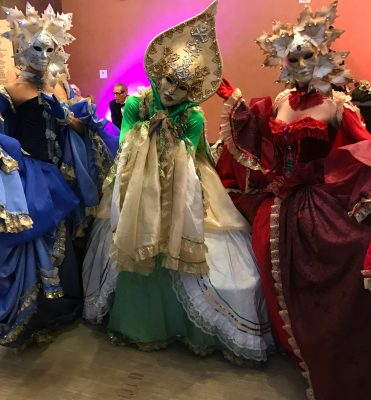 Held at the JW Marriott Marquis in Miami, the gala featured a masquerade theme. Masked entertainers in ornate, rococo costumes danced around the hotel's ballroom, and attendees were treated to an "hora loca" after dinner.
Dr. Seth Crapp '98, a pediatric radiologist who received the Community Leadership Award, said it was an honor to be recognized for his involvement in the community. Throughout his career, Crapp has served on nonprofit boards and community organizations, including Knots4Kids, Inc. and the Artists Showcase of the Palm Beaches.
"Community service — ­community leadership in particular — is something that when you're involved with it, you're not looking for the recognition, but it's definitely a high honor to receive it from the university for your efforts," Crapp said, "I think each of us has some responsibility to use our talents and education, your human resources to give back and contribute to those who may not be so fortunate."
Judge Marcia Del Rey JD '05, who received a distinguished alumna award from the College of Law, said the emphasis on internships and community engagement at FIU prepped her for what a career in law is really like. A graduate of the college's inaugural class, Del Rey entered the profession with internship experience in the public defender and state attorney offices.
"For me, it was huge that FIU gave me an opportunity to become who I wanted to be my whole life," Del Rey said of why she feel it's important to back to FIU as an alumnus. "I had several people in my life who helped me and steered me along the way. Had it not been for them, I wouldn't have been able to do what I was meant to do. So I want to pay it forward, and to help other younger kids who need it."
The 2017 Torch Awards honorees are:
Alumnus of the Year
Chad Moss '94
Executive Vice President, Moss & Associates,
LLC & President, Moss Foundation
College of Engineering & Computing
Charles E. Perry Young Alumni Visionary Award
Manny A. Varas '10, MBA '14
President, MV Group USA
College of Business
Community Leadership Award
Dr. Seth J. Crapp '98
Pediatric Radiologist & Associate, RadiologyAssociates of Florida, P.A.
College of Arts, Sciences, & Education,
School of Integrated Science and Humanity
Outstanding Faculty Award
Mark Allen Weiss
Eminent Scholar Chair & Professor
College of Engineering & Computing
Distinguished Alumni Awards
Roberto R. Muñoz '80
South Florida Market President, BBVA Compass
Athletics
Thomas M. Cornish '85
Chief Operating Officer, BankUnited
College of Business
John "Chip" L. Acierno, III '83
Executive Vice President of Marketing, Sales and
Customer Service, The Executive Transportation Group
Chaplin School of Hospitality & Tourism Management
Oscar E. Cordova '85
Director of Architectural Services, CGI Windows &
Doors, Inc.
College of Communication, Architecture + the Arts
Pablo G. Ortiz, Ed.D. '91
Vice President, Regional Academic Locations and
Institutional Development, FIU  Dvision of
Finance and Administration.
College of Arts, Sciences, & Education, School of
Education & Human Development
Brian L. Machovina '91, MS '94, Ph.D. '15
Owner, Coreyak
College of Arts, Sciences, & Education,
School of Environment, Arts and Society
David L. Van Rooy MS '03, Ph.D. '05
Vice President, Executive Development, Walmart Stores, Inc.
College of Arts, Sciences & Education, School of Integrated
Science and Humanity
Manuel S. Miranda '78
State Farm Agent, Manny Miranda Insurance Agency, Inc
College of Engineering & Computing
Marcia C. Del Rey, JD '05
Judge, Miami-Dade Circuit Court
College of Law
Aurelio M. Fernandez, III '74, '85
President & Chief Executive Officer,
Memorial Healthcare System
Nicole Wertheim College of Nursing and Health Sciences
Marcus M. Flanagan '90
Medical Social Worker, Self-Employed
Robert Stempel College of Public Health & Social Work
Michael R. Mendez '03, MBA '10
President, Mendez Fuel Holdings, LLC
Steven J. Green School of International & Public Affairs
Walter B. Gonzalez, Jr. '96
President, Goja, LLC
Division of Student Affairs
Leonor R. Anthony '06, MA '09
Director, Simons Gallery
Honors College 
This post "Torch Awards 2017: A masquerade and a big announcement" was originally published on FIU News.