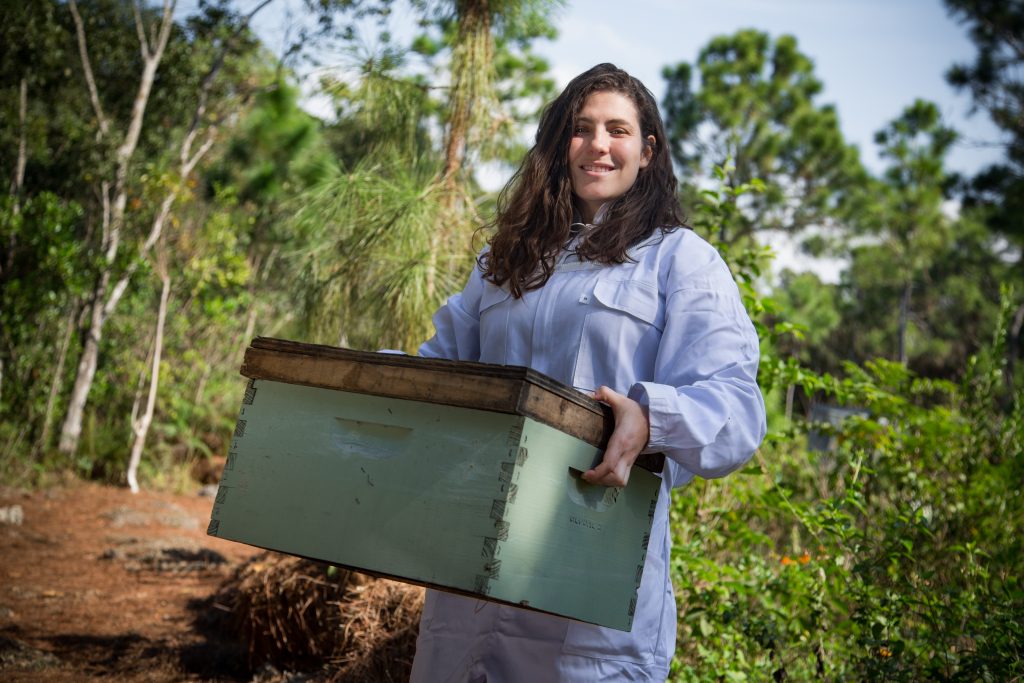 For some, the idea of beekeeping may be daunting. But for senior marketing major Andrea Saladrigas, daughter of Florida's third largest beekeeper, it was a simple solution to the complex problem of poverty.
Saladrigas created the company Master Honey with her father to alleviate economic concerns that affect low-income women, while also addressing local health and environmental issues. By training women to become beekeepers, they learn basic business skills like micro-finance. It also ensures that honey production will remain in Miami, further fueling the local economy. The project recently won her a $7,000 scholarship from iChangeFIU, a new program at the Center for Leadership and Service (CLS), which challenges students to develop solutions to complex social problems through social entrepreneurship.
"It will be a big help," Saladrigas said of winning the scholarship. "It will go toward buying hives, equipment, and resources to provide the women with education and training. Now that I have more capital, I can allocate more resources to more women."
iChangeFIU participants compete for a $7,000 scholarship to get their idea off the ground. Managed by assistant director of CLS Emani Jermone and funded by GOJA, of which FIU alumnus Walter Gonzalez Jr. is the president, the program contributes to the culture of social innovation among students at FIU.
As a native Venezuelan, Saladrigas saw her family struggle to qualify for jobs in Miami. Some have worked for Uber or Lyft to make a living. But growing up with her beekeeper father, she connected both experiences and saw an opportunity to create a solution for low-income women. Master Honey would address three problems:
Research from FIU Metropolitan Center show that 21.7 percent of women in Miami-Dade County are living in poverty. In addition, Saladrigas' own calculations found that 60 percent of women in Miami-Dade County and 58 percent of women in the U.S. are considered low income. As a result, they are unable to access balanced meals, health care, and higher education for themselves or their families.
According to the U.S. Department of Agriculture (USDA, the bee population has declined by 44 percent between 2015 to 2016.
USDA studies also show honey production has declined by 12 percent between 2014 to 2016. Saladrigas notes that honey Americans purchase and consume isn't always naturally made in the U.S., which could lead to questions about what other ingredients are being used.
To pilot the program, Saladrigas connected with Startliving, a transitional "halfway house" for those who are in recovery from drugs or alcohol. Working with three women, two to three beehives will be placed near the halfway house to start the training.
"We will buy the honey that the women produce to ensure they make income, that the honey is produced naturally, and sold in Miami-Dade County," Saladrigas said. "The old way of entrepreneurship makes money, but it doesn't have an impact. Buyers are changing the way they buy, and they care about what it affects. It's important to give back."
iChangeFIU isn't the only social innovation program at FIU. Jerome encourages students to get involved with StartUP FIU and the College of Business, which both have social impact labs available.
"I believe that to address many of the issues happening in our community, individuals have to be willing to create ideas that have both great impact and sustainable funds," Jerome said.
He says these programs create exposure to other resources and can connect students to more opportunities in the greater Miami community.
To get involved in the iChangeFIU program, visit leadserve.fiu.edu or stop by the Center for Leadership and Service office in GC 2210.
This post "Business with bees creates sustainability" was originally published on FIU News.