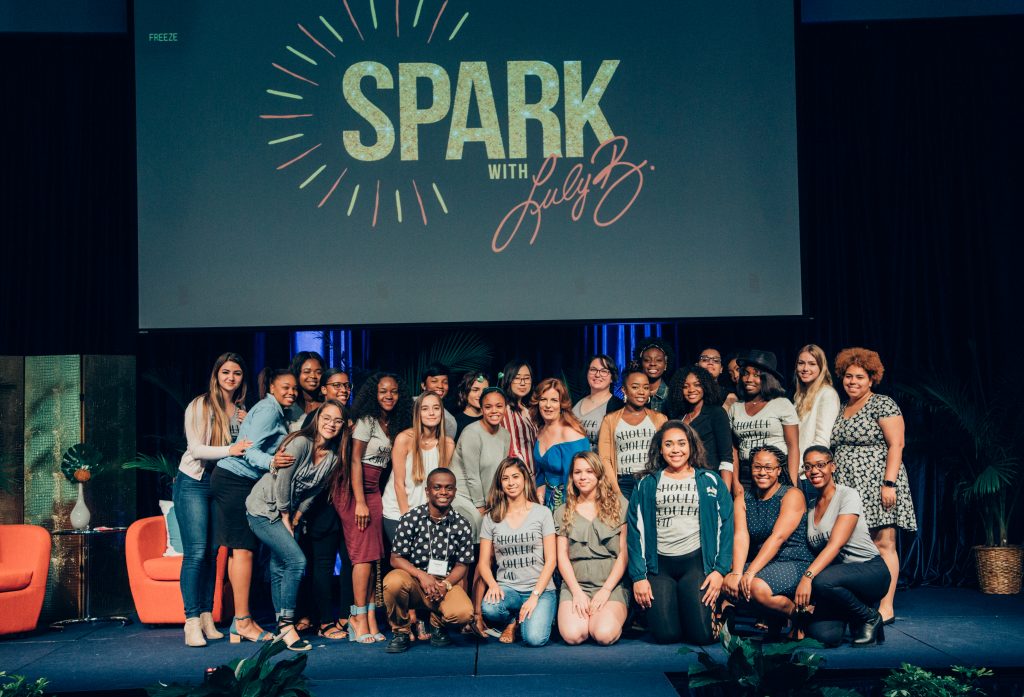 Little wishes came true the other day — the kind that lead to bigger things down the road.
Twenty-seven young women who either aged out of foster care or experienced homelessness as youth received precision help on the journey to reaching their goals. Standing on a stage in the Graham Center ballroom in front of a supportive crowd, some asked for internships and computers, others wanted assistance with housing and living expenses, while another sought a sewing machine and camera to develop new skills.
All are participants in FIU's Fostering Panther Pride program, which provides financial and other resources to both women and men to help them complete degrees and find jobs in their chosen field. (FIU's program has become something of a model at a time when only 6 percent of former foster youth nationally earn even a two-year degree.)
To secure another boost toward achieving their ambitions, the female students participated in an event hosted by entrepreneur and FIU alumna Luly Balepogi '00. A local tour de force in the movement to empower women, she brought together 250 FIU administrators and South Florida professionals, almost exclusively female, who made pledges in support of the FIU program and, in some cases, responded on the spot to students' requests from the stage.
"[They] are not a product of their story," Balepogi said of the students, many of whom have overcome childhood abuse, neglect, and poverty. "They're living beyond the story."
Tears surfaced as the women recounted their difficult early years, but all focused on futures filled with purpose and direction. They shared a wide array of aspirations that include attending medical school, working for the FBI's cybersecurity division, and earning a living as an artist.
Sophomore political science major Amber Mannings asked the audience for a chance to shadow an attorney or legislator to gain experience that will impact her career choice. "I want to make laws or influence laws that basically benefit disadvantaged youth," she explained. Numerous hands flew up in the crowd after she finished her piece, with several people eager to find her a learning opportunity. "I definitely got an abundance of connections with judges and things like that, so I'm very excited and very grateful."
As a teenager, Mannings fled a mentally unstable father and resorted to living solo in her car. She brushed her teeth in gas station restrooms and saw her high school grades plummet as she kept her dire circumstances a secret from friends and teachers. Self-reliant and initially uncomfortable asking others for help, she eventually enrolled at FIU and found "life-changing" support in Fostering Panther Pride. Aside from covering her tuition and other necessities, the program, she says, offers "comfort, emotional assistance. You just basically have that ear to listen. You basically have stability and support and people who care about you."
The only man in the audience, Alberto Gutierrez, answered the call of an engineering student who lives on campus but was struggling to keep up rent payments for her ailing mother. Managing Partner for a financial services firm in Coral Gables, Gutierrez recognized the great burden such concerns place on a young person.
"She touched my heart," he said. "I work with families all the time to make sure they don't get into that situation. I really wanted to help many of [the students], but she was the right one at the right time.
And luckily I had my checkbook on me."
This post "Dreams morph into reality for former foster/homeless students" was originally published on FIU News.