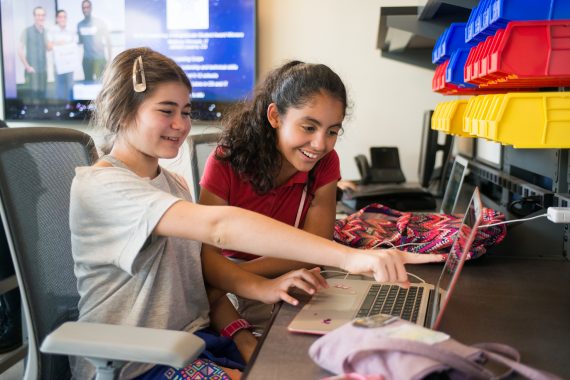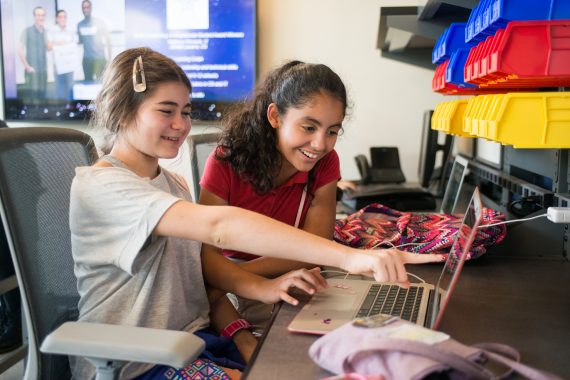 As the sun begins to set to the west of campus, its light peering slowly through the all-glass wall on the south side of Tech Station, giggles radiate through the room as chairs slide across to see what is on one of the station's computer screens.
Inside, 10 middle-school girls are using programs such as Python to develop their own games that vary from using Poké Balls to incorporating upbeat music. Behind the keystrokes are friendships and camaraderie, making their time spent at FIU that much more special.
The girls are there for the Girls Who Code club, a two-hour weekly meeting that occurs every Tuesday on FIU's MMC campus. The program started during the Fall 2016 semester and shifted to offer a second club opportunity this spring to middle-school students.
The objective is to teach the girls coding, robotics, web and app development, and computational thinking such as abstraction, algorithms, and binary systems. The club also helps develop communication and teamwork skills in a safe and comfortable environment where the girls feel like they can be themselves.
"Based on teaching best practices, this course is about more than just teaching the girls to code," said Mario Eraso, the STEM/Internships coordinator at FIU's School of Computing and Information Sciences. "It is about allowing them to build the necessary soft skills, as well as deep relationships that may further inspire them to pursue a career in computer science."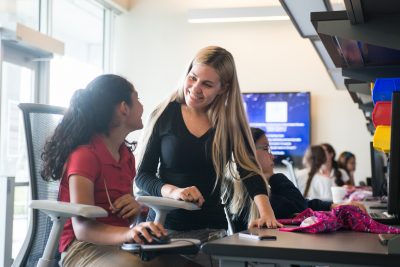 The girls are mentored and taught by female college students currently pursuing careers in computer science.
"They love playing each other's games," said Kierstin Matsuda, the girl's coach and mentor for the Tuesday class. "It's really nice to see the friendships they have built and the passion they have developed for the course. One of the girls even spent her entire one-week vacation building her game. "
Matsuda is one the club's three student teachers. Two of them are FIU students, and one is a high-school volunteer whose passion for computer science inspired her to continue to work with the girls. The hope is to expand the program to host five clubs of 10 students on every day of the week.
Every semester the club also organizes an event to showcase the projects the students have produced. It is also an opportunity to educate the community and the girl's parents on computer science and information technology.
Eraso also coordinates the Girls Who Code Summer Immersive Program. This program is a seven-week program for 20 junior and senior high-school girls. FIU will be hosting its fourth summer intensive program this year.
"If I had a program like this in middle school, I would have studied computer science and not business," said Matsuda. "I am about to get my degree in business, but I really want to have a career in computer science. If I had been exposed to these things during my formative years, I would have chosen this as my profession. That is the entire purpose of the program. "
This post "Coding, friendship inspire the next generation of women in IT" was originally published on FIU News.