Thomas Weppelman, a second-year medical student at Herbert Wertheim College of Medicine (HWCOM), has been named a 2017 Medical Scholar by the Infectious Diseases Society of America (IDSA), an international medical association representing more than 9,000 physicians, scientists, and health care professionals, who specialize in infectious diseases in nearly 100 countries around the world.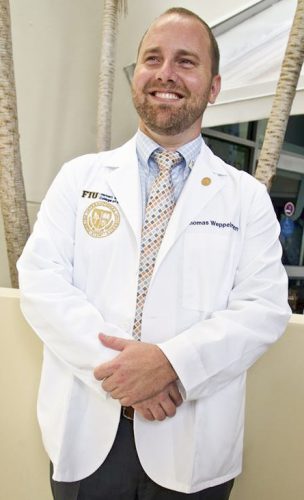 The IDSA's Medical Scholars Program seeks to attract the best and brightest students into the field of infectious diseases by awarding them a $2,500 scholarship to pursue independent research.
Weppelman's project — titled "Seroepidemiology of Burkholderia pseudomallei, etiologic agent of melioidosis, in the West and Southeast Departments of Haiti" — was one of 30 projects selected from medical school students across the country, and he is the first FIU student to receive this honor.
Melioidosis, is a potentially deadly infection caused by the soil bacterium Burkholderia psudomallei that is common in Australia and parts of Asia. Recent studies have shown it has also likely spread across developing countries with tropical climates. To assess the potential for transmission of the disease in Haiti, the researchers developed a new clinical diagnostic test and used it to test for antibodies toward the bacteria in people. The results show that indeed, up to 14 percent of the study population had been exposed to this bacteria. The study authors are currently working with the Haitian Ministry of Health to aid in the detection of active cases in local clinics and advise on how best to treat it.
Weppelmann has decided to share the money with his classmates, Marcelo Farias and Zakaria Abdulla, who under the mentorship of Dr. Marcia Varella will collaborate in the study as a joint summer research project.
"I think that the summer research course provides a fantastic opportunity for HWCOM students and inspired me to apply for this scholarship," Weppelman says. "I am excited to share my passion with two of my classmates, while at the same time representing the college."
They will submit their findings for publication in the IDSA's Journal of Infectious Diseases, one of the premiere global publications on infectious diseases.
This post "Infectious Disease Society of America names FIU student a 2017 Medical Scholar" was originally published on FIU News.