!Exito! Success! FIU's Spanish-language program in Qingdao, China, has helped turn students there into standouts.
Several years ago, FIU worked out a one-of-a-kind partnership with Qingdao University to offer a dual degree in Spanish. Students take lower-division courses with that university's teachers and then can apply to take upper-division classes with FIU faculty. Upon graduation, they receive degrees from both institutions.
The results have already confirmed the value of the program. Six FIU students earned top scores recently on a standardized Chinese Spanish exam administered to students in Shandong province.
"The students' performance even made me surprised," says Peng Lu, associate provost for international programs. It was he who initially got the two universities talking, after meeting with provincial officials who saw language as the first step to an eventual business program focused on Latin America.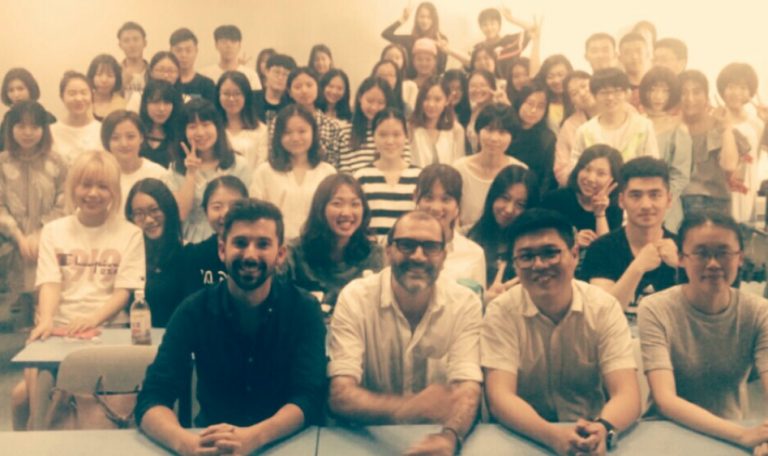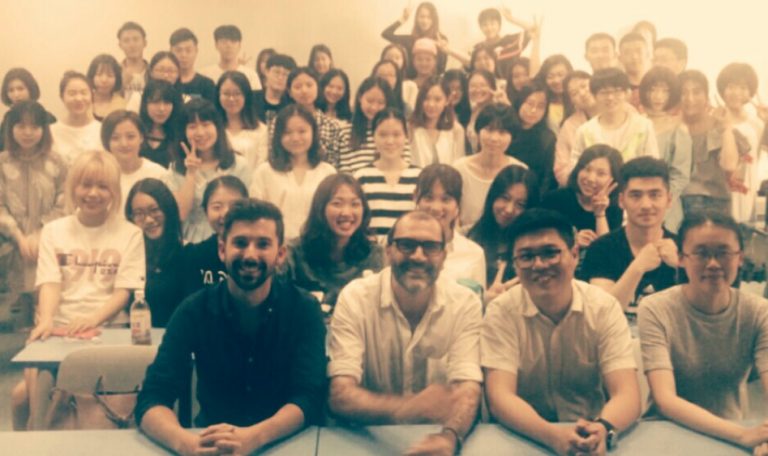 It is FIU's approach to teaching language — one that is common in the U.S. and other Western countries — that has benefited the 64 members of the inaugural Qingdao cohort, say those involved.
"The Chinese approach is still very much based on grammar translation," says Pascale Bécel, chair of modern languages within the Steven J. Green School of Public and International Affairs. "The emphasis for us is to have a more communicative approach and task-based approach that engages students in meaningful activities."
That means peppering class conversations with real-world examples and finding ways to make assignments impactful.
"The methodology that FIU is using lets [students] be creative, lets them experience the language beyond the vocabulary or the grammar content," explains Jose Morcillo-Gomez, one of FIU's two instructors at Qingdao. He believes that focusing on the human facets of language acquisition encourages better performance.
"Language is not about rules," he says. "It's about culture. It's about how you use the language, the double meaning, all those pragmatic [aspects] that you need to be able to understand."
To that end, he and teaching partner Juan Godoy have come up with innovative ways to keep students interested and moving forward during as many as five hours per day of instruction.
In their "Spanish for Business" course, for example, the two required students to develop comprehensive business plans over the course of several months. The students then presented their work, in Spanish, to human resources representatives from a Chinese multinational corporation with an extensive client list in Latin America.
Taking Spanish outside of the classroom also has paid off. Morcillo-Gomez and Godoy screen Latin American and Spanish movies on campus to which the entire university population is invited, and soon they will direct students in reporting and conducting interviews for their new "Se habla español" radio podcast.
Neither Morcillo-Gomez nor Godoy, both from Spain and working toward doctoral degrees at FIU, speaks a word of Chinese. Not being able to resort to the students' native language is a positive, they believe, as it restricts all instruction to Spanish alone and thereby creates an ideal learning environment.
And while most Chinese students begin learning English at an early age and so have at least a rudimentary understanding, those in the Qingdao-FIU program have a stronger baseline knowledge as they must meet the same English composition requirements as FIU students in Miami.
With that said, the instructors insist that Spanish is the tougher of the two languages for Chinese students to master. For one, they explain, verb conjugation in Spanish is more complex than it is in English and Chinese. Additionally, Spanish nouns are gender-specific, a convention that does not exist in English and Chinese. And finally, the two say, Spanish pronunciation can be harder than English pronunciation for native-Chinese speakers.
What has most gratified the pair is that students now talk of a variety of jobs that their newly acquired language skills opens up for them. Beyond becoming teachers of Spanish themselves or working for the growing number of Chinese companies doing business in Latin America, the students see opportunities in international relations, journalism, and other fields. Some are even considering graduate programs at FIU in Miami.
Gloria Lee (also known as Li Mengning) hopes to pursue a career in diplomacy. She earned a top score on the Spanish exam and was recently called out by President Mark B. Rosenberg in his annual blog from China.
"He sent me an email the day he left China to encourage me to continue studying," Lee wrote in a message. She also confessed that her love of Spanish has now surpassed her interest in English — "It just snatched my attention" — and expressed gratitude for the president's interest in her success. "I'm very proud of that. It's my honor and I'll keep estudiando."
This post "Buenos dias, Qingdao: FIU helps bring Spanish language to China" was originally published on FIU News.