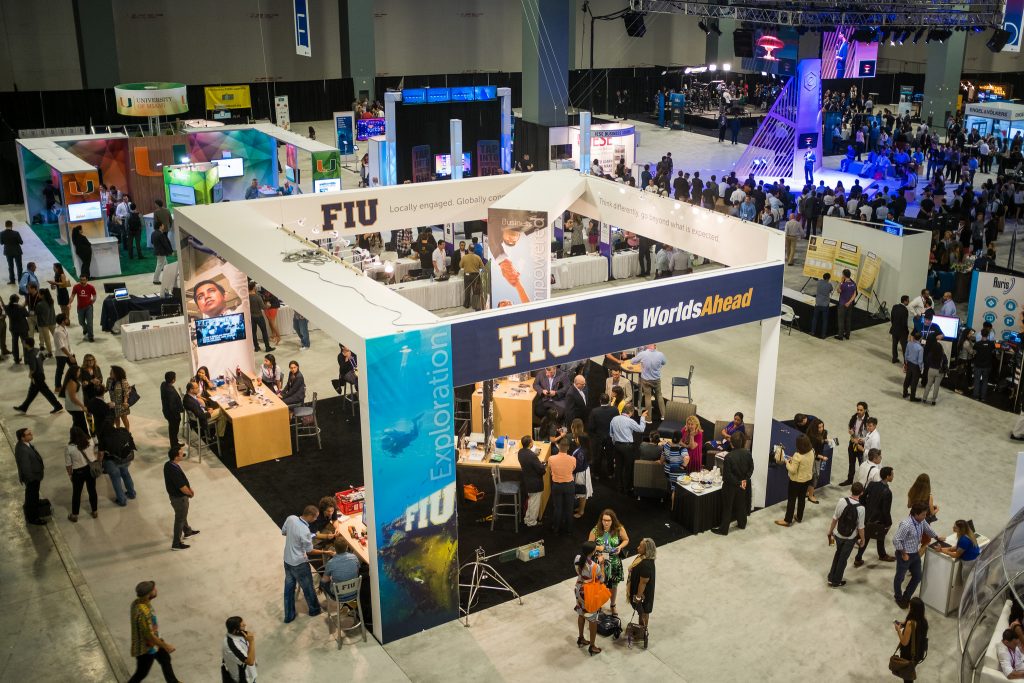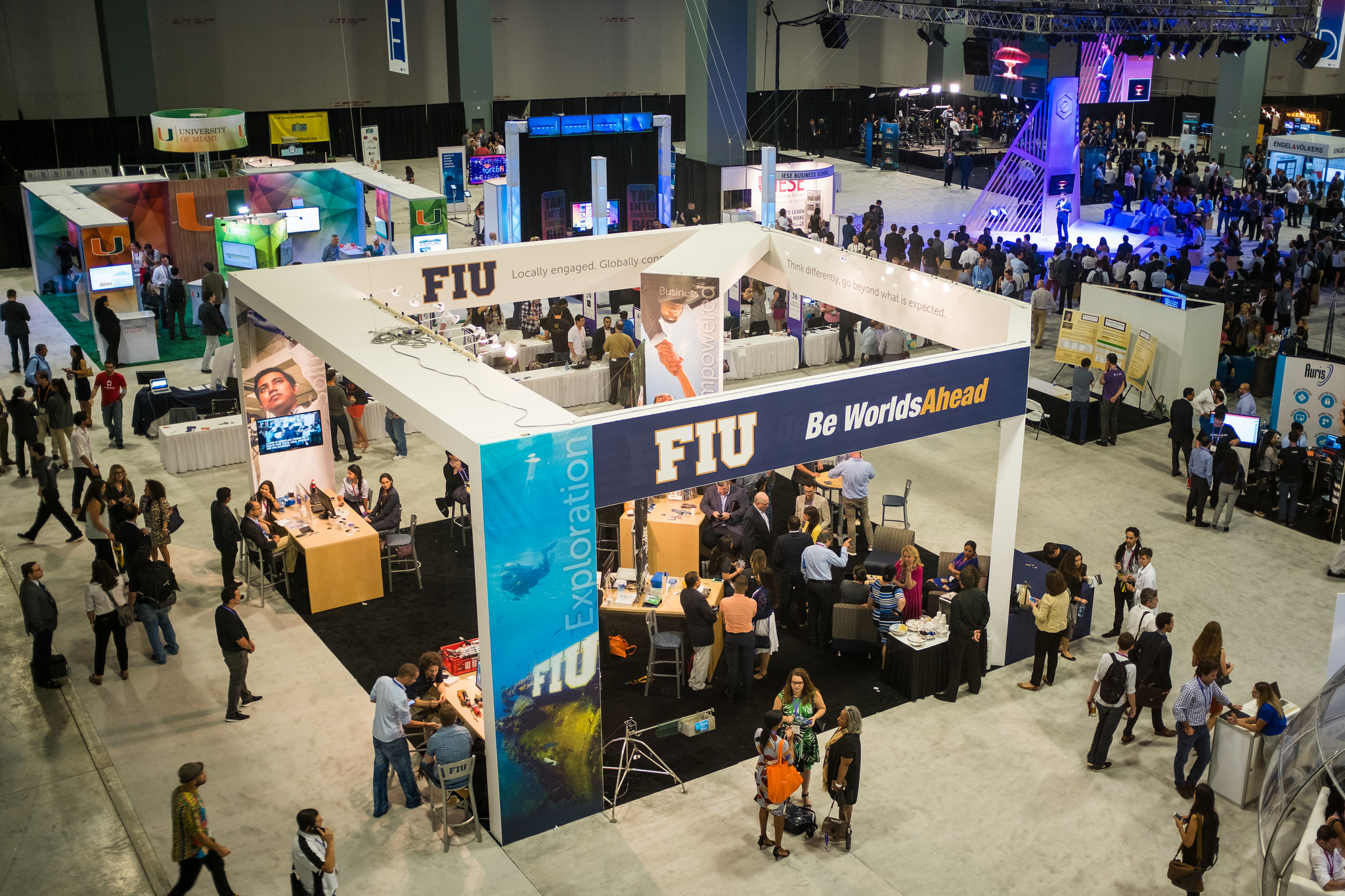 "The illiterate of the 21st century will not be those who cannot read and write, but those who cannot learn, unlearn, and relearn." – Alvin Toffler
The American writer and futurist's words, quoted by President Mark B. Rosenberg at the eMerge Americas tech conference, ring true for those trying to jump start careers in the tech world.
With a 900-square-foot pavilion at the international conference, FIU offered its faculty and students an opportunity to exhibit how they use technology for innovation and transformation in the fields of research and entrepreneurship.
"This is an incredible platform where people from Europe, Latin America, North America, and now the whole world come together to exchange ideas, showcase their innovation and come forth with what is happening in the world of technology today," said eMerge Americas founder and tech visionary Manuel Medina.
"This is about the future of South Florida, because we are truly becoming a high-tech, innovation capital," said Miami Beach Mayor Philip Levine of the exhibition, hosted June 12 and 13 at the Miami Beach Convention Center.
Among the groups featured at the pavilion: new companies associated with StartUP FIU, scientific breakthroughs in chemical testing and prosthetics, and research that aims to protect ocean predators worldwide.
Jason Dettbarn and Michael Goodwin — of the StartUP FIU company Addigy, a cloud-based IT management platform — were excited to display their services in FIU's booth and interact with potential customers and investors at the event.
"We're all trying to innovate. We're all trying to find a little niche. We're all just trying to solve a problem," Goodwin said. "There's no other [opportunity] to stand up on a stage like this as a startup. It's huge for the startup community."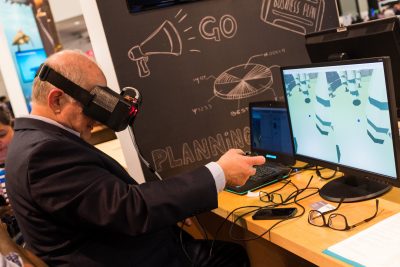 Conference attendee John Igoe said he was intrigued by the variety FIU's exhibit had to offer. He came to the booth to meet a friend, but was immediately drawn to both StartUP FIU and Ranu Jung's neural-enabled prosthetic hand system, which is designed to restore sensation to amputees.
A West Palm Beach lawyer who represents startup companies, Igoe said he sees an opportunity to work with some of StartUP FIU's participants in the future.
"If I can find some synergy somewhere, maybe I can help them out," Igoe said.
On the first day of eMerge, Rosenberg took the same stage as Apple co-founder Steve Wozniak and financial advisor Suze Orman to address the evolution of postsecondary education.
Rosenberg said preparing college students for the modern, tech-focused workforce requires more than the traditional educational model offered. Colleges and universities originally focused on giving students training in their majors, critical thinking skills and civic knowledge; but successful models now must also include hard skills like coding and cybersecurity, and personalized education pathways that increase workforce competency. The goal is to cultivate an interest in lifelong learning.
He calls it a "University 3.0" model, characterized by "an intense experiential ecosystem" — learning by doing.
"More jobs are going to require our college graduates to fully merge their training in hard skills with soft skills, in other words, to bring these two contending sets of competencies together," Rosenberg said. "And what I see going forward is a convergence that will drive us to better understand career and technical education and how it blends in with baccalaureate education — a convergence that will allow a more intentional merger of critical thinking and vocational skills."
This convergence of skills is the driving force behind entrepreneurial thinking and problem solving in the tech world.
Later that day, experts from Life Sciences South Florida, a coalition spearheaded by FIU's Office of Engagement, hosted a panel discussing tech innovation in the healthcare industry. Click here to view the full discussion.
In his keynote address, Steve Wozniak also discussed innovation and how Apple was able to create one of the largest, most successful technology brands in the world. He reminded techies of their goal — the same goal that has kept Apple going for 40 years: Innovation is about "making things easier and more human" for everyday life.
FIU's exhibition was a small fraction of the work being done by the university community to improve the lives of humans and animals worldwide. Learn more about FIU research on FIU News.
This post "FIU takes center stage at eMerge Americas 2017" was originally published on FIU News.