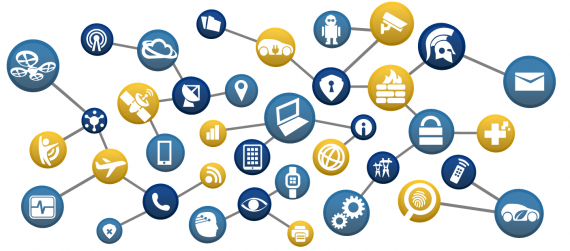 Smart watches, smart phones, many home security systems, and autonomous vehicles: The Internet allows them to communicate with each other and together they make the Internet of Things (IoT). Starting in the spring of 2018, FIU will be the first university in the nation to offer a bachelor's degree in managing these growing networks of smart things.
"We are proud to lead in this field and provide our students the opportunity to be equipped for the technology-driven jobs of the future," said FIU Provost Kenneth G. Furton. "The Internet of Things degree will allow our students to get and create great jobs, many of which don't exist today."
FIU's College of Engineering and Computing is at the forefront of this technological shift. The new degree will address the four major areas of IoT — hardware, software, communication, and cybersecurity. A handful of similar degrees exist at universities throughout the world but FIU's is the first in the U.S.
Experts agree that in the next few years, billions of IoT devices will be connected worldwide. This new wave of technology will spearhead the demand for highly trained IoT specialists.
"When companies hire a computer science graduate, that employee focuses mainly on software aspects and programming," said Keml Akkaya, program director of the IoT degree and associate professor in the Department of Electrical and Computer Engineering. "When they hire a computer engineer, that person can focus on the hardware aspect, but companies want to hire employees who can do it all. With this degree, these skill sets will be combined in one person so companies don't have to do multiple hires."
Students will learn all of these skillsets and be prepared to find jobs as hardware engineers, working on microcontrollers and sensors; software engineers, programming smart devices; wireless communication specialists, focusing on how the devices communicate with each other; and cybersecurity professionals, protecting the data and keeping consumers safe from hackers.
The IoT program will be a 120-credit hour degree with hybrid courses combining in-person and online learning. The degree will focus on the technology involved in increased machine-to-machine communication. What makes it possible for digitized applications to work remotely opens the doors for attackers to inject malware or gain complete control of the devices.
"We are focused on preparing our students with specialized skills to succeed in the operations that help prevent and respond to these particular cyberattacks and the techniques required to strengthen the defense of vulnerable systems that employ IoT devices," said Akkaya.
This post "FIU to offer first Internet of Things degree in U.S." was originally published on FIU News.