FIU and the Universita per Stranieri di Perugia in Italy are formalizing collaborative efforts to address global water and environmental challenges.
The two universities signed a memorandum of understanding to explore the possibility of developing academic, scientific, and cultural programs. This includes offering undergraduate and graduate courses, encouraging pursuit of doctoral degrees, establishing student and faculty exchanges, launching professional development programs, and identifying funding opportunities. Both universities have long-standing traditions in water and environmental research, outreach, and policy.
"As one of the top research universities in the country, FIU leads in water, health, and environmental projects," said Kenneth G. Furton, provost and executive vice president at FIU. "This partnership allows us to further engage with local and global communities and serve as a leading solutions center."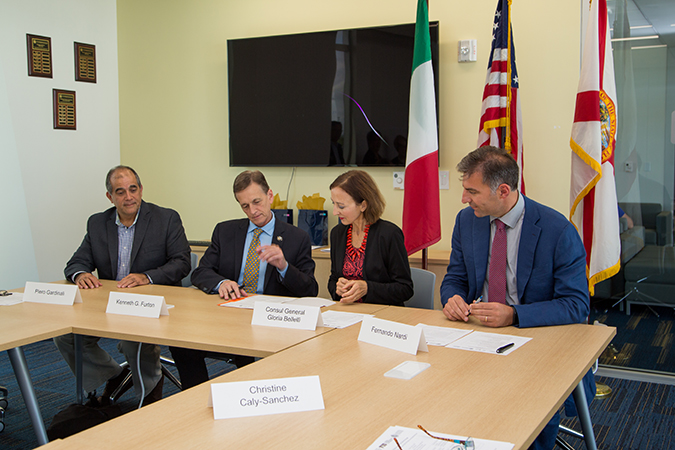 The Universita per Stranieri di Perugia is home to the Water Resource Research and Documentation Center dedicated to advancing research, training, and scientific communication in the fields of water, environment, and disaster risk management. The university also hosts the UNESCO Chairs Programme in Water Resources Management and Culture, which allows higher education and research institutions to pool their resources, address pressing challenges, and contribute to community development.
"I had the feeling FIU is the perfect institution for us to collaborate with on water and environmental challenges," said Fernando Nardi, director of the Water Resource Research and Documentation Center. "Our university provides the opportunity for international people to engage in meaningful scientific and cultural exchange, just how FIU does. There are no boundaries when it comes to water. We are in a position to collaborate."
FIU is home to the Institute of Water and Environment, dedicated to addressing global water issues and broader challenges impacting the environment. The institute brings together some of FIU's top interdisciplinary centers and programs, including the Center for Aquatic Chemistry and Environment, Marine Education and Research Initiative, Southeast Environmental Research Center, Sea Level Solutions Center and international water programs.
"This memorandum of understanding extends our already fruitful collaboration between FIU and a consortium of Italian institutions focused on water sciences," said Todd Crowl, director of the Institute of Water and Environment. "This represents an excellent opportunity to explore joint Ph.D. programs and enhance our graduate student exchange program."
In addition to the signing of the memorandum of understanding, representatives from the Universita per Stranieri di Perugia, as well as the University of Florence and the Italian Consulate General of Miami, participated in a series of workshops and lectures on international water infrastructures and security hosted by FIU.
The exchange is endorsed by Gloria M. Bellelli, Honorable Consul General of Italy in Miami. The consul will be involved in the joint initiative to address topics of relevant common interest and strengthen the collaboration. According to Bellelli, sea level rise is of particular concern for Italian coastal communities whose exposed assets make them particularly vulnerable.
This post "FIU, Italian university partner to tackle water problems" was originally published on FIU News.