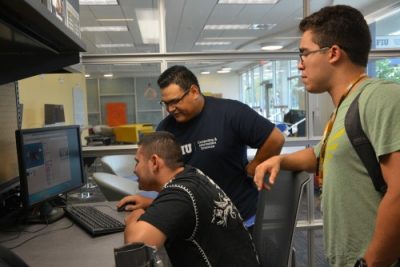 A group of 11 students huddled in the Hardware Lab at Modesto A. Maidique Campus' (MMC) Tech Station recently. They took computers apart, learned to code and worked on websites. But these aren't ordinary students — they're exceptional.
The students are part of the Marino Campus, a 10-month post-secondary educational program to help young adults with autism or other developmental disabilities bridge the gap between high school and employment. Students, who range in age from 18 to 30, may participate in the program at two locations: FIU, or another one in Fort Lauderdale. They can pursue one of two tracks: hospitality or computer technology.
Students in the School of Computing and Information Sciences (SCIS), part of the College of Engineering & Computing, worked with the Marino Campus visitors to teach them how to assemble hardware, create websites, code and make cables.
"We're helping the students gain independence at their own level, get a job, be happy, and be part of a community in general," said Michael Robinson, founder of the Hardware Lab, and instructor at the School of Computing and Information Sciences.
FIU Embrace — an initiative developed to promote health, wellness, and life skills for adults with developmental disabilities — facilitates the program at MMC, including the recent visit to Tech Station. The visit is part of the Summer Living Program, which brings the Marino Campus students to live on campus in a dorm for one week and experience typical college life.
"The students get the experience of being on campus, and engage with neurotypical students and faculty, who get to see they're not that different," said Nicole Attong, director of FIU Embrace. A person who is neurotypical is cognitively and developmentally typical.
She added: "We're breaking down the walls of stigma that surround kids with disabilities, expanding knowledge, and opening up a world of possibilities."
That's exactly what was going on this summer day at Tech Station, as the Marino Campus students worked alongside neurotypical peers, learning from each other. As part of the collaboration, the SCIS students also visit the Fort Lauderdale campus to teach computing skills.
For Gabriel Alonso, who has autism, it's an opportunity to fuel a dream. "It's my passion — I like to program, and make modifications to software," he said.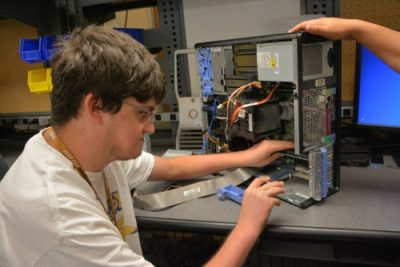 But things weren't always easy for the 22-year old who is part of the Marino Campus at FIU. "When I was in elementary school, I was treated differently — like an outcast, but that's all in the past. Things have changed for me," he said. Alonso aspires to work in software programming upon completion of the program.
Another student with autism, Colt Sheesley, 22, also enjoys working on computers, but it's not his preferred field. Instead, he hopes to eventually pursue a degree in literature with a minor in marketing or psychology. He's also an author in his spare time who likes the genres of magic realism, urban fantasy, and science fiction. He wants people to understand what it means to have autism.
"Living with autism makes it hard for me to express myself. I tend to avoid eye contact, and it makes it hard to recognize facial expressions," he said. But there are advantages, too. "My brain doesn't process emotion [the same way], so I can see things more logically." He adds that many people with autism have an affinity, and are very gifted, in certain fields.
The Marino Campus curriculum doesn't only look at employability and independence. "The students are learning about life and social skills, finances, health, what it's like having a girlfriend, and more," said Stephanie Mallison, an instructor at the Marino Campus in Fort Lauderdale who accompanied the students to the Tech Station visit.
It's expected that over the next decade, some 500,000 children with developmental disabilities will come of age in the U.S. FIU is using a multifaceted approach, and FIU Embrace is one of various university initiatives to address the need for services and education.
This post "Young adults with developmental disabilities bond with FIU peers over computers" was originally published on FIU News.