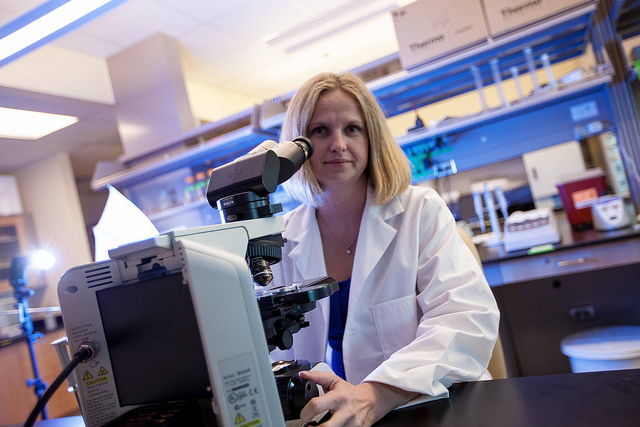 The American Society of Reproductive Medicine (ASRM) is honoring FIU researcher Helen Tempest with its 2017 Ira and Ester Rosenwaks New Investigator Award.
Tempest, an assistant professor at the Herbert Wertheim College of Medicine, is being recognized for her "meritorious research" and "scholarly accomplishments in the area of chromatin structure, as well as [her] contributions to education."
"Prior recipients of this award are leaders in reproductive medicine research, so I feel privileged to be included in this prestigious group," says Tempest, whose research focuses on male infertility.
Infertility is surprisingly common. It affects about one of six couples (15% to 16%), and up to half of all cases are due to male factors alone or in combination with female factors. Tempest's research has focused on understanding the genetic causes of male infertility. She is an internationally recognized expert in sperm chromosome aneuploidy, the presence of extra or missing chromosomes.
"When this occurs in sperm and eggs in humans, it is the leading cause of pregnancy loss and developmental disabilities such as Down Syndrome," Tempest says.
In recent years, Tempest has turned her attention to how the genome (DNA) is organized in cells. Scientists have discovered that our DNA is not randomly organized in cells, and this level of organization appears to play an important role in a host of normal cellular functions.
"So, if you consider that different regions of DNA have a zip code which determines where in the nucleus the DNA is localized," she says, "and the DNA loses this zip code, or the zip code is changed; where it localizes also changes, and this can affect cellular functions leading to disease."
Her lab recently proposed a new model of DNA organization in sperm cells that may be critical for fertilization and early embryonic development. ASRM nominated the work for its 2013 Scientific Prize Paper.
Tempest hopes her findings may ultimately translate to the clinic through the development of DNA organization markers that could predict the probability of in vitro fertilization success in infertile couples.
This post "FIU researcher honored for study of DNA and male infertility" was originally published on FIU News.