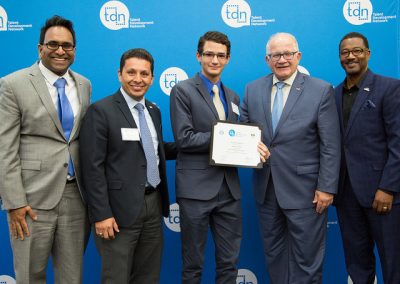 High school senior Sebastian Sanchez spent his five-week internship scouring FIU websites to ensure they were compliant with the Americans with Disabilities Act. He made whatever programming changes might be needed so that those who suffer vision impairment, for example, can use a screen reader to access digital information. Along the way, Sanchez learned a lot about web design and working in a professional office.
Sanchez always had an interest in web design, and he had previous experience using web templates and built-in features. But with the help of Jonathan Roberts, a designer in FIU's Enterprise Web Services, and some Lynda.com tutorials, he was able to learn how to improve live websites by his second day.
"Perhaps the most important aspect of my internship was that I was able to work at a real environment with other designers and programmers around me. I learned from everyone I worked with," said Sanchez of his time at MMC. "I experienced what it was to have a relationship between a supervisor and other co-workers. I am very thankful for the knowledge I absorbed from Jonathan because it was something I could take away from my internship and use personally or use to help out other people,"
Sanchez was one of 57 high school students who gained hands-on experience this summer through a partnership between the Talent Development Network (TDN) and Miami-Dade County Public School's Summer Youth Internship Program (SYIP). Thirty seven of them interned across a variety of departments at FIU, where they helped FIU's Network Security team and managed social media pages for FIU's Office of Engagement.
Exploring and Experiencing Career Pathways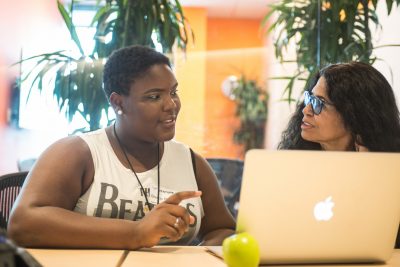 Another 20 students, all from Miami Northwestern Senior High, participated in the Career Pathways Program, which focuses on helping the students build middle skills to help them succeed beyond high school graduation and become contributing members of society. The program is a collaboration between FIU's Education Effect program, Knowledge of Careers, and the Talent Development Network.
Funded by JP Morgan Chase, the program places students in internships with strategic partners that have a mutually beneficial objective to positively influence students, develop students' skills, and provide an experience to give students a competitive edge through access and opportunity.
The summer component allows students to explore and experience career pathways and acquaint themselves with a field of their interest while applying classroom learning and engagement. Students were placed in five-week internships at startups and other companies, where they learned about marking, business development and management.
"My intern was amazing! The Career Pathways Program exposed me to some of the amazing young talent we have right here in Miami," said Michael Ragheb, founder and CEO of Knowledge for Careers that hosted one of the interns. "I will definitely be looking for another local intern from this program again next year."
The students were also immersed in a two-day soft skills development course aimed at helping them prepare for the internship, where they also learned about financial literacy and capability to increase their knowledge of financial obligation and wealth management.
Celebrating their successes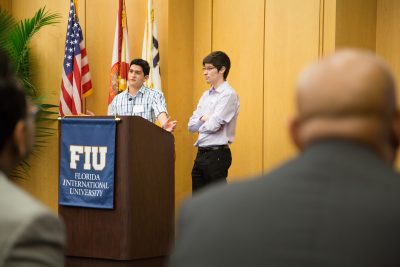 Last month, internship supervisors, FIU President Mark B. Rosenberg, and M-DCPS leadership came together to celebrate the 57 high school students who participated in the SYIP and the Career Pathways Program in a reception and awards ceremony hosted by TDN.
As part of the program, two of the interns got an opportunity to display some of the work they did over the summer, including the development of an anti-phishing application and a presentation on how to set up goals for the future and the students were recognized with a certificate of completion.
"You have made connections and learned valuable skills that will help you build your careers, and guide your path toward college. You are laying the groundwork and building blocks for your future, and the future our city," said Rosenberg. "You are Miami's next great engineers, artists, and entrepreneurs. You are our changemakers, and disruptors like many of the employers you had a chance to work with. Think about this experience, and what you learned about yourselves as you look toward your future."
This post "Internship program introduces high school students to different career fields" was originally published on FIU News.