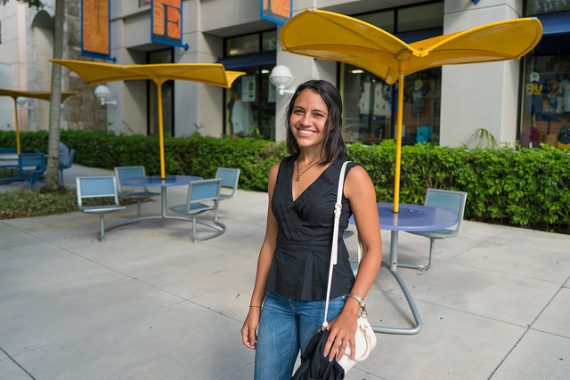 The John S. and James L. Knight Foundation has awarded FIU a $350,000 grant to support Puerto Rican students affected by Hurricane Maria. The grant will fund living expenses, tuition, and other costs associated with relocation for students who have come to South Florida to continue their studies at FIU, while universities on the island recover. In addition, the funds may support efforts FIU may undertake in Puerto Rico to assist universities that suffered storm damage.
"We are grateful to the Knight Foundation for its support in helping us provide continuity in the lives of these students during this difficult time," said FIU President Mark B. Rosenberg. "By helping these students continue their education as visiting students at FIU, we hope to contribute to the long-term recovery of Puerto Rico.
The university is accepting applications for financial assistance from students who have applied to attend FIU. Grants will be awarded based on need. Additional information can be found at https://fiustrong.fiu.edu/, a website created to inform students impacted by this summer's hurricanes.
After making landfall on September 20, Hurricane Maria caused unprecedented damage. This included extensive flooding and almost complete loss of power affecting approximately 3.4 million people.
"It's important to both Puerto Rico and South Florida that these students continue their education," said Chris Caines, Interim Miami Program Director at Knight Foundation. "FIU has been responsive toward the Puerto Rican students affected, showing its commitment to the greater community it serves."
This grant will further bolster FIU's ongoing efforts to provide relief to students affected by these natural disasters. In late September, the university announced that it would waive the out-of-state fee for students from Puerto Rico and the U.S. Virgin Islands. In addition, the FIU Foundation, Inc. established the Disaster Response and Recovery Fund. One hundred percent of funds raised will go toward supporting FIU students, faculty, and staff whose families have found themselves in financial distress due to hurricanes Irma and Maria.
So far, FIU has received more than 500 applications from potential visiting students from affected islands, the majority of which are from Puerto Ricans. Approximately 30 have already enrolled and begun classes during the fall 2017 mini semester. The award from the Knight Foundation will provide support to students arriving in both the current semester and the spring 2018 semester.
This post "Knight Foundation grant to support Puerto Rican students at FIU" was originally published on FIU News.