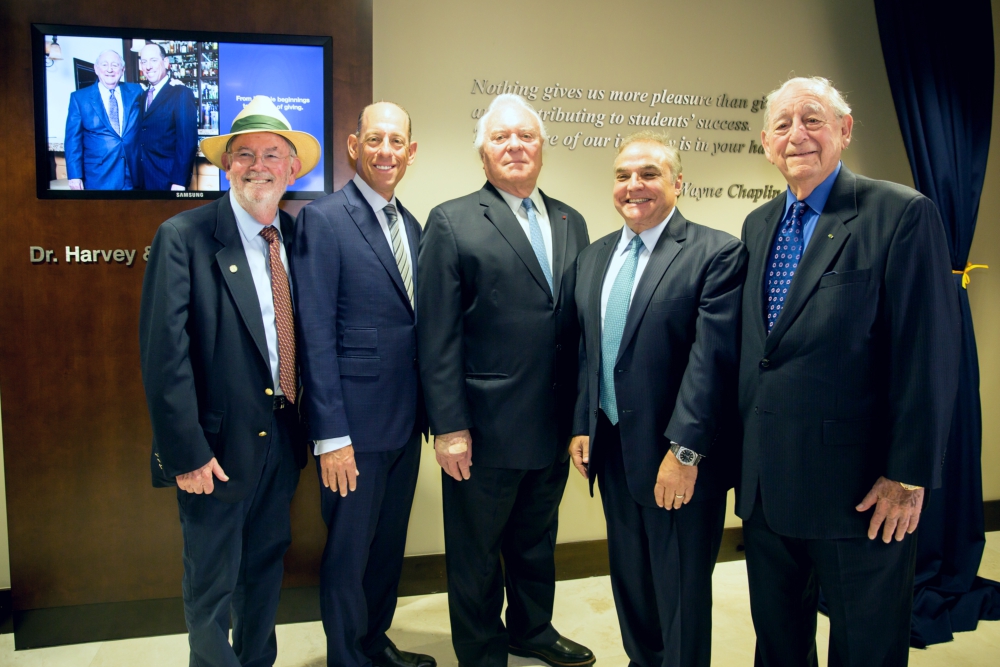 What happens when you put hospitality management students in a room with their benefactors? A candid, insightful conversation covering everything from advice on building a successful career from the ground up to how new innovations are changing the wine and spirits industry.
Harvey and Wayne Chaplin, for whom the Chaplin School of Hospitality & Tourism Management is named, sat down with 14 students on Oct. 27 to offer advice to the young professionals hoping to enter the industry in the next few years.
Harvey Chaplin and his son Wayne are the co-founder and CEO, respectively, of Southern Glazer's Wine & Spirits (SGWS), the largest wine and spirits distributor in the nation. SGWS hosts the annual Food Network & Cooking Channel South Beach Wine & Food Festival, which has raised more than $26 million in support of FIU since its inception.
"What do you expect from us as young people entering the industry?" one student asked.
"You can't be the boss tomorrow," Wayne Chaplin answered. "Companies are looking for people willing to invest their time into building a career. Success doesn't happen overnight. It takes hard work and patience and dedication."
"What do you think young people add to the business?" asked another student.
"I don't want to say we're dinosaurs, but young people have a new perspective," the younger Chaplin said, discussing how he's seen young people use media and technology to advance the industry in ways they'd never imagined in the company's early days. "You address problems way differently than we do."
Another student asked the father and son what they have learned from each other as business partners.
"I've always said if you take care of your people and your people are interested in your business, they'll want to stay," said the father, who was granted an honorary doctorate of public service from FIU in 2008.
"My dad taught me that your word is your bond. Make sure if you say something you can deliver whatever that is," said the son.
"Why FIU?" yet another student asked. "Why do you choose us as students and put your trust in us?"
The Chaplins told the students of a relationship forged more than 20 years ago by FIU wine professor Patrick "Chip" Cassidy, who knew SGWS co-founder Jay Weiss from his time in the wine industry. Since then, SGWS has supported scholarships for students and an endowed faculty chair; provided funding for state-of-the-art research and learning facilities at the Chaplin School, including the Southern Wine & Spirits Beverage Management Center and the Mel Dick Wine Tower; and more.
"He had a dream for the school," Wayne Chaplin said. "He's tough. He doesn't take no for an answer. He's got passion and thinks outside of the box. Passion is important, as well as being able to say, 'This is how it's done today, but how can we do it better tomorrow?'"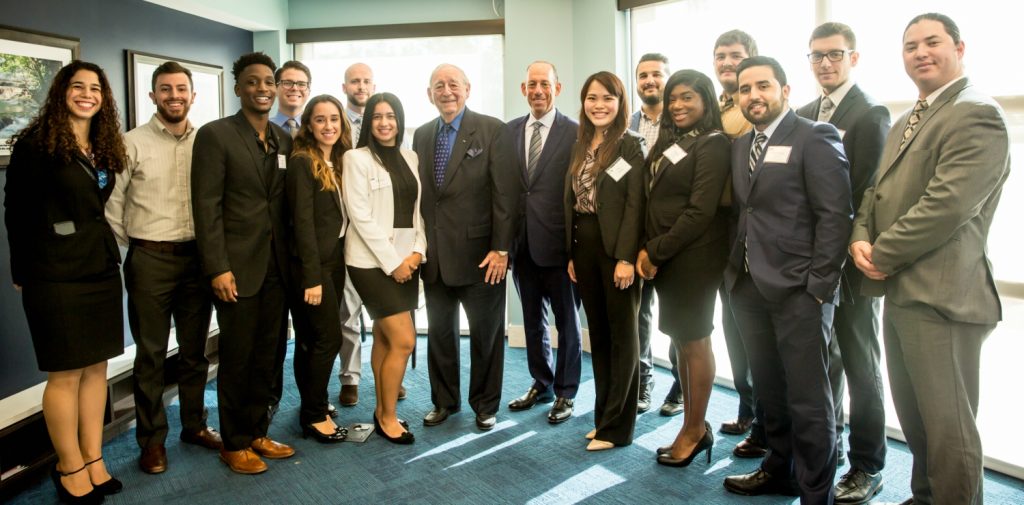 Later that morning, the Chaplin family was honored for the decades of support they've offered FIU with the dedication of a wall in their name at the Chaplin School. The wall, which faces the Mel Dick Wine Tower, features a touchscreen that plays a video in which Wayne and Harvey Chaplin discuss their company's longstanding relationship with FIU.
"Nothing gives us more pleasure than giving back and contributing to students' success. The future of our industry is in your hands," reads a quote by Wayne Chaplin on the wall next to the video screen.
"We're excited to come together today to recognize a family that has been tremendous supporters of the university and the school for over 20 years," said Chaplin School Dean Mike Hampton. "Harvey and Wayne Chaplin have been the impetus behind building the mechanism that's enabled us to bring together world-class faculty, build tremendous facilities for learning, and to help us in building foundations for student success."
"This is no ordinary family. This is an incredible family that has pride and that engages our community," said FIU President Mark B. Rosenberg at the ceremony. "The Chaplin wall is our way of celebrating the partnership that we have, the past in which we've accomplished so much, and the future, where we're going to do even more and better."
In addition to the financial support provided through their company, SGWS, the Chaplin family continually supports the school by meeting with students, as they did that day, and hiring FIU graduates to join their 20,000-strong nationwide staff.
"Raising these dollars and helping build the school really creates tomorrow's leaders. We're really investing in the future," Wayne Chaplin said at the event. "We're investing in our future and we're hoping that we're going to find great young people that we can recruit, but also that can work for our suppliers, our wineries, our hotels and lots of our retailers."
He said that seeing his family's name on the school as he arrived at BBC that morning still humbled him, after five years, and reignited his flame to make the school "the best it can be."
"Our goal is to make FIU and the Chaplin School the No. 1 hospitality school in the nation," he said. "And we're going to continue to invest and work together with [Dean Hampton] and [President Rosenberg] to make that happen."
This post "Two decades later, Chaplins continue to serve, support students" was originally published on FIU News.