At FIU, students aren't the only ones learning.
Just like the rest of FIU, University Advancement spends time studying, too. And while the University Advancement team uses a number of different methods to learn, it has discovered that one of the most beneficial ways is to speak directly with donors about their experience and hear firsthand what makes FIU the focus of their philanthropy.
For this reason, University Advancement recently hosted its third annual donor panel, a discussion between three donors, moderated by Senior Vice President Howard Lipman. This year's panel featured Vivian Dimond '80, the managing broker for Brown Harris Stevens and a real estate developer; Alton Gaines, manager of Ultimate Software's University Relations Team; and Nathan Kurland, chairman of the Miami Bayside Foundation and the Global First Year Visiting Instructor in Public Speaking at FIU.
After sharing their backgrounds, the panel discussed why they chose to give repeated gifts, rather than to make a one-time donation and move on. For Mrs. Dimond, her decision to give frequently was made to ensure that she could make a true impact.
"To make sure I am making a difference, it means I have to come back again and again and again," she explained. "[It's] not just give a check and say goodbye. I want to see the results."
Mrs. Dimond's desire to see the results of her gift was a need shared by Mr. Gaines and Mr. Kurland as well. Building on that topic, the three discussed not only how this concept was a relatively new development in philanthropy, but also what "seeing the results" actually meant. While all agreed that seeing data or metrics was important, they also wanted a chance to meet and interact with those who had been affected by these gifts.
As Mr. Kurland explained, "It is important for me and my board to see the gift in action. When you actually get to see and speak to the students, it makes it real. We appreciate these moments…it's extraordinary."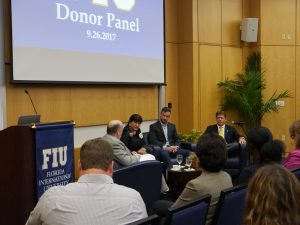 And while this ability to interact with students made FIU stand out to these donors, it wasn't the only thing. The panel also complimented the university on its flexibility and willingness to try new strategies and practices.
"At a lot of schools, there can be resistance to change," Mr. Gaines said. "Whereas, at FIU, we are able to elicit change. There is a positive two-way street between Ultimate Software and FIU."
Toward the end of the discussion, University Advancement staff had the opportunity to ask their own questions of the donors. Afterward, the donors took extra time to speak one-on-one with team members.
"I'd like to thank Mrs. Dimond, Mr. Gaines, and Mr. Kurland for the excellent discussion," Mr. Lipman said. "Hearing their perspectives was encouraging and constructive for our team."
Although no exam was given after, the University Advancement team undoubtedly gave the event an A-plus, as much invaluable insight was shared by the panel — resulting in a benefit to FIU's fundraising efforts in both the short and long term.