It's that time of year again!
Like the rest of the U.S., the FIU community takes time each November to reflect on what it is thankful for and to celebrate the importance of philanthropy.
Started in 2012 and now in its sixth year, the annual Thanks Day at FIU doesn't involve turkey or stuffing, but it does engage and educate the university community on the importance of philanthropy, as well as provide students with the opportunity to say thank you to those who support them.
And while we could summarize the gratitude expressed by our students, we wanted you to hear directly from them. Here's what they wanted to tell you and all of FIU's donors:
"Thank you for your donation. Without you, FIU wouldn't be what it is: a diverse, welcoming place of higher education. You're amazing. Thank you for all you do." —Kelly L.
"Thank you for allowing me the freedom and opportunity to achieve my goals and pursue my dream!" —Rene
"Thank you for your support! It is important for people to receive [an] education in order to make the world a better place. Thanks for making that possible for the next generation and me." —Maritriny
"Thank you so much for everything that you do. I know that these are words that you hear a lot, but we really do mean it. A good education is one of the greatest gifts you can give, and because of you, so many people have been given the opportunity to receive that gift. Thank you!" —Rhea
"Thank you! Your support makes it possible for me to focus on school and experiences that help me prepare for my dream career. I couldn't do it without you!" —Adrianna
"Thank you for opening doors and creating opportunities for all of us Panthers! We couldn't do any of it without you! We hope to stay Worlds Ahead and maintain your support! Thank you for believing in us!" —Audra P.
"Thank you for all the opportunities you have given me at FIU! Every day I give thanks for being part of such a great community. I am a proud Panther! Paws Up!" —Rayen
"Thank you for helping us reach our dreams. It means more than you know. Even when we felt that it wasn't possible, you made it possible!" —Payton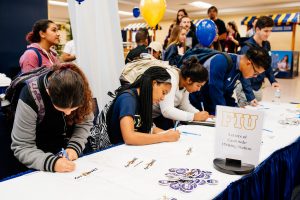 "Thank you for all your support. Without you, I would not be here at FIU, studying and living the American dream. I am so thankful that people like you exist in this world; please know that I am grateful for all the support given to this amazing university that I get to call HOME!" —Edilmary U.
"I'd like to thank you all for supporting us with following our dreams! The generous donations you supply us with are the reason some of us make it as far as we do in following our dreams!" —Stephanie
So, to all our donors, we join our students in saying thank you for all that you do! You continue to help FIU reach its next horizon.