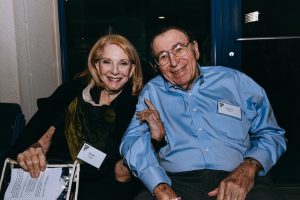 On February 3, 2018, the FIU family lost a committed community leader, philanthropist, and advocate for the arts, Harry B. Smith. For 31 years, he was the husband of Joan Smith, a FIU Foundation BOD Emirata. Joan served on the FIU Foundation's BOD for 14 years (1994-2008), and she is well known to many of us, along with Harry, who particularly enjoyed attending FIU football games. The university community mourns his passing and our thoughts and prayers are with Joan and the Smith family during this difficult time.
A Miami resident since 1941, Harry was a graduate of Miami Beach Senior High School and the University of Miami, and a Navy veteran. He was a past Supreme Master of Alpha Epsilon Pi. He practiced law in Miami for 65 years, and he was deemed one of the "Best Lawyers in America" for 19 of them. He served as the President of the Miami Bar Association and the Greater Miami Jewish Federation, and he was the National Vice President of the Council of Jewish Federations. He served on the boards of the National Foundation for the Advancement of the Arts and the United Way of Miami-Dade County.
Together, Joan and Harry were members and benefactors of FIU's Frost Art Museum and the Jewish Museum of Florida-FIU, and were inducted into the Torch Society as Bronze Members for their gifts to FIU. They endowed the "Joan and Harry B. Smith Lecture Series" in the Herbert Wertheim College of Medicine to highlight quality of life issues ranging from nutrition to noise abatement.
On behalf of the FIU Foundation and university, please join us in supporting Joan in this time of loss.