International business senior Alberto Garcia Marrero hopes to go to law school after graduating. To get there, the Honors College student spends his time attending conferences in his field of study and leading a number of campus organizations, including Golden Key International Honour Society, for which he serves as president.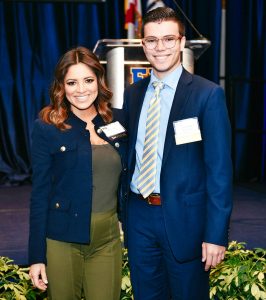 Garcia Marrero was born in Cuba, and he is the first in his family to attend college. He is also a recipient of the Pamela Silva Conde Scholarship, which benefits Honors College students who are the first in their families to attain a college degree.
Nearly half of undergraduate students at FIU are first-generation students. Since the start of the First Generation Scholarship Program in 2006, through which scholarships like Conde's are created, more than 7,200 of these students have received financial support; and more than $25 million has been raised for the program.
Now, thanks to a new initiative by the state of Florida, every $1 donated to the First Generation Scholarship Program will be matched by the state with $2. Previously, these donations were matched with an equal contribution by the state.
"We are so pleased that the state of Florida will now match contributions to our First Generation Scholarship Program two-for-one," said Howard Lipman, CEO of FIU Foundation, Inc. "Now, each donation made in support of students who are the first in their families to pursue higher education will have triple the power."
These scholarships do not just offer financial support. For students like Garcia Marrero, the scholarships can also offer unique networking opportunities with successful professionals. He's met Conde (a journalist and two-time graduate of FIU) twice now through her continued efforts to get to know the students whose education she supports.
"[Conde] is wonderful. She's a great mentor, and she really cares about her scholars, and that's something that I love about her," Garcia Marrero said, offering thanks to his benefactor. "I look forward to working with her in the future."
Garcia Marrero is grateful to all those who support the First Generation Scholarship Program at FIU, because with these scholarships, he is able to support himself financially while he focuses on school. "It's showing how they've been there, and they understand how it is for us, and they're trying to help us go farther than they ever could," he said.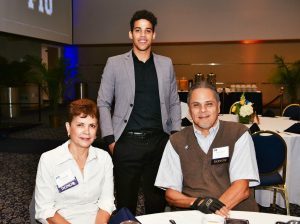 First-generation college graduate Herman Cajigas '84 and his wife Teresita Cajigas '83 are both alumni of the College of Business. The success of their Miami-based companies, On-Q Business Consultants Inc. and On-Q Software Inc., motivates them to give back to the university. So the couple, who met at FIU, set up the Mr. and Mrs. Cajigas Empower a Life Scholarship for first-generation students studying business in 2016.
At a breakfast Monday honoring scholarship donors and recipients, the couple met recipient Joel Cedano, a senior studying management information systems. Cedano works at the information systems company Addigy, a participant of StartUP FIU. He will graduate with a full-time job working for Addigy in the fall.
But life has not been easy for Cedano. His father's kidneys are failing, and Cedano must help support his family. So he is thankful to the Cajigases for supporting the pursuit of his dream.
"[It] has brought financial relief to me and my family when we needed it the most," Cedano said. "Going to school and working has been hard. Sometimes it's easy to feel that life is unfair and good things only happen to the lucky. But due to the generosity of Mr. and Mrs. Cajigas, and all the donors who give scholarships to students, I know there is great goodness in the world."
Said Mrs. Cajigas, "We are really excited to continue being a part of the university and the success of its students. [This scholarship] is just an awesome opportunity to enrich somebody else's life. We have been enriched by all the people that have helped us. It's time for us to give back, so we really appreciate the opportunity."
Added Mr. Cajigas of Joel: "We're really proud about the way he's leading his life."
In 2016, President Mark B. Rosenberg and his wife Rosalie announced a $1 million donation to the university for first-generation scholarships. His gift kicked off the Ignite Campaign that year, which encourages faculty and staff to give back to FIU each year.
"As a first-generation college graduate myself, I understand what it means to receive financial assistance to achieve the goal of obtaining a college degree," Rosenberg said in a press release announcing the gift. "Our hope is that this gift will support the next generation of researchers, leaders and entrepreneurs in preparing for the workforce and to help create good jobs."
This week, Wells Fargo announced a $50,000 donation to the First Generation Scholarship Program, which qualifies to be matched two-for-one by the state and will thus put $150,000 toward the program.
"Every time I visit our branches and talk to some of our FIU grads who work for us, I become re-energized by the great job that FIU has done, and knowing we made a great investment… I'm grateful forever to FIU, and I'm grateful to work for a great organization that believes in supporting education in our community," said Jorge Villacampa, area president for Wells Fargo and member of the FIU Foundation, Inc. Board of Directors, who is also a first-generation college graduate.
Said Mr. Cajigas, "I think the first-generation scholars are eventually going to change the world, since we're so hungry."