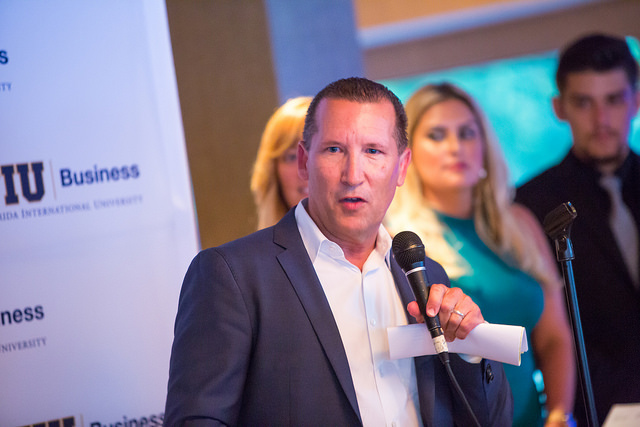 By Eileen Spiegler
In 2016, Malcolm Butters was asked what advice he would give to his younger self, looking to the future at his own college graduation.
"Give back," Butters answered.
For the fifth year, the FIU alumnus is helping to ease the debt burden for two students who received their Master of Science in International Real Estate (MSIRE), thanks to the Malcolm Butters Real Estate Awards.
Butters (MSRE '83), president and co-founder of Coconut Creek-based Butters Construction & Development, established the awards in 2014 to help students attending FIU's Hollo School of Real Estate who might not otherwise be able to graduate, or face many years of loan repayments.
Once again, two students will embark on lives and careers with the same advantage Butters had when he graduated — freedom from student loans.
The awards come at a crucial period: this year, outstanding student loan debt reached more than $1.5 trillion for the first time, according to the Federal Reserve, jumping from about $600 billion a decade ago. As many as one in six college graduates leave school with debt that exceeds their income.
Butters, who grew up in South Florida, attributes his 30 years of professional success to his education, and believes in paying it forward.
"FIU has been great to me," he said of his decision to create the program. "I have succeeded because of the tremendous education I received. Now, I have the opportunity to honor two hard-working, experienced real estate professionals who sacrificed family time, and invested most if not all of their savings, to achieve this degree."
Butters has been widely recognized for his contributions to the South Florida community: he's been designated the South Florida Business Journal's Power Leaders in Real Estate for five consecutive years; is a five-time winner of the Developer of the Year award from the National Association of Office and Industrial Properties' (NAOIP) South Florida chapter; and was inducted into FIU's Entrepreneurship Hall of Fame as a founder and key member of a start-up team in 2008.
Butters has made an impact on FIU students beyond financial support as well, sharing his time and accumulated knowledge of the South Florida real estate climate, and the value of being a responsible corporate citizen. At a Philanthropic Leadership & Financial Insights discussion in 2016, he urged students to establish the practice of giving early, because his own experience with the awards showed it pays dividends — in improving the lives of others and your own, and in shaping the community.
"I'm so happy when we present these checks and change [students'] lives," he said.