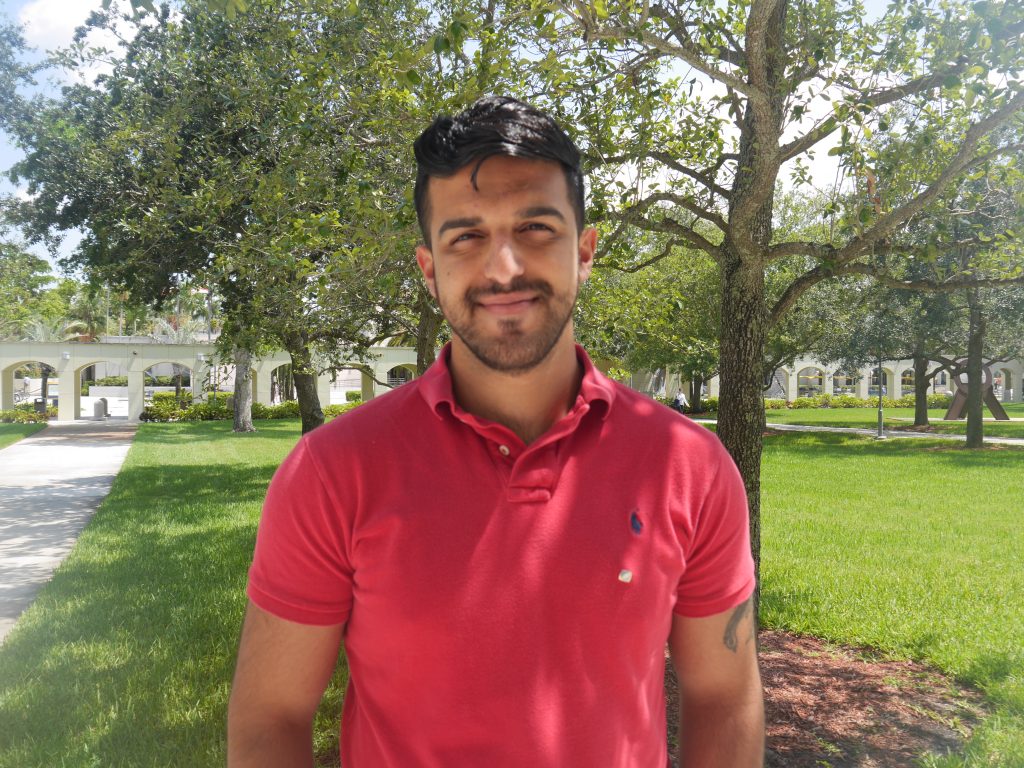 Born in Hyderabad, India, Syed Zain Ashraf graduated high school in 2013, attended Broward College for a year, and decided to enlist in the Army Reserves. In 2016, he was deployed to Central America, where he worked for a year for the United States Southern Command. He is now an FIU student pursuing a degree in Internet of Things, while working as Fellow at the School of International and Public Affairs, with the intent of pursuing a career in cybersecurity policy. Ashraf is the first ever University Advancement Intern, joining the team as part of the CASE Advancement Internship Program. This eight-week program seeks to increase and diversify the number of professionals in educational advancement. While still an intern, he established the Saba and Asha First Generation Education Fund Endowment, which will provide support for first-generation students at FIU for years to come. Below Ashraf shares his summer internship experience as part of the Corporate Relations team.
By Syed Zain Ashraf
How I learned about this internship opportunity is a funny story. While I was in Central America, I donated some money to the First-Generation Scholarship Fund, as education had always been an important part of my life, and I wanted to help my fellow students. When I returned to Miami, Joan Casanova, who is the director of development for the First-Generation Scholarship Program, contacted me to thank me for the donation. Sometime later, I was at work when I got a call from Joan, who said to come to campus with a suit and a resume. I had no idea why but thought, "What do I have to lose?" The rest is history.
When I was offered the position and told what my overall goal was going to be, I was ecstatic. The idea of a suit-and-tie job seemed very Justin Timberlake to me, and I knew that my internship would give me a sense of fulfillment through having the opportunity to support my fellow Panthers in achieving their education goals. Having worked in service positions my entire life, I now felt that same sense of purpose at FIU beyond just being a student. Here was my opportunity to give back.
My position as a corporate intern is an exciting one. No two days have really felt the same. My days usually consist of researching the various colleges and units at FIU and learning about the events they put on to promote opportunities for students. I take this information and research what companies may be interested in sponsoring those events. One project I've particularly enjoyed working on is the National Initiative for Cybersecurity (NICE) Conference, a conference FIU will be hosting in November that is set to be the largest cybersecurity workforce-development conference in the U.S.
This internship has even afforded me the opportunity to visit our nation's capital, during a three-day conference on university advancement. As part of this internship, I have also been able to develop better writing, researching and public speaking skills, which are applicable in just about any arena of life.
Prior to this internship, I was not aware what university advancement was. I understood that some such system must be in place for universities to fundraise, but I had no idea how complex the career field could be. Although I still intend to continue down my track in cybersecurity, I feel as though the prospect of a career in advancement is not one that I will throw by the wayside. As I continue to stay engaged with the FIU Foundation throughout my career as an FIU student, the opportunity to spend the rest of my life helping students receive a world-class education may be too tempting to resist.