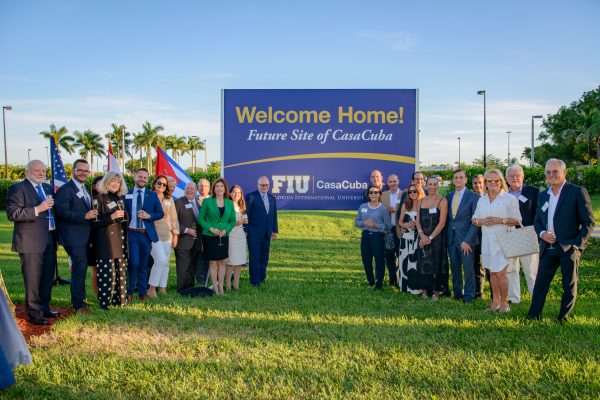 The John S. and James L. Knight Foundation followed up its seed funding of FIU's CasaCuba – an initiative to harness the University's Cuban cultural and scholarly resources – by announcing a $2 million grant on Monday.
"We are honored that the Knight Foundation continues to support FIU in making our dream of CasaCuba a reality," said FIU President Mark B. Rosenberg. "With this support, we can begin planning for a global center that will foster understanding of Cuban affairs and culture, while showcasing FIU´s scholarship and collections related to Cuban art, history, music, and many other disciplines."
Last year, CasaCuba received initial funding from Knight Foundation to hire an executive director and launch operations. Working in collaboration with CasaCuba´s Board of Advisors, FIU has set a $50 million fundraising goal to build and operate a 50,000-square-foot home for CasaCuba on FIU's MMC campus.
The new support is part of a $37 million investment that Knight Foundation made on Monday to further strengthen Miami's arts and cultural ecosystem, bringing its total funding of the sector to $165 million since 2005. FIU's CasaCuba was one of 22 organizations that received support.
"There is no one Miami. This is a region that has been shaped by many people and cultures including its deep ties to the Cuban diaspora. CasaCuba's work will open a window into the diverse community that has shaped our city and our country in many ways, helping to connect us to place and to each other," said Alberto Ibargüen, president of Knight Foundation.
For many years, FIU has been one of the nation's leading universities for the study of Cuba and the preservation of the Cuban heritage. CasaCuba will leverage FIU's numerous Cuban resources, including the largest nucleus of faculty specialized in Cuba, through initiatives spanning the areas of education, research, discussion, and the arts. The center also will serve as a meeting place for conferences, exhibitions and performances.
"CasaCuba is envisioned as the most consequential, global think tank focused on Cuba and the Cuban people," said María Carla Chicuén, executive director of CasaCuba. "We are indebted to the Knight Foundation for its exceptional partnership as we build this unprecedented gathering space for the South Florida community and beyond."
This post "Knight Foundation contributes $2 million to FIU's CasaCuba" was originally published on FIU News.