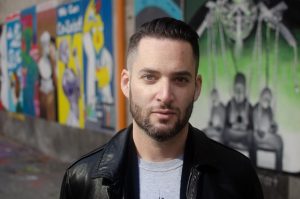 Jason Saltzman, CEO and founder of Alley, a membership community for entrepreneurs that offers workspace, business services, curated content and corporate innovation, has been appointed to the FIU Foundation, Inc. Board of Directors.
Alley, which has locations across the nation, including New York City, Palo Alto, Los Angeles, Washington, D.C. and Boston, has partnered with FIU on an innovative new program that offers student journalists diverse real-world experiences and content studios equipped with the most sophisticated video and audio recording and editing technology. The Alley-FIU Journalism Solutions Partnership, supported by a generous gift from the company, is housed in New York and Washington, D.C., furnishing students with ready access to countless stories that are shaping the fabric of our nation and world.
The partnership is the first major collaboration between the company and a university, providing invaluable opportunities for journalism students to connect and interact on projects with mentors and startups. Alley has also teamed up with FIU on its Ratcliffe Art + Design Incubator, an initiative that helps student artists and designer transform their ideas into viable businesses.
"I'm honored to join the FIU Foundation Board of Directors, whose mission to advance forward-thinking innovation that can change the world for good is completely in line with my own values and those of our company," said Saltzman. "Alley is elevating the education landscape by bridging the gap between skilled students and moonshot startups, and between top-ranked schools, like FIU, and the largest companies in the world, like Verizon. This role will allow myself and Alley to help propel great ideas out of the classroom and into real world applications of unprecedented scale."
Saltzman has also co-founded countless other startups, including the tech company, SeamlessDocs. He advises and invests in a variety of early-stage companies and is a mentor for the Techstars accelerator program. Saltzman has worked with the U.S. State Department, traveling the world to assist the growth of startup communities. On his latest trip to the Middle East, he produced and starred in a documentary about the Kuwaiti startup ecosystem. Jason has published content for CNN, The Wall Street Journal and Fast Company and is a frequent contributor to Entrepreneur and Forbes magazine.
"We are privileged to welcome Jason Saltzman to our board," said Howard Lipman, CEO of the FIU Foundation, Inc. "We are grateful for Alley's development and support of leading-edge programs at FIU as well as the entrepreneurship and new technology knowledge he brings to the board and the 57,000 students we serve at our FIU."

######
About the FIU Foundation, Inc.:
Established in 1969, the Florida International University Foundation, Inc. (FIU Foundation) is registered by the State of Florida as a 501(c)(3) charitable organization. As defined in Florida Statute section 1004.28, the FIU Foundation has also been certified as a Direct Support Organization (DSO) of Florida International University. Governed by a board of directors, the FIU Foundation serves to encourage, solicit, receive, and ethically administer gifts for scientific, educational, and charitable purposes for the advancement of FIU. Through philanthropy, the FIU Foundation provides the margin of excellence that makes FIU a Worlds Ahead institution.