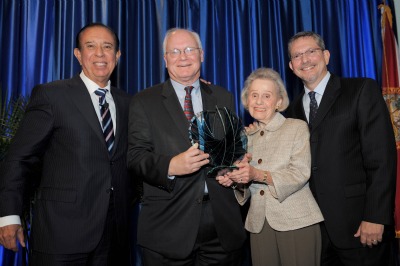 On February 20, 2019, the FIU family lost a committed community leader, philanthropist, humanitarian, and advocate, Betty Chapman. She was the wife of the late civic leader and FIU supporter Alvah Chapman Jr. The university community mourns her passing, and our thoughts and prayers are with the Chapman family during this difficult time.
In 1993, Betty Chapman and her husband founded the Chapman Partnership, a Miami organization that has helped the homeless for more than 25 years—just one of the many the causes they supported. She and her husband were tireless supporters of FIU, with the university naming the Betty B. Chapman Student Plaza in her honor in 2001. In addition, FIU named its graduate business school the Alvah H. Chapman Jr. Graduate School of Business. Mr. Chapman was a longtime member of the FIU Foundation Board of Directors, serving as its chair for five years, and a member of the FIU Board of Trustees. He passed away in 2008.
In Mrs. Chapman's obituary in the Miami Herald, President Rosenberg said, "Mrs. Chapman was a lady of ladies. She brought dignity and respect wherever she went. At FIU, she was one of our most fervent supporters and showed passion for our students, especially for helping young women at the university. We are forever grateful."
On behalf of the FIU Foundation and university, please join us in supporting the Chapman family in this time of loss.