On Tuesday, March 19, 2019, President Mark B. Rosenberg sent the following message to the university community:
Today is FIU Day in Tallahassee!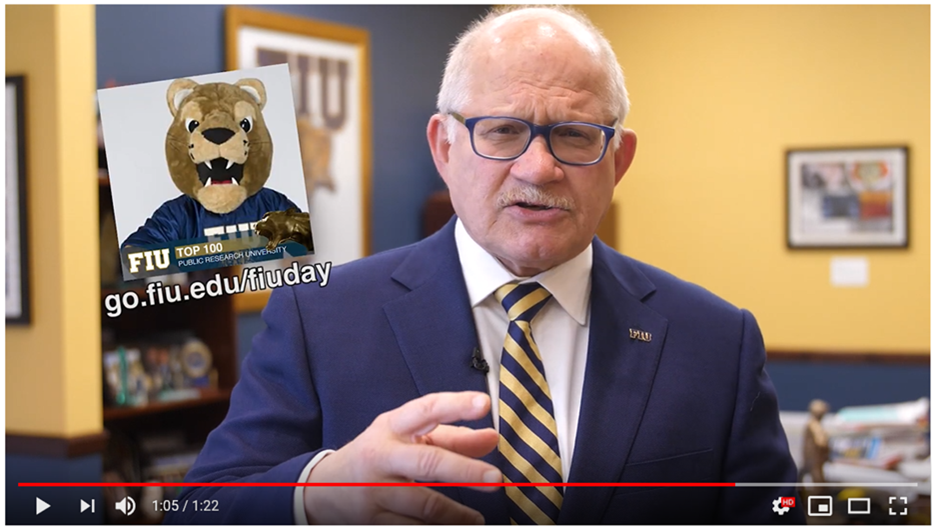 Watch President Mark B. Rosenberg's FIU Day message!
Members of the FIU community – including students, faculty, alumni, and members of the FIU Board of Trustees – will be in the capital, advocating for FIU's 2019 Legislative Priorities and thanking our legislative delegation for their continued support of FIU.
Members of the Florida Legislature, which includes six FIU alumni, have been extremely supportive of FIU's priorities and have helped FIU grow and thrive into one of our community's anchor institutions.
We need your help to make sure our Panthers are heard loud and clear on FIU Day! Here's how to help create buzz about FIU wherever you are:
Add some FIU spirit to your Facebook or Twitter profile. Please click here to get started.
Join us in encouraging the State Legislature to champion FIU's priorities and thank them for recognizing FIU's accomplishments in state and national student success, as well as research excellence rankings. Tweet this now and don't forget to tag your legislator: Today is #FIUDay in Tallahassee! I support @fiugov priorities and thank @GovRonDesantis @RepJoseOliva @BillGalvano @dadedelegation for championing higher education and @FIU!
Follow @FIUgov on Facebook, Twitter and Instagram.
Don't forget to use the #FIUDay hashtag and to also tag @FIUgov in your posts!
Stop by the GC pit from 11 a.m. – 2 p.m. for free food, giveaways and to learn more about what FIU is doing for students and our community.
The 2019 legislative session convened on Tuesday, March 5 and is expected to conclude on Friday, May 3. Please click here to find the weekly legislative updates provided by FIU's Governmental Relations team.
To view Frequently Asked Questions regarding legislative activity, please click here.