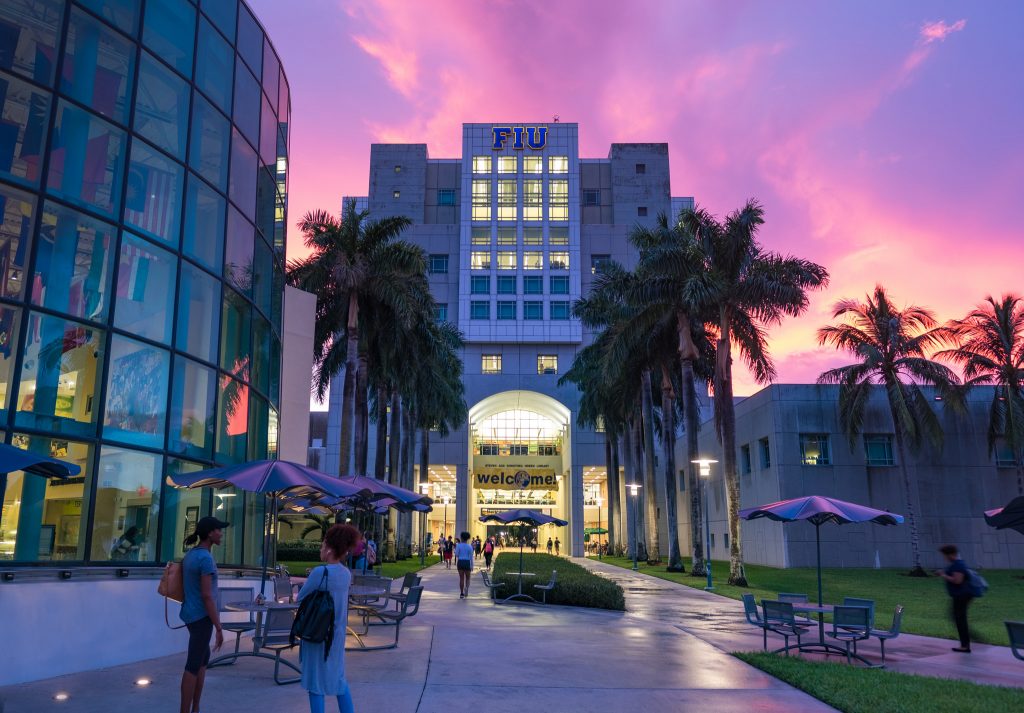 –For FIU Magazine
FIU is pushing boundaries.
University researchers are saving species on the verge of extinction. They are helping families with children who have ADHD. In the face of sea level rise and devastating natural disasters, they are working to create sustainable infrastructure for Miami and other coastal areas. And in a firmly digital world, they are ramping up cybersecurity innovation to protect everyday users as well as our nation's security.
In the classroom, professors are working to optimize teaching for the 21st century while advisors provide personalized educational pathways for every student.
A powerhouse for the South Florida community that makes both a cultural and economic impact, FIU today produces an average of 12,000 graduates annually— more than 225,000 since its inception— who fill vital roles in industries from health care and education to hospitality management, construction management, the arts and more.
The university's reach extends beyond the classroom into the community. As Miami's anchor institution, FIU provides vital medical services to low-income residents through the Green Family Foundation NeighboorhoodHELP program and Linda Fenner 3D Mobile Mammography Center; engages local youth in STEM through the Engineers on Wheels program; supports student success in local public schools through the Education Effect; enhances small-business owners' entrepreneurial success through StartUP FIU; and more.
So how does a top 100 public institution continue to progress? How does it deliver on a commitment to better, bolder ideas?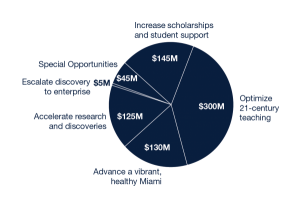 Philanthropy. Universities rely on private donations to help provide student scholarships, build state-of-the-art facilities, conduct trailblazing research and develop critical programming. Through philanthropy, FIU can determine its future, and donors can effect change in areas that inspire them.
"The Next Horizon is going to change the face of this institution," said Howard Lipman, CEO of the FIU Foundation, Inc. "The campaign seeks investments in FIU's big ideas, in its areas of greatest potential and in its future. Look how far we've come in just a little more than 50 years. Imagine where we can go from here. Our donor partners are taking FIU to its next horizon."
Already, donors to the Next Horizon have stepped up to fund a second building for the Steven J. Green School of International & Public Affairs and the future construction of an alumni center and a nondenominational chapel on campus. They have given millions to support student scholarships. They have created endowed faculty positions to ensure FIU can attract the best and brightest to conduct groundbreaking research and teach the next generation in their fields.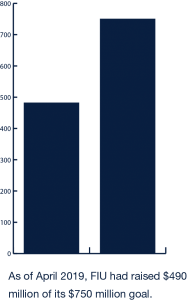 The Next Horizon calls on alumni and families, faculty and staff, community stakeholders and local industry leaders to consider their role in expanding both the capacity of FIU to serve and its ability to extend opportunity to ever-greater numbers of students.
Every gift matters in the Next Horizon campaign, says Duane Wiles, executive director of the Alumni Association and associate vice president for Alumni Relations & Annual Giving.
"I share with alumni all the time that we love you whether you give one dollar or a million dollars. What makes a difference is that you give," Wiles said. "As a supporter, you make a positive impact in the lives of our students and the community. We need you to reach the next horizon of FIU."
To learn how you can support a bright, bold future at FIU, visit NextHorizon.FIU.edu.