–By Lourdes Perez for FIU News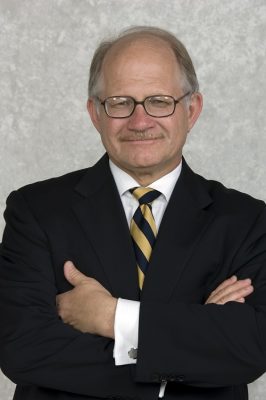 In its last meeting of the academic year, the FIU Board of Trustees voted to extend President Mark B. Rosenberg's contract.
At a meeting on Wednesday, the board unanimously approved a one-year extension to Rosenberg's contract following a "superior" performance rating for Rosenberg's accomplishments and leadership during the 2017-2018 academic year that was determined at a meeting in April. The Florida Board of Governors, which will consider the contract for approval at its next meeting, limits contract extensions for sitting university presidents to one year. The extension runs through 2021.
"I thank our trustees for their confidence and feel blessed to work with the incredible students, faculty and professionals that make up the FIU family," said Rosenberg, FIU's fifth president and the first FIU faculty member to ascend to the presidency. "With the support of Governor DeSantis, our legislators, and the Board of Governors, I look forward to working with the dedicated faculty and professionals of our FIU as we chart new paths with our problem-solving research and innovative academics. We also will continue to support and encourage our students to graduate in four years with the skills they need for today's workplace and for a life of learning."
Among recent accomplishments under Rosenberg's leadership, the Florida Board of Governors designated FIU as an "emerging preeminent state research university." In addition, earlier this year, U.S. News & World Report ranked FIU as one of the top 100 public universities in the country, and in a separate ranking, named FIU Law as one of the top 50 public law schools in the country.
"With President Rosenberg at the helm, FIU has hit new heights," said Claudia Puig, board chair. "Fueled by President Rosenberg's vision and his passion for student success and research excellence, FIU will soon be a top-50 public university known worldwide for its role in educating a generation of lifelong learners who will have a positive impact on our world."
Rosenberg first came to FIU as a political science professor in 1976. His many accomplishments include founding the now-called Kimberly Green Latin American and Caribbean Center, serving as founding dean of the College of Urban and Public Affairs and vice provost for international studies. He also served as FIU's provost and chancellor of the State University System of Florida, before becoming president of FIU in 2009.
Among other actions, during Wednesday's meeting the Board of Trustees approved FIU's $1.5 billion 2019-20 operating budget and a Bachelor of Fine Arts in Digital Arts, both decisions pending approval from the Board of Governors. FIU also will not increase tuition.
Trustees also approved an increase in the transportation access fee that will make the Golden Panther Express Shuttle free for students. Beginning in fall, the fee for students will increase from $89 per semester to $93.45 per semester for fall and spring (a difference of $4.45), and from $83 to $87.15 for summer (a difference of $4.15).