University breaks ground on second phase of Green School building
–By Amy Ellis for FIU News
Pointing to three flags waving in the breeze just a short distance behind him, FIU President Mark B. Rosenberg reflected back on the first groundbreaking event at the university in 1971.
United Nations Secretary General U. Thant was the guest of honor that day and he spoke about the important role universities play in creating future global leaders.
"Today, we come full circle and further solidify the 'I' in Florida International University," Rosenberg said, as he welcomed more than 200 students, faculty and guests to the groundbreaking ceremony for the second phase of the Steven J. Green School of International & Public Affairs (SIPA) building. "This is a day many of us have dreamed about."
The new building – an 80,000-square-foot, multi-story facility to be built just west of the current site – will be linked to the existing structure by a covered walkway and courtyard. SIPA Phase II will pull most of the Green School's departments and centers under one roof, giving students and faculty more opportunities to connect and collaborate.
"This is the next step in fulfilling Ambassador Green's vision for us,'' said John F. Stack Jr., founding dean of the Green School. "Ambassador, we are truly grateful for all you have done for FIU and for the Green School."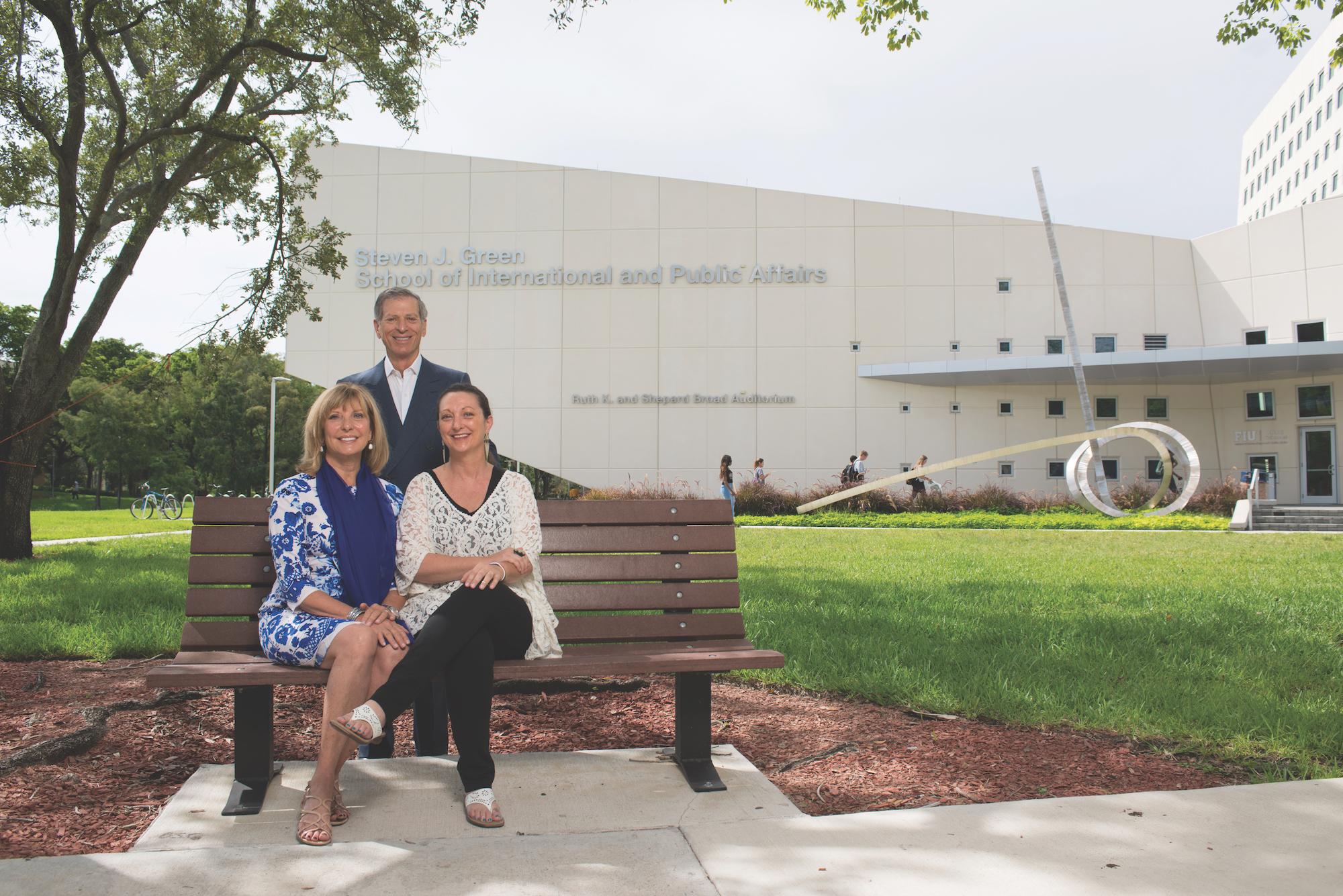 Ambassador Steven J. Green, his wife Dorothea Green and daughter Kimberly Green attended the ceremony on October 15, 2019, along with Mireille Charles, the executive director of the Green Family Foundation.
Dedicated to the education of the leaders and changemakers of tomorrow, the school was named with a landmark gift of $20 million from  Ambassador Green, his wife Dorothea Green, daughter Dr. Kimberly Green and the Green Family Foundation. A $12.7 million allocation from the state of Florida was approved in 2017 and enabled building plans to be finalized.
FIU Foundation, Inc. CEO Howard Lipman said the event was an opportunity to honor the Green family, who have been catalyst donors for FIU for nearly four decades, lending their name to the Green Library, the Green Family Foundation NeighborhoodHELP program at the Herbert Wertheim College of Medicine and the Kimberly Green Latin American and Caribbean Center, a part of the Green School.
"Because of their generosity, FIU is taking another bold step forward in advancing excellence in international and public affairs education," Lipman said.
It is hoped that the new building will help the Green School achieve full membership in the prestigious Association of Schools of International & Public Affairs (APSIA), whose 38 member institutions are considered the leading schools of international education in the world.
"This is a very special day for our family, for FIU, for Miami, for Florida and globally,'' noted Kimberly Green, president of the Green Family Foundation, after pausing to take a selfie with the entire crowd at the groundbreaking. "It is our aim to make this the greatest school of international and public affairs in the world."
Speaking after the ceremony, Ambassador Steven J. Green – surrounded by photos of his family outside the original building – said the students he meets when he visits the Green School are the reason he is so committed to its success.
"It's a fabulous school,'' he said. "The faculty is terrific and the mission is great but what really makes me committed are the students,'' he said. "To come out here in a world of pessimism and to see the optimism in the young people today is just inspiring."
"I'd like to see the Green School become a globally recognized school and I'd like to see the students from the Green School around the world in positions of leadership,'' he added.