–For FIU News
Hurricane preparedness. Earthquake response. Airlift evacuations. The FIU Nicole Wertheim College of Nursing & Health Sciences and STAR Center can now add COVID-19 field training to its repertoire of emergency and disaster management support.
Earlier this month, the Florida National Guard tapped educators from the College and Center to prepare medical personnel to man the 450-bed alternate care facility at the Miami Beach Convention Center.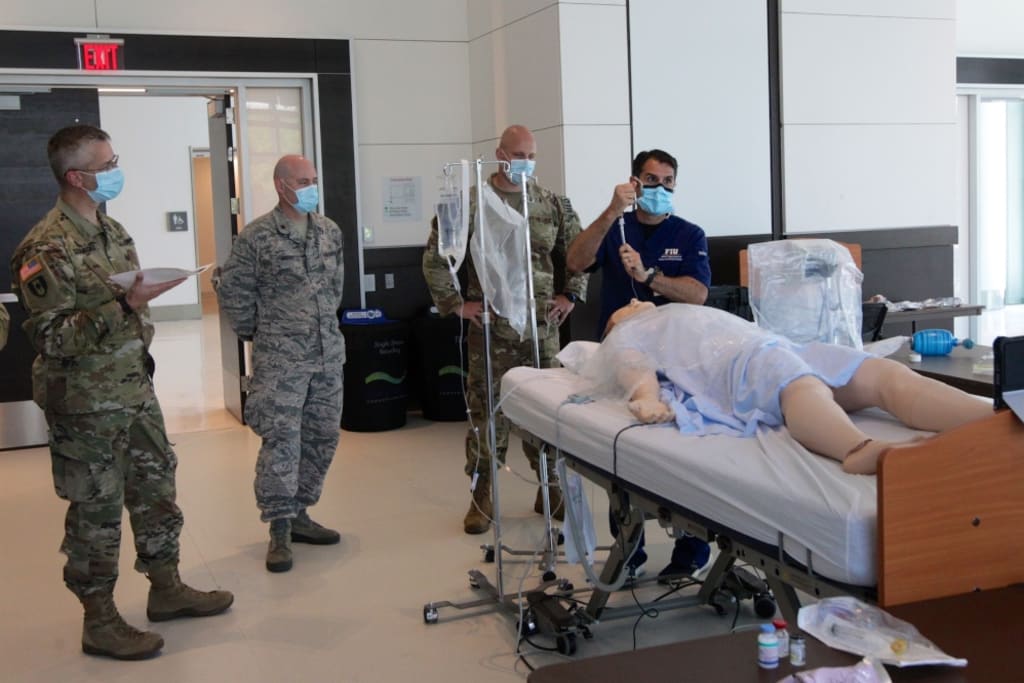 The "just in time" refresher training was provided for up to 70 physicians, nurses, combat medics and other health care personnel from the Florida National Guard. Twenty faculty members and staff from the College's Nursing Practitioner and Nurse Anesthesia programs, the Simulation Teaching and Research Center – aka STAR Center – and graduate nursing and doctor of physical therapy students were onsite providing demonstrations and hands-on training to set up patients on ventilators, respond to respiratory and cardiac distress, proper donning/removal of PPE (personal protective equipment) and more.
"The Florida Guard and Joint Task Force Aide are grateful for the partnership with FIU's College of Nursing and Health Sciences and the STAR Center," said Air Force Col. Patrick Lanaghan, Joint Task Force Aide Hospital Commander. "Their ability to mobilize quickly with the equipment, curriculum and educators to get our teams ready to support the state's COVID-19 response is a credit to the University's mission and College's dedication to public health."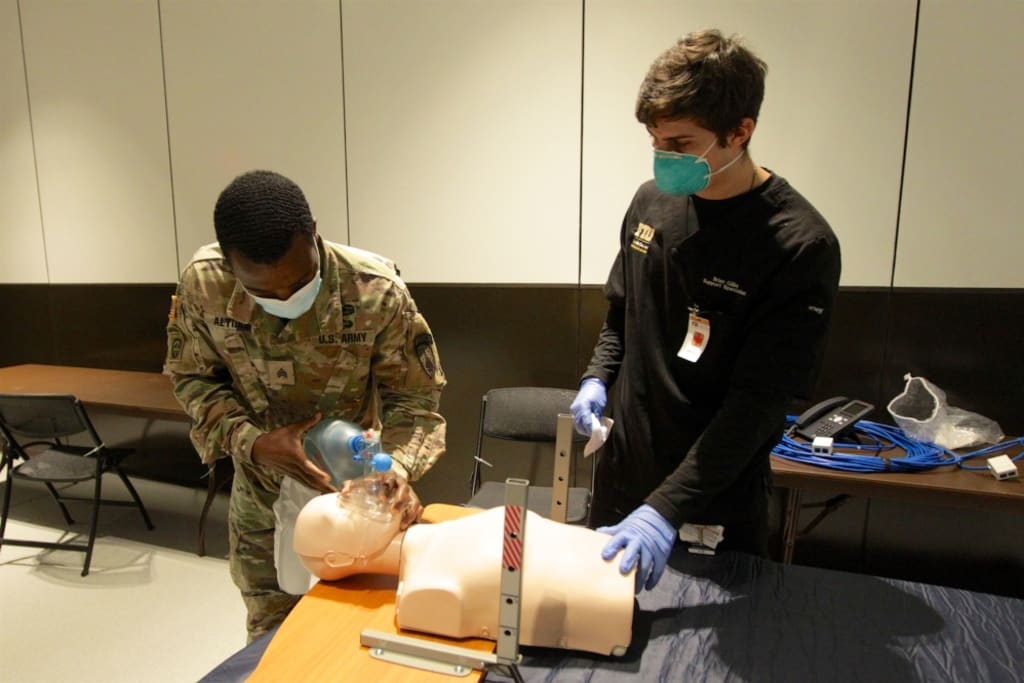 The College and STAR Center have a long history of providing emergency health care services and support to the community. Currently, FIU nursing faculty and students are joining forces with counterparts at the Herbert Wertheim College of Medicine and Robert Stempel College of Public Health & Social Work to provide COVID-19 testing at Tamiami Park.
Since 2000, FIU Nursing has partnered with Miami-Dade County and the State of Florida Health Department to train and prepare staff nurses for hurricane season. In 2017, FIU Nursing faculty and alumni collaborated with the FIU Florida Advanced Surgical Transport Team (FIU-FAST) to assist with the large influx of patients in critical need of care at the on-campus hurricane shelter in the wake of hurricanes Irma and Maria.
The STAR Center, which recreates fully operational clinic and hospital settings and 50,000 hours of simulated education scenarios to provide students with immersive, real-world learning experiences, is also a resource for disaster response training. For the next five years, the FIU STAR Center facility and staff will assist training disaster response medical professionals on proper aeromedical evacuation and specialized medical care to critically ill patients in-flight and during facility transfers. This is part of a $4.8 million grant from the U.S. Health and Human Services National Disaster Medical System that was awarded to FIU's Academy for International Disaster Preparedness at the College of Public Health & Social Work.
"FIU's fundamental vision since it opened its doors has been to offer solutions that meet the needs of the community it serves," said Helen Cornely, Associate Dean of the Administration for the Nicole Wertheim College of Nursing and Health Sciences. "It was an honor to collaborate with The Florida National Guard and to provide the expertise, resources, and skills to help practitioners provide quality care to our community during this difficult time."