–By Diana Hernandez-Alende for FIU News
The health care system has been impacted significantly due to the rapidly growing number of COVID-19 cases. A shortage of basic medical supplies, personal protective equipment (PPE) and medical technology has been a major challenge for health care professionals around the world.
Researchers from the College of Engineering & Computing (CEC) and the College of Communication, Architecture + The Arts (CARTA) saw the immediate need to build upon existing platforms to help the health care system and address the shortage.
Through a National Science Foundation (NSF) RAPID award of approximately $160,000, titled A Platform for Mitigating the Impacts of COVID-19 on the Healthcare System, the researchers will create a platform, using artificial intelligence and augmented reality, as a digital "hub" for PPE training.
In addition, the platform, which is a mobile app, will support innovation and the manufacturing of essential medical equipment through the element of networking, where end users can connect with manufacturers.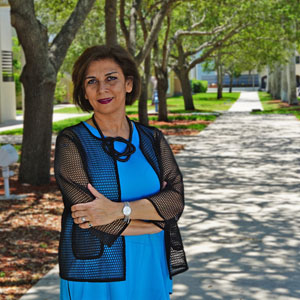 "Through our team-building efforts, experience and developed technology for the Robotics Academy, we are in a strong position to contribute to training efforts of medical professionals for operating highly technical machines while protecting themselves, as well as providing networking capacity for problem-solving among stakeholders," said Shahin Vassigh, principal investigator, professor and director of Technology Research Development at CARTA.
The award is the result of an ongoing collaboration between faculty and staff affiliated with FIU's Robotics Digital Laboratory, the Innovation for Sustainable Built Environments research group housed within FIU's Institute of Environment, the Machine Learning Systems Laboratory and the Distributed Multimedia Information Systems Laboratory at FIU's School of Computing and Information Sciences (SCIS).
Last year, NSF's Convergence Accelerator program awarded a $1 million grant to the FIU team to develop a cloud-based training program for architecture, engineering and construction industries. The grant powers the Robotics Academy, which teaches immersive learning focused on technologies like augmented and virtual reality.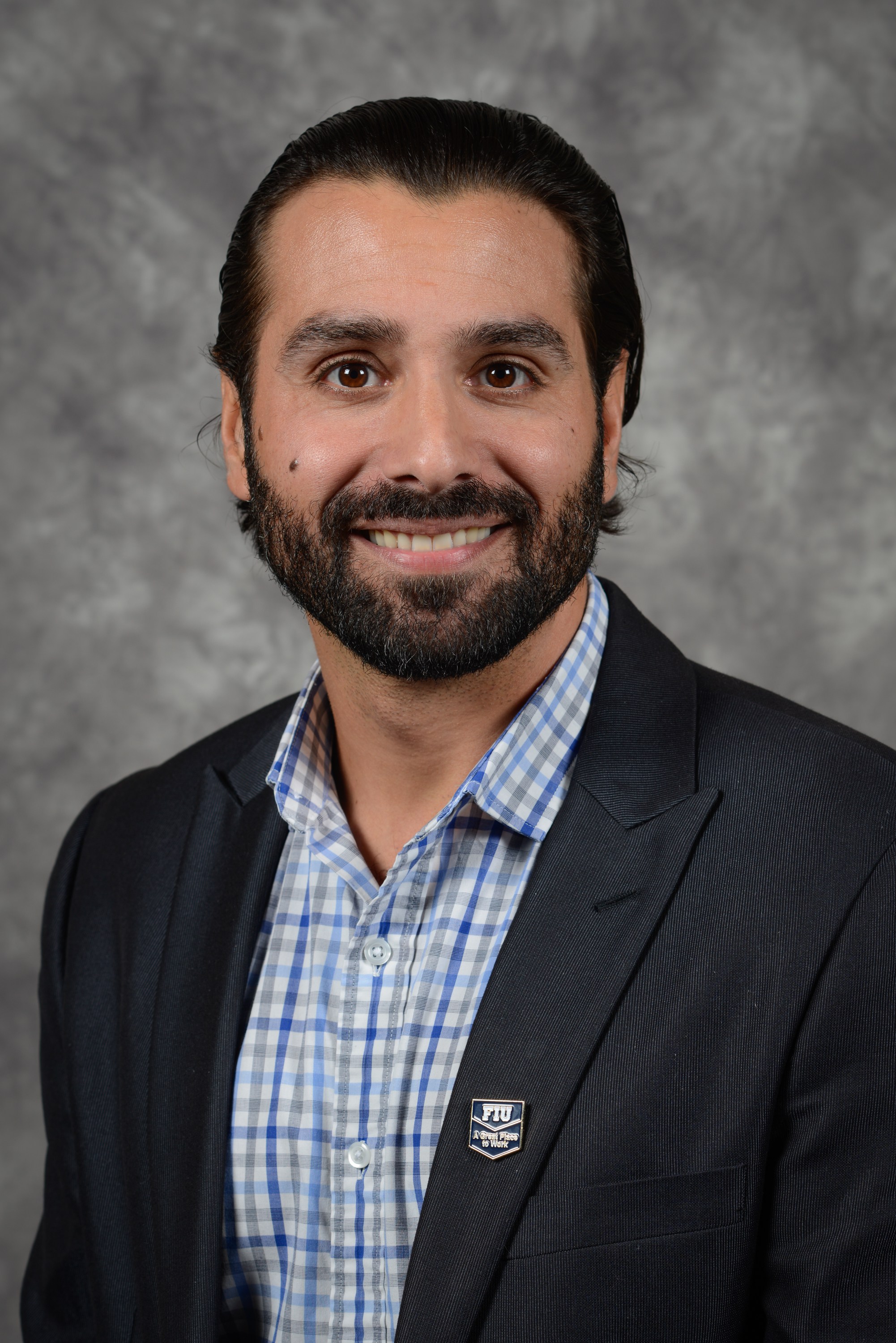 "How could we create a similar platform to train the community on the usage of protective equipment?" asked Miguel Alonso Jr., visiting associate professor in the School of Computing and Information Sciences (SCIS) and co-principal investigator. "We pooled our collective energies to come up with a solution – repurpose our app and turn it into a training application for COVID-19 needs."
The app, geared for caregivers, nurses, doctors, manufacturers and anyone who wishes to participate in the fight against COVID-19, consists of three facets: training, marketplace and knowledge.
The team envisions using augmented reality to deliver interactive training modules. Augmented reality films the real world, our world, and overlays 3D objects and contexts, anchoring to real points. Through this technology, a person can assemble a ventilator or face mask and be given feedback that they're building the ventilator correctly, or for example, learn if they're covering their nose properly with the mask they made.
Augmented reality leverages artificial intelligence to understand that the phone is in the real world. Simultaneously, the app uses AI to collect data on how users consume information, helping the team improve the user experience.
Another key feature of the app is an online repository for equipment problem-solving resources, where a user can do an AI-powered search to find help and receive pertinent research articles, videos and products from various online resources.
The final part of the app is a professional networking site where a user can connect their LinkedIn profile to the app. For instance, a manufacturer of face masks may be interested in connecting with other manufacturers to make more face masks.
The portal would connect them with other stakeholders of similar interests, serving as an outlet for idea exchanges. The goal is to facilitate networking among technologists and health care professionals and between hardware suppliers and technologists for the rapid production of equipment.
The first item on the agenda for the researchers is to collaborate with health care professionals and experts from the Herbert Wertheim College of Medicine as part of the interview and data gathering process. This, in turn, will help the developers create content for the application.
It will take approximately six months to launch the initial minimum viable product (MVP) version of the app. The first couple of months will consist of core development, user testing and data collection to train AI and machine learning models.
"We have to be flexible and agile in developing the platform," Alonso adds.
Collaboration conversations have been initiated by the researchers with Baptist Health South Florida, South Miami Hospital, Mount Sinai Medical Center, and major medical and technical equipment companies including General Electric and Avente.
The other co-principal investigators of the NSF RAPID award are Biayna Bogosian, assistant professor of Architectural Technology at CARTA; and Shu-Ching Chen, associate director and professor in SCIS. Hadi Alhaffar, a research associate in the Robotics Digital Laboratory, is a senior investigator. The award is set to begin on June 1.
Additional reporting by Andrea Perez