Carlos Duart '94, MS '99 and Tina Vidal-Duart '02, MIB '04, president and executive vice president, respectively, of CDR Maguire, leveraged their contacts and industry experience to help advise and coordinate relief efforts on a major scale.
When the COVID-19 pandemic struck, College of Business alumni Carlos Duart '94, MS '99 and Tina Vidal-Duart '02, MIB '04 dove headfirst into response efforts. President and Executive Vice President, respectively, of CDR Maguire, a national firm specializing in engineering and emergency management, they knew they had the contacts and experience necessary to help advise and coordinate relief efforts on a major scale.
CDR Maguire consultants were soon working with local- and state-level emergency management departments, including Florida, Kentucky, Massachusetts and Larimer County, Colorado. True to their "boots on the ground" approach, Tina, Carlos and their team have worked in the State of Florida's emergency operations center in Tallahassee since March, assisting the state to manage field hospitals, source medical supplies and personal protective equipment (PPE) for health care and emergency personnel, deliver testing and lab kits, and develop an online patient portal.
Upon realizing they could continue to deliver these critical services at a national scale, the company's new health and medical division, of which Tina serves as CEO, was born.
"We had no thought or indication of ever opening a health division as part of CDR Maguire [prior to the pandemic]," Tina said, "but Carlos and I are really big on helping wherever we can help and being there to provide a service. When we were working with the state, it became clear that was what was needed, and we were more than willing to step in."
Tina studied marketing and international business at FIU, and she worked in the health care administration field for more than 10 years, rising to senior leadership roles, before transitioning to emergency management when she joined CDR Maguire six years ago. She leverages both skills sets in her new role as CEO.
Among the most memorable aspects of her FIU education were her professors, who had worked in their fields for decades and who taught from the perspective of having risen through the ranks themselves.
"I was really exposed to people who had lived it, breathed it, done it," she says. "And I think that provided a very different view of what we were learning."
Carlos, who majored in accounting and taxation at FIU, has worked in emergency management since Hurricane Andrew, and he has helped CDR Maguire expand its services since becoming its president in 2009. The College of Business curriculum's emphasis on entrepreneurship made a "tremendously valuable impact" on his career.
"It helped me identify opportunities that were ahead of us. It wasn't just the book knowledge. The professors I had taught me how to think. They gave us real-world examples and case studies," Carlos says.
CDR Maguire is connected to FIU in more ways than one: The engineering branch also markets, designs and produces College of Engineering & Computing professor Atorod Azizinamini's Folded Steel Plate Girder System across the United States.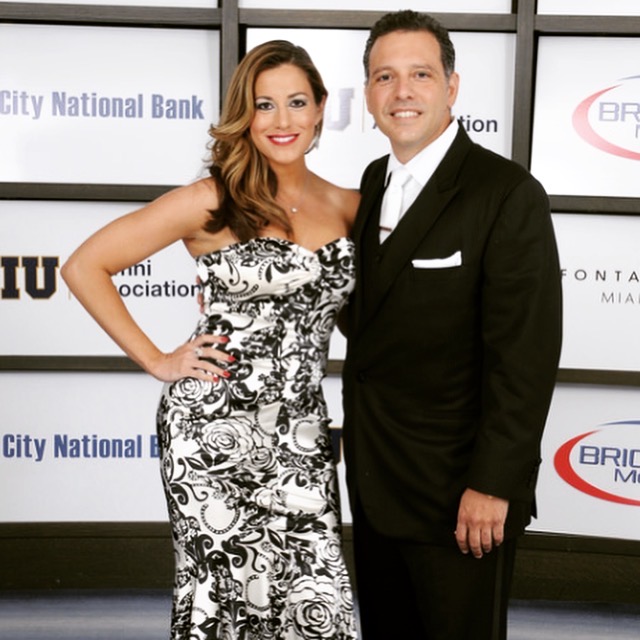 Carlos and Tina agree that the lifelong connections they established at FIU, both as students and now as alumni, have been valuable throughout their careers. And they called on people they had met at or through FIU as they launched their pandemic-related mission.
It's why, as alumni, they remain actively involved in campus life. The two have served on various advisory boards, including that of the College of Business, the FIU Foundation and the Honors College (of which Tina is a graduate); they volunteered as speakers during Panther Alumni Week; they have made generous donations to the university; and they mentor current students. Tina is also a former member of the FIU President's Council.
They hope that through their work with students and on campus, they can impart the wisdom and guidance that has helped them navigate life.
"Not everyone can afford to go to college. Not everyone has the privileges that Carlos and I have, and we have those privileges because of our FIU base and our FIU education. It's really important to me to help create those opportunities for other students. I want to make sure the life lessons that we were given, the guidance that we found at FIU, we are now able to pay that forward and pass it down to current students," Tina says.
Carlos adds, "The opportunities that me and my family were afforded, the opportunity to get an education no matter what your circumstances are, that's what I'll always be grateful for."
For their service to the university, Tina and Carlos have received Torch Awards, the highest honor bestowed on alumni by the FIU Alumni Association. Carlos has also been awarded the Outstanding Alumnus FIU Medallion.
"[Tina] and Carlos believe in service and in making a difference," says Honors College Dean Juan Carlos Espinosa, who became acquainted with the two during Tina's five-year service as chair of the college's advisory board and considers Tina to be "one of the Honors College's star alumni."
Carlos and Tina are also dedicated to serving the local community. In June, Carlos was hospitalized with severe COVID-19 complications, and his recovery inspired them to help others battling the illness. They hosted a convalescent plasma donation drive in August and have sponsored COVID-19 pop-up testing sites, as well.
"It is no surprise that they would turn Carlos's experience with the illness into an opportunity to help others affected by COVID-19," Espinosa says. "Carlos and Tina are setting an example for today's FIU students and new alumni by remaining so actively involved in university life and in helping our community through a difficult time."
The couple were quarantined and worked from home for several weeks as Carlos recovered, but they know there is still much work to be done. As the pandemic stretches on, the couple is eager to get back out in the field to help those in need.