–By Maria Rojas
FIU's Jorge M. Pérez Metropolitan Center is leveraging its expertise as South Florida's leading, urban think tank to help local governments and organizations understand the scope of the pandemic's effect on at-risk communities. The center's work is advancing the conversation about who is lacking resources, what can be done about it and why establishing trust in communities matters.
Community outreach strategies have been the norm for the center, which has been a resource to organizations in Florida and South Florida since its founding 22 years ago. Given the far-reaching, substantial impacts of COVID-19, the center, part of the Steven J. Green School of International & Public Affairs, is now focused on addressing social, political and economic concerns related to the pandemic.
The center has produced a series of webinars and infographics exploring topics relevant to the community, such as hurricane preparedness during the pandemic, lack of internet access in South Florida households despite its critical importance for remote work, and the disproportionate representation of women in jobs experiencing COVID-related shifts in South Florida.
The center also surveyed 374 nonprofits in Miami-Dade County about how the coronavirus has impacted them. The survey's results show that the majority of the organizations need more funding, personal protective equipment and virus tests. The results exemplify how the center uses data to provide clear communication and raise awareness of public policy issues in an area with high COVID-19 infection and hospitalization rates.
The experts at the center also rolled out their COVID-19 Community Impact Rapid Response Model© in a webinar. The model provides community-based organizations and donors with a dynamic tool to identify economic and social distress hotspots within neighborhoods so that programmatic responses can be quickly and more efficiently deployed. The four-part model focuses on community resources assessment, rapid response strategies, community distress index, and performance and evaluation.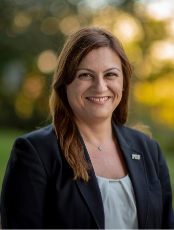 In addition to producing data-rich infographics and analytical reports, the experts at the Metropolitan Center are a resource for the media. Over the summer, Ned Murray, associate director, and Maria Ilcheva, assistant director of planning and operations, were interviewed by NBC6 regarding sectors that would be most affected by the ongoing pandemic.
Dr. Ilcheva underscored "the potentially devastating social impacts, specifically in communities of color, minorities in general, but households in the lower-income categories."
The center is named after real estate developer Jorge M. Pérez in recognition of a $1 million endowment gift by The Related Group, the firm where he is chairman and CEO, made in 2019 to support the center's mission.